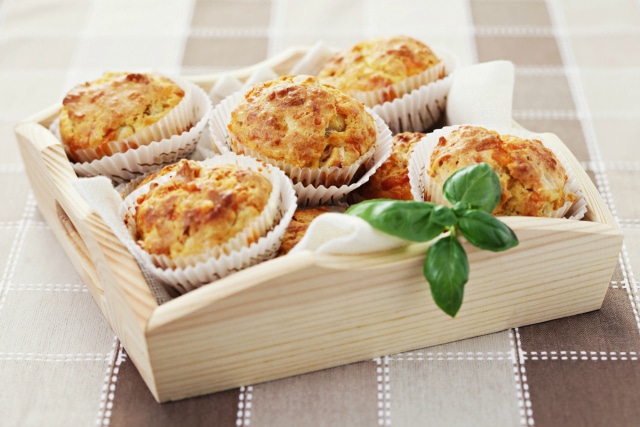 Savoury muffins make a good lunchbox filler or a meal on the go and are a healthy fast food, especially if you pack them with plenty of veggies and make them with wholemeal flour. Use tasty cheese to give these plenty of flavour, or substitute feta or parmesan for a different twist. Zucchinis have a lot of moisture in them so add the milk a bit at a time, you may not need the whole amount.
Ingredients
1 cup of s/r flour
1 cup wholemeal flour
3 tsp baking powder
1 small finely grated carrot
1 small finely grated zucchini
1 cup chopped ham (or leftover meat of choice)
1/2 cup grated cheese
1/2 cup olive oil
3/4 cup milk
2 eggs
Method
Preheat oven to 200°C. Lightly grease 12 x 1/3 cup capacity muffin pan.
Sift flour and baking powder into a large bowl. Stir in zucchini, carrot and cheese working out any lumps with your fingers. Stir in ham.
Whisk milk, oil and eggs together in a jug. Add to dry ingredients. Stir until just combined.
Divide mixture evenly between muffin holes. Bake for 12 – 15 minutes or until a skewer comes out clean. Stand in the pan for 5 minutes before turning out onto a wire rack.
Melissa Goodwin is a writer and the creator of Frugal and Thriving who has a passion for living frugally and encouraging people to thrive on any budget. The blog is nine years old and is almost like her eldest baby. Prior to being a blogger and mum (but not a mummy blogger), she worked as an accountant doing other people's budgets, books and tax.