Midweek Meal – Leftover Chicken and Pea Pasta with Mushrooms
This website may earn commissions from purchases made through links in this post.
Pasta is the perfect quick and easy midweek meal. This chicken and peas pasta dish uses leftover roast chicken and gets a hit of flavour from capers.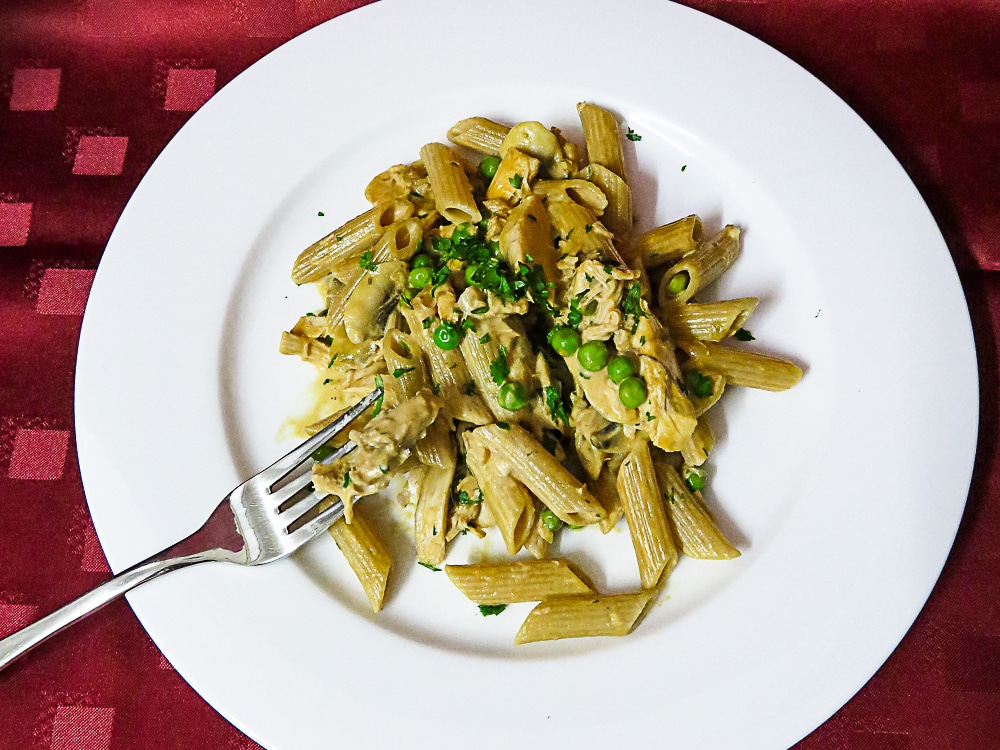 This pasta dish utilises leftover chicken and pantry staples to make a quick and easy midweek meal.
And while it doesn't look that exciting, it has a surprise ingredient that packs a lot of flavour.
Ingredient Notes for Chicken and Pea Pasta
This dish is made mostly from pantry staples however it does have one unusual ingredient and that is capers.
While not everyone would count capers and a pantry staple (although Jamie Oliver does), I keep a small jar in the fridge because a tiny amount adds a lot of flavour impact.
You only need a teaspoon, so a jar lasts a long time. If you're wondering how else to use capers, here are some ideas.
For the tomato paste, keep a jar in the fridge upside down and you'll always have tomato paste on hand without it going mouldy. When you turn it upside down, it creates a seal, stopping air getting into the jar. Just be sure that the lid is on tight so it doesn't leak in the fridge!
I keep a few 100 ml cartons of long-life cream in the pantry for cooking. These are super handy to have on hand as they don't go off like regular cream does.
They are not always easy to find, however, (Coles stock them periodically), so an alternative is carnation long-life cream or evaporated milk. Sauces made from evaporated milk may need to be thickened with a cornflour slurry.
But of course, you can always use regular cream or substitute with a dollop of sour cream.
You can leave the mushrooms out if you don't have any at hand.
Making the Most From a Roast Chicken
A time-saving and money-saving tip is to roast a chicken on the weekend so that you have leftovers for the week.
After eating a roast, strip the rest of the chicken meat and put it in the fridge for a midweek meal or lunches.
Then put the bones in the slow cooker to make chicken stock. Strain the stock the next morning and freeze it in portions for later.
Yield: 4
Chicken and Pea Pasta with Mushrooms and Capers
Pasta is the perfect quick and easy midweek meal. This chicken and peas pasta dish uses leftover roast chicken and gets a hit of flavour from capers.
Ingredients
1 cup leftover roast chicken
1 small onion, sliced
1 small clove of garlic, minced
1 cup of sliced mushrooms
1/2 cup frozen peas
2 Tbsp tomato paste
1/2 cup cream
1 tsp. capers, rinsed and roughly chopped
a small handful of fresh parsley, roughly chopped
500g pasta
Instructions
Soak peas for a few minutes in boiling water to defrost.
Cook pasta according to packet directions.
Sauté onion and garlic in oil or butter in a frypan over medium heat until soft and golden.
Add mushrooms and cook until tender. Add chicken and heat through.
Return chicken to the pan and stir in the tomato paste.
Add the cream and the peas and simmer over low heat for 2-3 minutes until the peas are cooked through.
Add capers, heat for a minute or two, stir in the parsley and toss through pasta.
Serve topped with parmesan cheese or parsley if desired.
Nutrition Information:
Yield:
4
Serving Size:
1
Amount Per Serving:
Calories:

466
Total Fat:

20g
Saturated Fat:

9g
Trans Fat:

0g
Unsaturated Fat:

9g
Cholesterol:

77mg
Sodium:

88mg
Carbohydrates:

48g
Fiber:

5g
Sugar:

5g
Protein:

24g
Nutritional information is calculated automatically using the Nutritionix database. Nutrition information can vary for a recipe based on factors such as precision of measurements, brands, ingredient freshness, serving size or the source of nutrition data. We strive to keep the information as accurate as possible but make no warranties regarding its accuracy. We encourage readers to make their own calculations based on the actual ingredients used in your recipe, using your preferred nutrition calculator.
Save Money on the Groceries eBook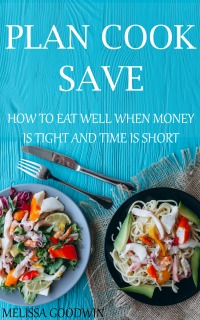 For more ways to meal plan and save money on groceries, check out the eBook Plan Cook Save: How to Eat Well When Money is Tight and Time is Short.
*Learn how to set the right grocery budget for your circumstances.
*Find out the easiest and quickest way to reduce the grocery bill.
*Discover a meal planning strategy that will only take you a couple of minutes a week but will save you hours.
More Midweek Meal Ideas: