Pasta is the perfect midweek meal. Quick and easy, it can be on the table in under 20 minutes.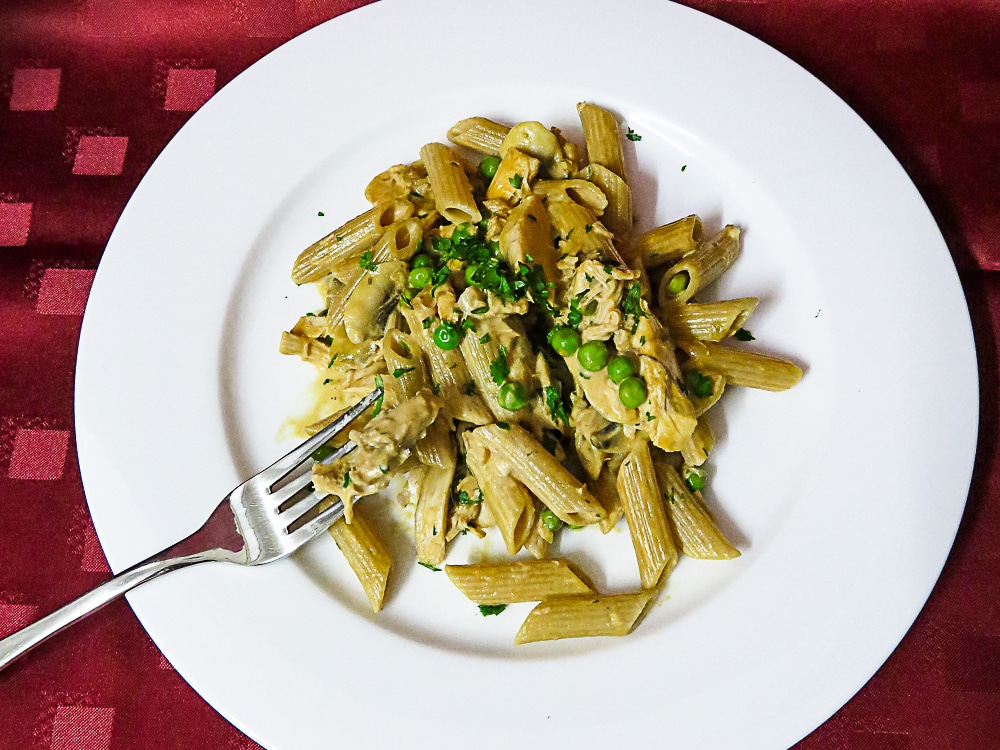 It's even quicker and more frugal if you use leftover roast chicken.
I like to do a roast chicken every second Sunday. Once a fortnight is often enough to ensure I've got a freezer full of chicken stock, but not too often that it feels like roast chicken again?
After we've eaten our Sunday roast, I strip the rest of the meat from the chicken and put it in the fridge for an easy midweek meal.
The bones go straight into the slow cooker to make chicken stock.
The original dish that inspired this version came from an old Gourmet Traveller magazine many years ago when I was still single, had no mortgage, no fussy family to cook for, and I had the time and money to experiment with fancy Gourmet Traveller recipes.
This recipe was a long-term winner – we're still enjoying it many frugal years, a mortgage and two kids later.
The original recipe used tuna, but I much prefer this chicken version. The capers give it a hint of gourmet while keeping it frugal.
Leftover Chicken, Mushroom and Pea Pasta
Ingredients
1 cup leftover roast chicken
1 small onion, sliced
1 small clove of garlic, minced
a handful of mushrooms, sliced
1/2 cup frozen peas
2 TBSP tomato paste
1/2 cup cream
1 tsp. capers, rinsed and roughly chopped
a small handful of fresh parsley, roughly chopped
cooked pasta to serve
Instructions
Soak peas for a few minutes in boiling water to defrost.
Sauté onion and garlic in oil or butter until soft and golden. Add mushrooms and cook until tender. Add chicken and heat through.
Return chicken to the pan and stir in the tomato paste.
Add the cream and the peas and simmer over low heat until the peas are cooked through.
Add capers, heat for a minute or two, stir in the parsley and toss through pasta.
For more info on cooking from scratch, saving money on the groceries all while saving time in the kitchen, check out the Plan Save Thrive eBook.
Melissa Goodwin is a writer and the creator of Frugal and Thriving who has a passion for living frugally and encouraging people to thrive on any budget. The blog is nine years old and is almost like her eldest baby. Prior to being a blogger and mum (but not a mummy blogger), she worked as an accountant doing other people's budgets, books and tax.