Looking for a cheap and easy, veggie packed meal? One the kids will eat?
Here's a vegetable pie recipe that works for us.
A great 'clear-out-the-crisper' recipe, you can throw whatever vegetables you have on hand into this pie. It's very flexible. Consider the recipe a suggestion only.
In our case, there was a great price on purple carrots at our local fruit and veg shop this week, so I threw a couple of those in, hence the purple tinge to the pie.
And if you're not after a vegetarian option, you can throw in leftover meat or bacon as well.
This pie uses sweet potato (and one spare potato I found) as the topper rather than pastry. My go-to puffed pastry isn't the healthiest option around and I was feeling the need for extra nutrition after last night's mac and cheese in a box.
The sweet potato topping not only adds in a few extra nutrients, it's also gluten-free. By substituting the tablespoon or so of flour to thicken the sauce with gluten-free flour, the whole meal is a cheap, gluten-free option.
I use homemade stock rather than milk for this dish because it reduces the calories and it's cheaper (the stock is practically free. To add a little bit of creaminess back in, you can add a dollop of sour cream or yoghurt. This is a great way to use up stuff in the fridge.
Sweet Potato Topped Vegetable Pie
Ingredients
4 cups of mixed vegetables of your choice. In this pie, I used zucchini, broccoli, carrots (orange and purple) and corn
1 onion, diced
5-10 mushrooms, sliced
1-2 cloves of garlic, crushed
Favourite Herbs (I used a pinch of dried thyme)
2 Tbsp butter
2 Tbsp plain flour (you can use gluten-free)
300ml of stock or milk
3-4 sweet potatoes, peeled and chopped
grated cheese (optional)
Method
Steam or boil vegetables until just tender.
In a large frying pan, saute mushrooms and onions in the butter until softened. Add the garlic and herbs and cook for another minute.
Stir the flour into mushroom mixture and cook for 1 minute. Pour in the cold stock and stir until smooth. Add steamed vegetables, taste and season.
Meanwhile, boil or steam the sweet potatoes until tender. Mash and season to taste. You can add a little butter or milk to the potatoes as you mash them if you like.
Pour vegetable mixture into pie dish and top with the mashed sweet potato. Top with grated cheese if using.
Bake at 180°C for 30 minutes until golden.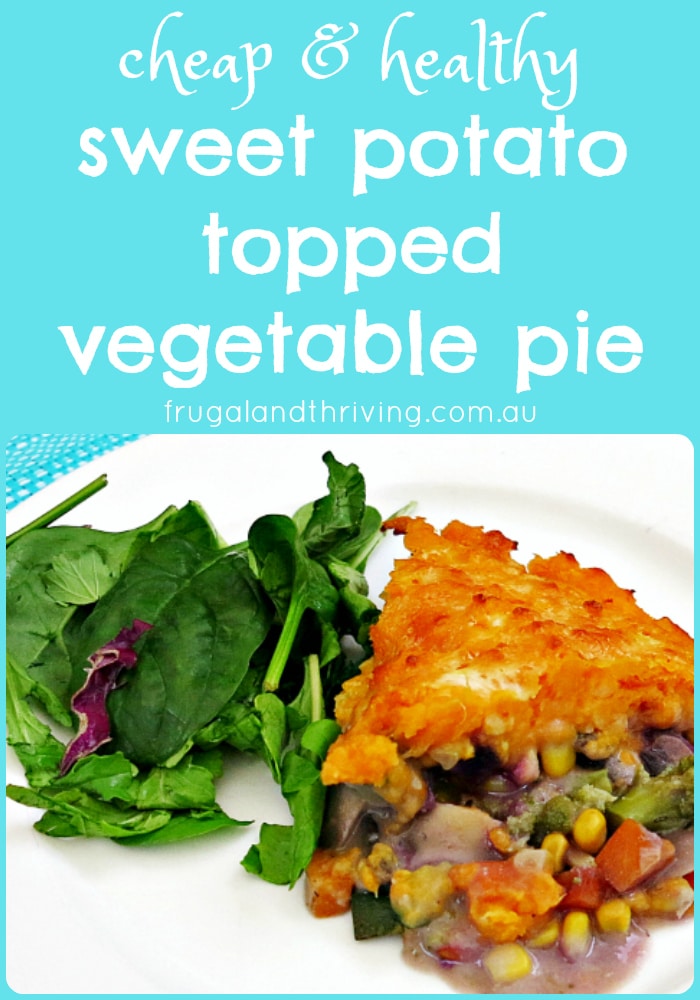 Melissa Goodwin is a writer and the creator of Frugal and Thriving who has a passion for living frugally and encouraging people to thrive on any budget. The blog is nine years old and is almost like her eldest baby. Prior to being a blogger and mum (but not a mummy blogger), she worked as an accountant doing other people's budgets, books and tax.