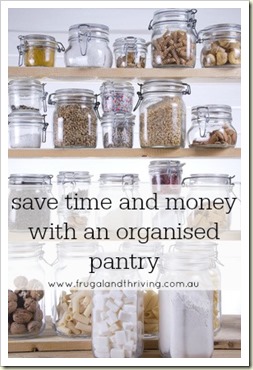 A well stocked pantry saves you money.
Unless it's an unorganised mess.
An unorganised pantry can cost you money.
We have a large corner pantry with very deep shelves. Some shelves are very organised, but the ones above eye level? Well…
I like to buy extra bags of wholemeal pasta when it goes on sale.
I cleaned out the pantry the other day and found five bags of wholemeal pasta, all tossed at the back of the shelf, behind the jars of beans, above eye level.
Let's just say we don't need to buy pasta for a while.
three ways an organised pantry will save you money
FOOD DOESN'T GET FORGOTTEN AND SPOIL
It's easy to forget food that is hidden in the dark depths of you pantry if it's not organised.
A well organised pantry allows you to rotate food, so that the oldest foods get eaten first and nothing goes to waste. It's also easier to keep track of used by and best before dates.
YOU DON'T RUN OUT OF ESSENTIALS
There's nothing worse than starting to cook a meal and realising you've run out of a main ingredient.
Either you opt for takeaway (an expensive option), or you dash to the store, wasting your time and petrol. And if you're like most of us, you will pick up a few extra things that you didn't really need while you're there.
IT REDUCES DUPLICATES
It's one thing to run out of something, it's another thing to find you have three packets of the same thing, all opened, and all half eaten.
This increases the likelihood of one or more packets going to waste.
tips on organising your pantry
CLEAR IT OUT
Pull everything out of the pantry one by one and check best before dates. Throw out anything that seems a bit iffy (plenty of pantry food is fine after best before dates, so go by your senses).
If you don't have time to clear out your whole pantry at once (I don't!), then just do a shelf at a time.
CLEAN IT OUT
Take the opportunity to give the shelves and walls of your pantry a good scrub. Line shelves with paper (especially where sauces, vinegars or oils are stored) to make cleaning easier in the future. Recycled newspaper works just fine.
SORT IT OUT
Organise your pantry according to 'type'. So all the breakfast items are together, or all the canned goods together, or all the baking items together.
Put the items you use most in easy reach, and less used items towards the back of the pantry.
Also, sort the pantry so that tall jars go towards to the back with smaller containers at the front.
JAR IT
Storage containers are invaluable for good pantry organisation.
They stack, they can be labelled, they keep the pantry moths out.
You don't need to spend a fortune on storage though. Use recycled jars, recycled food containers and inexpensive plastic containers for food storage.
If you want to purchase glass or metal containers, get one a week or a month, to make the investment easier on the budget.
LABEL IT
Label jars and containers, label baskets, label lids, label shelves! When it comes to finding what you need quickly and easily, you can't have too many labels.
USE ALL AVAILABLE SPACE
A few choice organisational tools can make all the difference between a functional pantry and ones that becomes a mess within days.
Think racks that hang on the door, can holders, tiered shelves, a lazy susan for the corner of deep pantries, drawers, boxes or baskets (great for holding bags of pasta!).
WRITE A LIST
A pantry list, stuck to the door, is a great way to keep track of what you have on hand as well as what you need to restock.
Even if you never see that packet of prunes all the way at the back of the cupboard, you'll know it's there, and when it needs to be used by, because it's on your pantry list.
[Further Reading: Frugal Pantry Organisation]
If you cook from scratch, then a well stocked pantry is a necessity. It will save you money and allow you to easily create a wide variety of meals.
This food is an investment and it's worth taking time once or twice a year to keep it organised.
What are your best pantry organisation tips?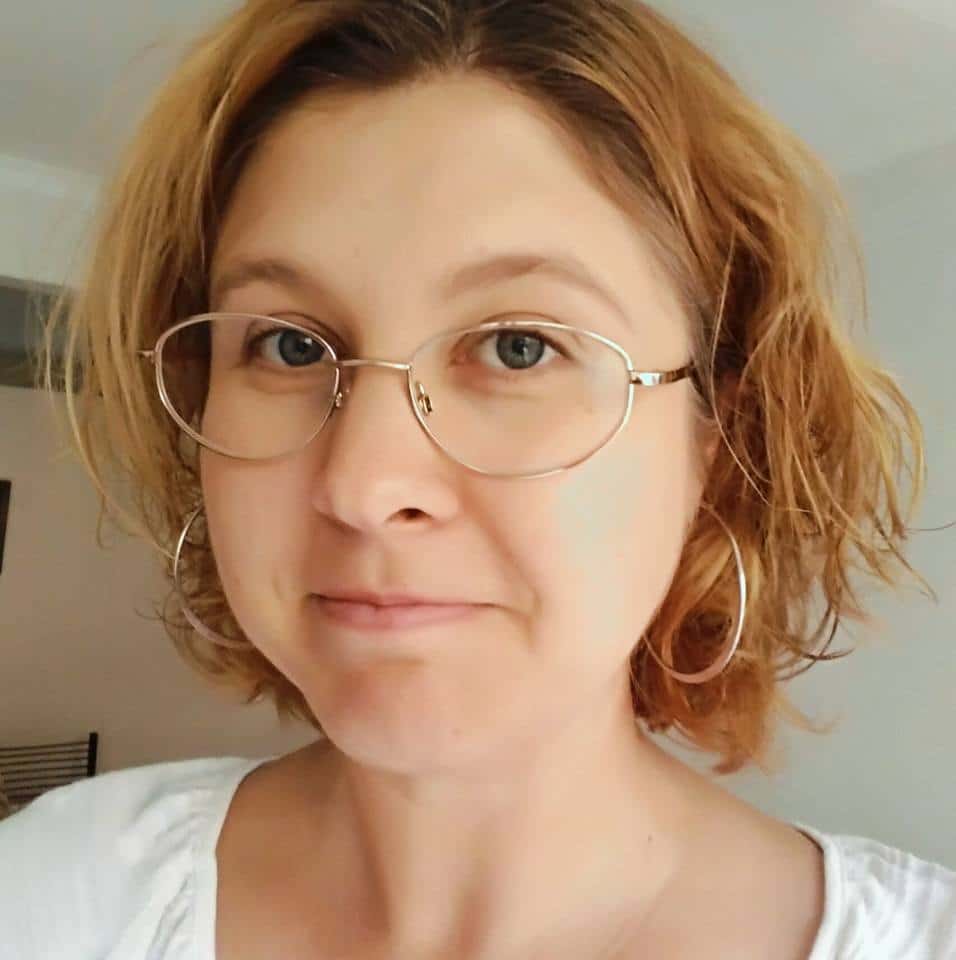 Melissa Goodwin is a writer and the creator of Frugal and Thriving who has a passion for living frugally and encouraging people to thrive on any budget. The blog is nine years old and is almost like her eldest baby. Prior to being a blogger and mum (but not a mummy blogger), she worked as an accountant doing other people's budgets, books and tax.