Tortilla Pizza is perfect for a quick lunch or light dinner.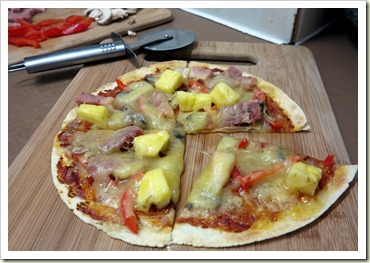 You know those days.
Those days when you're running late. Or run down.
When you want something quick and simple to make for dinner.
Something the kids will actually eat.
Something that resembles healthy.
This is one of my solutions – the tortilla pizza.
It's not a gourmet homemade pizza, but it tastes pretty good anyway. And I like that it's not overly 'bready'.
We eat a lot of flatbread, so we always have some in the fridge. Wraps, Quesadillas, burritos, enchiladas and now pizzas – this is our go-to bread.
You can put any topping you can imagine on pizza – it's a great way to use up leftovers.
For our pizza pictured, I used tomato paste, some leftover frozen Christmas ham (that DH won – even tastier when it's free), capsicum, mushrooms, fresh pineapple and cheese.
One of the reasons these pizzas are so quick and easy is that they are made under the grill. No oven = less time and less electricity. You can even make them in a sandwich press, which allows the pizza to cook from the top and bottom at the same time, crisping up the base.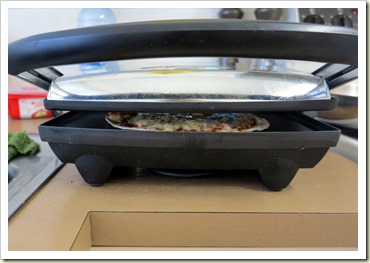 If you make them on the grill, you might like to lightly cook the tortilla before you put your topping on, so that the base isn't soggy.
Tortilla Pizza
Ingredients
tortilla flat breads
tomato paste or pizza sauce or pesto
grated cheese
preferred toppings (i.e. leftover meat, bacon, salami, capsicum, olives, mushrooms, garlic, leftover roast veg, herbs)
Instructions
Top pizzas with your favourite toppings.
Place under the grill (or in a sandwich press, which is propped open slightly) until cheese is melted and golden and toppings are cooked).
Melissa Goodwin is a writer and the creator of Frugal and Thriving who has a passion for living frugally and encouraging people to thrive on any budget. The blog is nine years old and is almost like her eldest baby. Prior to being a blogger and mum (but not a mummy blogger), she worked as an accountant doing other people's budgets, books and tax.