I was quite spoilt as a kid – my mother packed out school lunch right up until the end of high school.
She would also get up every morning to make my father's breakfast and pack his lunch each day, even when he did shift work, and it meant getting up at 4:30 am (my husband is not so fortunate).
My son went to preschool for a few hours a week last year, so I've had a bit of practice with packing lunches.
[2018 update: he is eight now with a younger sibling also in school – how time flys!]
Vegemite sandwiches are very much a standby, especially the day before our fortnightly grocery shop, but I try to mix it up.
You've probably seen dozens of post lately on healthy back-to-school lunchbox ideas (like this one). Well, the great news is that healthy = frugal! Here are some lunchbox ideas from our kitchen – they are good for both children's and adult's lunchboxes. And they work for at home lunches too!
Leftovers
Leftovers are our frugal friend.
A quick and easy frugal lunch begins at dinner and breakfast if you plan to have leftovers.
Most leftover food tastes fine if eaten cold (I haven't eaten hot leftovers since the kids were born

) and therefore are perfect for inclusion in a frugal lunchbox.
Ideal leftovers for the lunchbox include:
Roast meat (rather than deli lunch meat) either on a sandwich, tossed through a salad or as part of a ploughman's lunch. I have fond memories of roast lamb and chutney sandwiches from my school days. I think I was the only kid who ate chutney.
pasta or noodles
fried rice (leftover plain rice can be turned into rice pudding – a nice lunch treat)
meatloaf
meatballs
tuna or meat rissoles
Vegetables (can be tossed with pasta, 'dressed' as a salad or used as dippers). Don't forget mashed potato or sweet potato; these can be eaten as cold mash or turned into fritters/bubble and squeak.
salad (green, potato, pasta or coleslaw salad, for example)
quiche or frittata
pancakes (we always have a little leftover batter from Sunday morning pancakes to make mini-pancakes for morning tea during the week)
Leftover oatmeal (cold porridge – renamed Bircher muesli ). Dress it up with plenty of fresh fruit and seeds or nuts if allowed)
Buy in bulk and portion
Single serve foods are expensive, use more packaging and are often full of additives and sugar.
Buying in bulk, on the other hand, saves you money, reduces waste and can be healthier.
For instance, we buy (or make) Greek yoghurt to which I can add different flavourings like vanilla and a touch of honey or fresh passionfruit for sweetness, and top it with plenty of fresh, seasonal fruit and a sprinkling of toasted muesli. This makes a filling meal and is much healthier than many single-serve yoghurts you can buy and is a whole lot cheaper.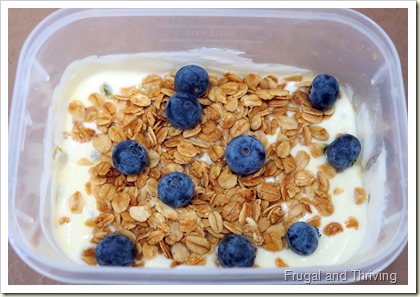 Other things to buy in bulk include:
crackers
dried fruit
biscuits (I used to have buttered arrowroot biscuits and a piece of fruit for morning tea every day when I was a kid)
tinned fruit
custard
Fresh fruit and vegetables
Fresh fruit and vegetables are easy and nutritious.
It's important to pre-cut fruit and vegetables, especially for little kids. If everything is cut into bite-sized portions, kids are more likely to eat it.
My kids don't eat salad as such, but they will eat a variety of raw vegetables – just not lettuce. Carrots, capsicum, cucumber, avocado and cherry tomatoes are my son's favourite raw vegetables, and I always include some in his lunch. They also make a good afternoon snack – I'm not fussed if raw vegetables 'ruin' his dinner.
Home baked goodies
Home baked goodies like muffins, slices and muesli bars make great additions to the lunchbox.
I have a cooking session each week with the kids, and we bake things that can be included in lunchboxes. That way, I'm turning what could be a chore into a fun learning activity for the kids (both love to cook).
Many muffins, slice and breads (like banana bread) can be frozen, so you can freeze it in portions, ready for the lunchbox each morning.
Sandwiches – making great lunches since the middle ages
Sandwiches have gotten a bad rap lately (and I'm not referring to the cling wrap here), thanks to the whole low-carb, anti-gluten movement.
But sandwiches are convenient, they are easy, they are portable, they are inexpensive, they taste good (oh, there is nothing like fresh bread!) and it IS ok to send your kids to school with a jam sandwich occasionally, whatever the healthy food gurus may say.
Make sandwiches healthy and filling by using the best quality bread you can afford and add some protein. Sourdough and wraps are a great options.
Spread them with real butter and your (or your kid's) favourite filling. I love to get ideas from cafes and sandwich shops, but some of our frugal favourites include:
egg and mayo
tuna and mayo
grated carrot, cream cheese and sultana
chicken, celery and mayo
tomato, avocado and cheese (put the tomato on later to avoid the bread going soggy – this also makes a nice grilled toast)
leftovers (bolognaise sauce makes a nice sandwich)
Some other ideas
Hard-boiled eggs are great to have on hand in the fridge. They can either be eaten as is, added to a salad or mashed for an egg sandwich. If you boil a few while cooking dinner on Sunday night, then you will have some on hand and ready to go for lunches.
Cheese is another ingredients convenient lunchbox addition. Cut it into slices, cubes or sticks and serve with vegetables, fruit (cheese and dried fruit are nice) or with some crackers.
If you have cream cheese, you can make your own dips or spreads.
Crackers and crispbread are handy to keep in the pantry.
Tinned tuna is a good source of protein and also useful to keep in the pantry.
For fresh fruit and vegetables, pre-cut it and keep it in airtight containers in the fridge, for easy lunchbox packing in the morning.
Portion out bulk foods like yoghurt, into small containers at the beginning of the week. That way you can just grab and pack them in the morning.
And for the drink bottle, water is the most frugal option, and it's the most healthy to boot.
Lunches don't need to cost a fortune. The great thing is that frugal lunchbox options are also healthy and environmentally friendly options as well.
What are your tips for packing lunch boxes?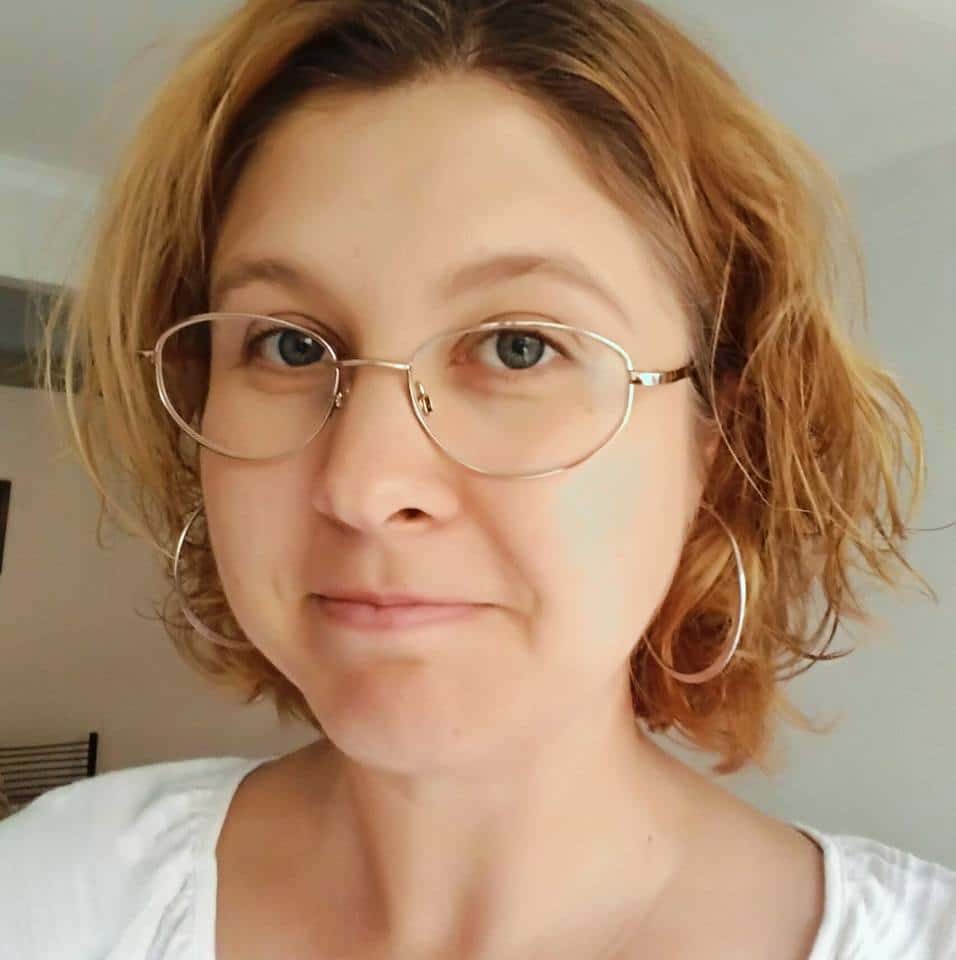 Melissa Goodwin is a writer and the creator of Frugal and Thriving who has a passion for living frugally and encouraging people to thrive on any budget. The blog is nine years old and is almost like her eldest baby. Prior to being a blogger and mum (but not a mummy blogger), she worked as an accountant doing other people's budgets, books and tax.