Easy Budget Lunch Box Ideas Your Kids (and Wallet) Will Love
This website may earn commissions from purchases made through links in this post.
Packing school lunch boxes doesn't have to be hard. Here are some easy, budget lunch box ideas for packing lunch every day.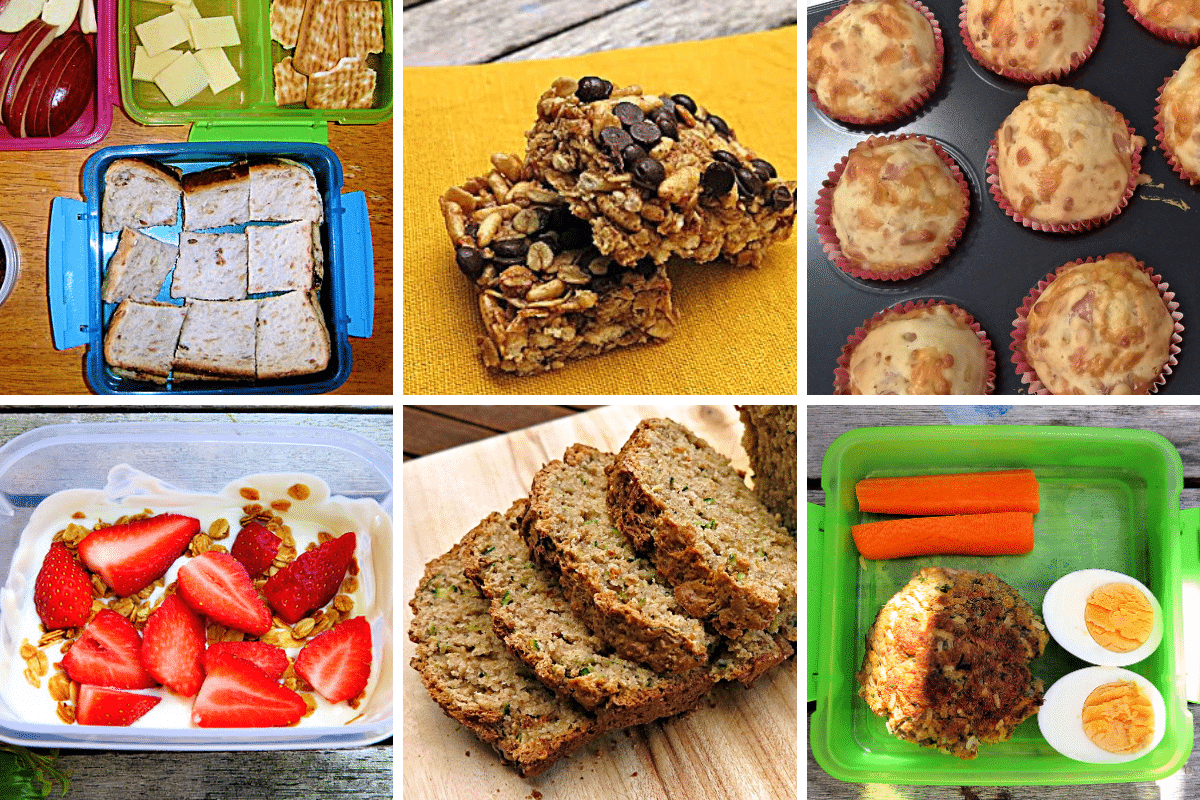 Social media can give the impression that lunchboxes have to be a gastronomical masterpiece filled with weird and expensive foods cut into cutesy shapes.
If you have the time, energy, and creative flair, then go for it.
But if you're mornings are more like mine – bleary-eyed and rushed – then easy lunchboxes are a must.
Public admission: I want to keep things real here. I'm a big fan of the 80/20 rule. 80% healthy food and 20% not so healthy. I don't aim for perfect; I aim for balance. My kids go to school with chicken crimpy crackers, muesli bars, and other items that a dietician might frown on, alongside their salad wrap and fruit.
It's okay not to be perfect.
As my kids got older, they started coming home without eating their fruit. I would rather they didn't waste it.
They agreed to eat fruit for breakfast or an after-school snack instead. They are still eating fruit but without the waste. I count this as a win-win, even if their lunchbox doesn't look 'Instagramable'.
5 Tips for Packing a Budget Lunch Box
Packing a budget lunch box is just as much about strategy as it is about the food that goes in it. Early mornings can be as easy as throwing a few packets in the lunch box (without actually throwing packets in the lunchbox) with a little bit of pre-planning and preparation (a very, very little bit, I promise!).
Here are five tips that help make packing lunch boxes easier:
1. Keep it Simple
Keep lunches simple by writing down a selection of ideas that you know your children will like and rotate those ideas.
For example, in a 10-week term, you might start with ham and salad wraps in week one, egg and lettuce sandwiches in week two, beef and slaw rolls in week three, vegemite and avo sandwiches in week four, and salad sandwiches in week five.
(Or whatever your kid's favourite sandwich fillings are).
Then repeat the rotation. That's enough variety without making it too much work for you.
To each lunch, add a piece or two of seasonal fruit or vegetables and a snack like DIY cheese and crackers, yoghurt, a muesli bar, a muffin, or a handful of popcorn, etc.
2. Plan Ahead and Shop for the Week
Just like it's a good idea to meal plan dinners, it's also efficient to give thought to what you're going to pack in the kid's lunchboxes for the week ahead.
When I'm meal planning, I add inexpensive snacks or stuff I need for baking to my list.
You might also like:
Save time and stress on school mornings by having a lunchbox planner and doing a little prep work (10 minutes only!) on the weekend.
Facebook303 Pinterest110 WhatsApp Email Save Tips and tricks to help you save money on school lunches. Looking for ideas to reduce the cost of packing school lunches every day? Packing a school lunch is definitely cheaper than buying from the tuckshop, but all those 'lunchbox additions' that supermarkets sell can really add up! Below are…
3. Spend 30 Minutes Prepping on Sunday Afternoon
If you're children eat leftovers, then your lunchbox packing will be super easy. Just cook a little extra dinner and put it aside to grab in the morning.
But if like my children, they don't (yet) eat leftovers, it can be helpful to spend 30 minutes on Sunday washing lettuce leaves, cutting fruit, cheese, carrots etc., hard boiling eggs, portioning out crackers or yoghurt or whipping up a quick batch of muffins. I usually do this while I'm cooking dinner.
If you prefer, you can also make the week's sandwiches ahead of time too.
This doesn't have to take up a lot of time, but it does make school mornings a lot easier.
5. Keep Some Backup Supplies in the Pantry
It's a good idea to keep an emergency stash of food for weeks when you don't get to the supermarket, you're ill, tired or don't want to even think about packing a lunch box (we've all been there!).
I have a secret snack box in our cupboard where I stock up on extra items when they go on half-price or that I pick up cheaply at Aldi. That way, you can have plenty of backup snacks without paying full price.
Some backup supplies might include:
brown rice crackers or other crackers of choice
tinned fruit
nuts
dried fruit
long life custard
peanut butter (if allowed at school) or vegemite
muesli bars
popcorn
vege chips
Buy in Bulk and Portion
Single-serve foods and multi-packs tend to be more expensive than bulk packs, and they are more wasteful as far as packaging!
Compared to home-baked foods, they are also more expensive, but they are convenient when you're busy, so good to have on hand.
To make your own cheese and crackers, you can buy cream cheese and serve it in a small container along with crackers divided out from a share pack. Alternatively, you can cut a few slices of cheese off a block.
For yoghurt tubs, it's cheaper to buy yoghurt in bulk and portion it into small containers. I like to use plain yoghurt and add fruit and vanilla or honey.
If you want to save even more, it's very easy and convenient to make the Easiyo yoghurt, especially when it's on sale.
Just about anything that you can buy in multi-packs can be purchased in larger packs and portioned out to save money and reduce waste.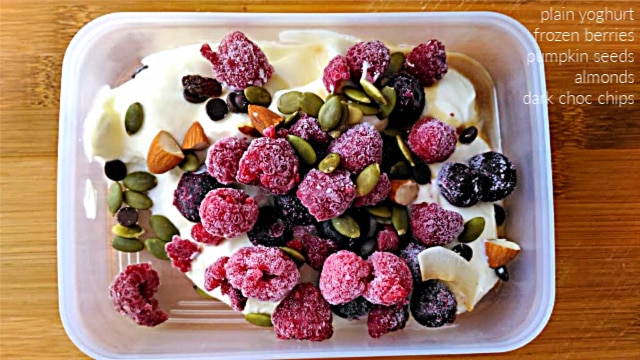 Cheap Lunch Box Ideas
Here are some frugal school lunch ideas.
Leftover Ideas for the Lunch Box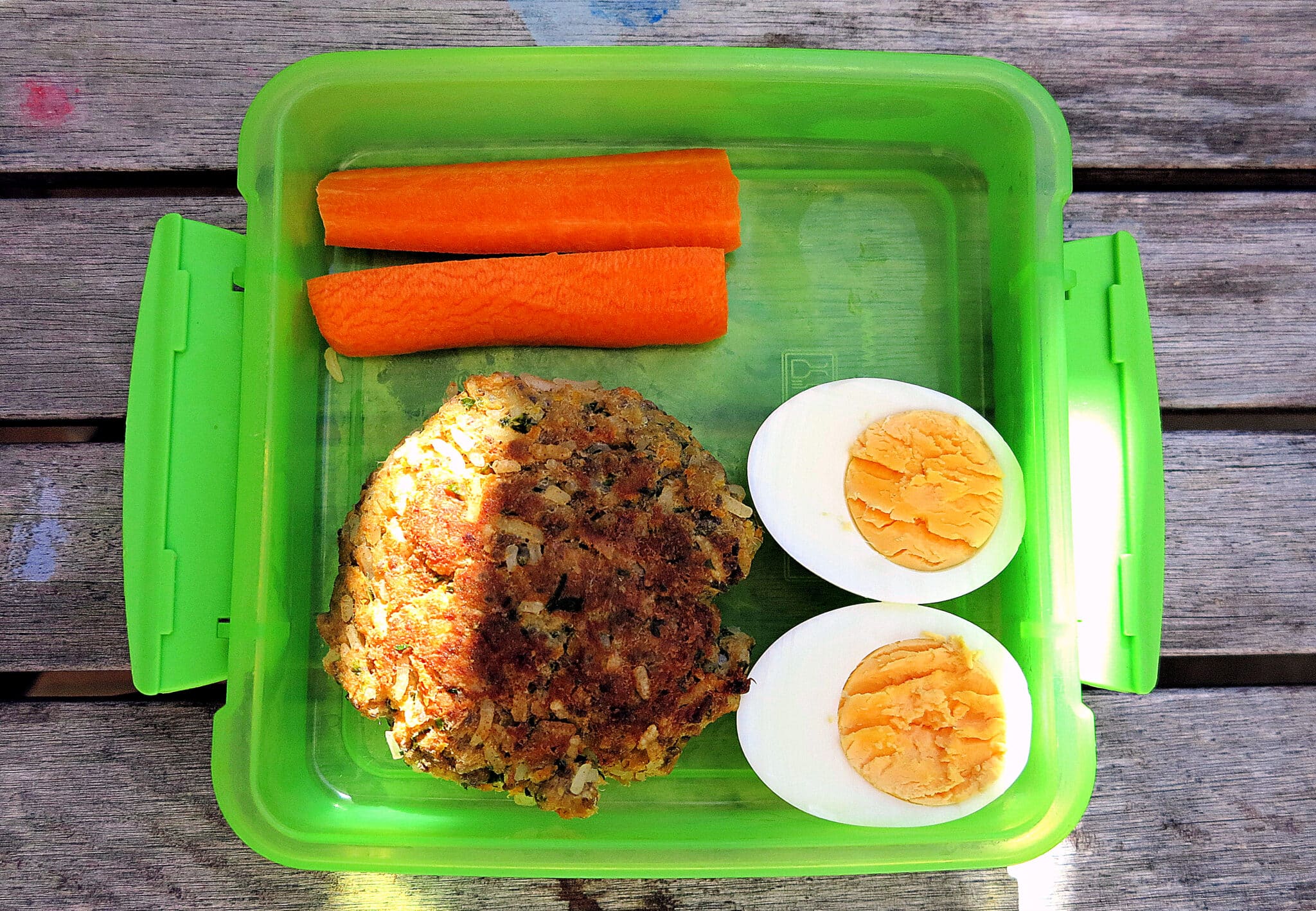 Leftovers are our frugal friend.
A quick and easy frugal lunch begins at dinner and breakfast if you plan to have leftovers.
I have to admit, my kids don't eat leftovers. A friend of mine is from India, and her kids have leftover dahl or vegetable curry with rice every day. I have lunchbox envy! But my point is that children will eat what they get used to from a young age.
Most leftover food tastes fine if eaten cold (I haven't eaten hot leftovers since the kids were born) and therefore are perfect for inclusion in a frugal lunchbox.
Ideal leftovers for the lunchbox include:
Leftover roast meat either on a sandwich, tossed through a salad or as part of a 'grazing selection'. Slow-cooking a roast is an easy way to make multiple dinners and lunches at the same time!
Pasta
Fried rice (or turn leftover rice into rice pudding)
Meatloaf
Meatballs
Leftover cooked vegetables (can be tossed with pasta, 'dressed' as a salad or used as dippers). Don't forget mashed potato or sweet potato; these can be eaten as cold mash or turned into fritters or bubble and squeak.
salad (green, potato, pasta or coleslaw salad, for example)
quiche or frittata
Pancakes (we always have a little leftover batter from Sunday morning pancakes to make mini-pancakes for morning tea during the week)
Leftover oatmeal (cold porridge – renamed Bircher muesli). Dress it up with plenty of fresh fruit and seeds or nuts if allowed)
Leftover soup or stew. Keep warm in a thermos. This is a great option for older kids.
Lunchbox Snack Ideas: Fresh Fruit and Veggies
Fresh fruit and vegetables are easy and nutritious.
It's important to pre-cut fruit and vegetables, especially for little kids. Children are more likely to eat it if you cut everything into bite-sized portions.
Choose vegetables you know your child will eat: carrots, capsicum, cucumber, cherry tomatoes, celery and snow peas all work well.
Make them more appealing by serving them will a dip. Hummus or cream cheese are popular choices.
Lunchbox Snack Ideas: Home-Baked Goodies and Other Ideas
Home-baked goodies like muffins, slices and muesli bars make great additions to the lunchbox. I like muffins because they can be in the oven in about five minutes and done in under thirty.
You can make baking a fun learning experience by baking with the kids. That way, you can enjoy family time and prepare for the week ahead at the same time. My daughter loves baking, and she makes muffins and other baked goods for lunches by herself now, saving me a job! It's such a valuable skill; I helped on baking night at Girl Guides recently, and I was surprised how many 10-12-year-old girls had never done any baking.
Many muffins, slices and bread (like banana bread) can be frozen, so you can freeze it in portions, ready for the lunchbox each morning.
Other ideas include:
popcorn (homemade or store-bought)
tuna
crackers (homemade or store-bought)
tinned beans
nuts (if allowed)
pretzels
homemade smoothies
Baked vegetable crisps
Yoghurt
leftover toasted muesli
Sandwiches – Making Great Lunches Since the Middle Ages
Sandwiches are convenient, easy, portable, inexpensive and taste good. Switch things up by using wraps or bread rolls as well as regular bread.
I love to get ideas from cafes and sandwich shops, but some of our frugal favourites include:
lettuce, cheese, grated carrot, and ham
roast beef or corned beef with slaw and BBQ sauce
egg, lettuce, and mayo
tuna, lettuce, and mayo
grated carrot, cream cheese, and sultana
chicken and coleslaw
tomato, avocado, and cheese (put the tomato on later, dry it with a paper towel or use Roma tomatoes to avoid the bread going soggy. You can also sandwich the tomato between lettuce to prevent fogginess. This also makes a nice grilled toast)
leftovers (bolognese sauce makes a nice sandwich)
quesadillas with refried beans and cheese
Non-Sandwich Budget Lunch Box Ideas
What if your child doesn't like sandwiches?
There are a lot of cheap alternatives (see leftovers above for ideas!). Besides leftovers, my favourite is the 'grazing selection', kind of like a ploughman's lunch but without the pickled onion!
Here are some ideas:
Hard-boiled eggs. If you boil a few while cooking dinner on Sunday night, then you will have some on hand and ready to go for lunches.
Pizza scrolls (can be made ahead). An alternative is cheese and vegemite scrolls or pesto scrolls.
Mini Quiches.
Rice paper rolls. Use leftovers for speedy production. Serve with a dipping sauce.
Pasta salad or rice salad.
Cheese. Cut it into slices, cubes or sticks and serve with vegetables, fruit (cheese and dried fruit are nice) or with some crackers.
If you have cream cheese, you can make your own dips or spreads.
Pre-made dips for dipping vegetable sticks or crackers in. Hummus is a favourite.
Crackers, crispbread or crostini sticks are handy to keep in the pantry.
Tinned tuna is a good source of protein and also useful to keep in the pantry.
For fresh fruit and vegetables, pre-cut it and keep it in airtight containers in the fridge, for easy lunchbox packing in the morning.
Portion out bulk foods like yoghurt or dip into small containers at the beginning of the week. That way you can just grab and pack them in the morning.
And for the drink bottle, water is the most frugal option, and it's the most healthy as well.
Lunches don't need to cost a fortune. The great thing is that frugal lunchbox options are also healthy and environmentally friendly as well.
What are your go-to lunches?