17 Frugal Instant Meal Ideas for When You Don't Want to Cook
This website may earn commissions from purchases made through links in this post.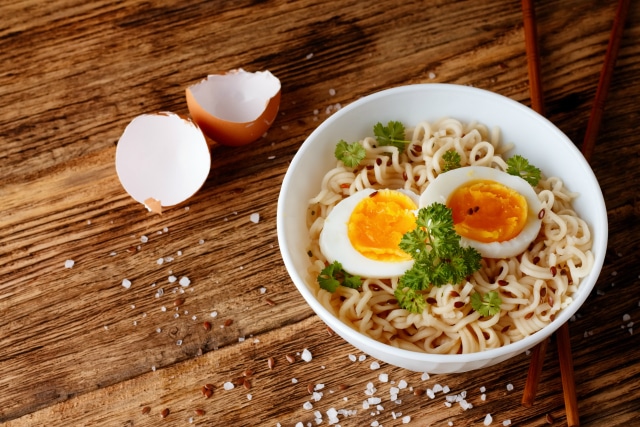 Do you ever have days when you just can't face the kitchen one more time? Maybe you've had a long day at work, or you're sick, or you've just had enough of cooking.
If you're a regular blog reader here, you know I'm all for cooking from scratch. And there are plenty of tricks you can use, like menu planning & batch cooking, to make this process easier.
But then there are the times when I don't even want to walk past the kitchen, let alone cook another meal. It's at these times when the following instant meal ideas come in handy.
Quite often, when we have a day when the kitchen is a no-go zone, we fall back on takeaway, which is fine as an occasional treat, but not so good if it becomes a regular occurrence. Having a backup plan is essential for saving money and eating better than KFC drive-thru.
I won't claim that these instant meal ideas are the most frugal or the most healthy you'll ever eat, but compared to most takeaway meals or premade supermarket meals, they're pretty good.
17 Cheat Meals for Nights When You Don't Want to Cook
1. Rotisserie Chicken + Bagged Salad + Dressing
BBQ chooks from Woolies are just as cheap as the fresh, free range ones you can get it Aldi and they are a great alternative when you don't feel like cooking.
Serve with a lightly dressed salad and you've got a complete meal.
If you don't want to use store-bought salad dressing, you can drizzle your salad with a little olive oil and lemon juice or vinegar for a super simple homemade dressing. Just a drizzle of balsamic vinegar is another super simple dressing idea.
2. Spinach and Ricotta Ravioli + Bottled Pesto
Cook the ravioli according to the packet directions. Drain, return to the pan and toss the pesto through the pasta. For a little extra decadence, you can also stir a little cream through if you have it. Serve with a side of salad.
3. Marinated Skewers + Frozen Vegetables + Hokkien Noodles
Soak the noodles in the boiling water. While they're soaking, slide the meat off the skewers and fry in a little oil until cooked through, adding any leftover marinade. Add the frozen vegetables and stir-fry until defrosted and heated through. Drain the noodles and toss through the meat and vegetable mixture before serving.
4. Toast + Cheese + Ham
You can't beat a toasted sandwich for a quick and easy light meal. Leave out the ham for the vegetarian option or substitute it with avocado or tomato or whatever takes your fancy. Add a little mustard or chutney for an adult flavour and some spinach to up the green content.
5. Turkish Bread + Eggs + Sliced Mushrooms + Cheese
Breakfast for dinner in the form of an omelette or scrambled eggs. We don't do this so much because we eat eggs for breakfast, but it's a good backup for other days.
Toast the Turkish Bread under the griller (any bread will do – or a salad instead if you don't eat bread – but Turkish Bread gives this meal a gourmet touch). Fry your mushrooms and any other ingredients you're using (spring onions and ham are a favourite of mine). In a clean pan, cook your eggs either scrambled or as an omelette. Top with cheese if using and your veg, fold and serve.
6. Rotisserie Chicken or Pulled Pork + Bagged Slaw + Buns or Wraps
Chicken, slaw and bread rolls are one of our favourite easy dinners. We usually make our slaw with shredded cabbage and mayo, but you can also buy it in bags to mix with mayo for convenience.
You can also buy pulled pork and pulled beef at the supermarket too. It's not going to be as good as the one you've lovingly braised in the slow cooker, but it's pretty good in a pinch and it's something a little different to the usual BBQ chook.
7. Pizza Base + Grated Cheese + Pizza Sauce + Leftovers
Regular bread or wrap bread can be used in place of pizza bases if you prefer. Top with pizza sauce and grated cheese for a basic pizza or add leftovers from the fridge or marinated vegetables for something more filling.
8. Instant Rice + Cooked Prawns + Crushed Garlic + Cream
Garlic in a jar is a useful standby to have in the fridge. Cook the rice according to packet directions or reheat in boiling water. Heat a little butter in a pan, and toss in the garlic, prawns and cream. Heat for 2 minutes. Serve with rice.
9. Instant Rice + Egg + Ham + Frozen Vegetables + Soy Sauce
For an easy fried rice, cook the rice according to packet directions. Cook a scrambled egg and remove from pan. Fry ham and vegetables, add rice and soy sauce and cook through. Stir in egg and serve.
10. Couscous + Leftover / Rotisserie Chicken + Sliced Mushrooms + Pesto
Prepare couscous according to packet direction. Fry the sliced mushrooms briefly. Add the chicken and pesto. Serve with the couscous.
11. Instant Rice + Rotisserie Chicken or Cooked Prawns + Coconut Cream + Curry Paste or Powder + Frozen Spinach
Maybe not the best, but the quickest chicken curry you'll ever make. Cook rice according to packet directions. Add chicken or prawns to a pan with coconut cream, curry powder or paste and spinach and cook through. Serve with the rice.
12. Ricotta Cheese + Ciabatta Loaf + Avocado + Smoked Salmon
I had this meal in a gourmet restaurant in Sydney, but it's a simple one to have at home. Spread some cut bread (it doesn't have to be Ciabatta loaf) with ricotta cheese, top with slices of avocado and smoked salmon or use tinned salmon for a cheaper version.
13. Wraps + Avocado + Tomato + Grated Cheese + Tinned Beans
Quesadillas are popular in our house. Crush the beans and spread on one wrap. Top with avocado, tomato and grated cheese. Top with a second wrap and cook in a sandwich press.
14. Couscous + Rotisserie Chicken + Marinated Vegetables + Salad Leaves
Prepare couscous. Toss chicken, marinated vegetables with a little of the flavoured oil and salad leaves through the couscous. Simple. Tasty. Delicious.
15. 2 Minute Noodles + Tinned Tuna + Frozen Vegetables
Straight from the pantry (and freezer), this meal can be on the table in less than 10 minutes. Boil the noodles and vegetables and then drain. Toss the tuna through the noodles and serve. Substitute an egg instead of the tuna if you prefer.
16. Tinned Tuna + Bagged Salad + Tinned Beans + Dressing
Tuna and bean salad is easy and healthy and apart from the salad, uses ingredients straight from the pantry. I like adding couscous or bulgur to my salads, both of which are pantry staples and super quick to prepare.
If you're looking for something more gourmet, you can check out your supermarket's range of cheeses, herbs, or additions like roasted beetroot in the salad aisle.
17. Wraps + Hummus + Avocado + Spinach
An easy vegetarian dinner, on the table in minutes. Hummus and salad wraps are an easy light meal. For a more substantial wrap, add cheese and tomato or leftover chicken if you have it the fridge.
If cooking is the last thing you want to be doing, you don't have to resort to takeaway or microwave meals. Instead, make the most of the healthier supermarket convenience foods and 'assemble' a meal in minutes and save.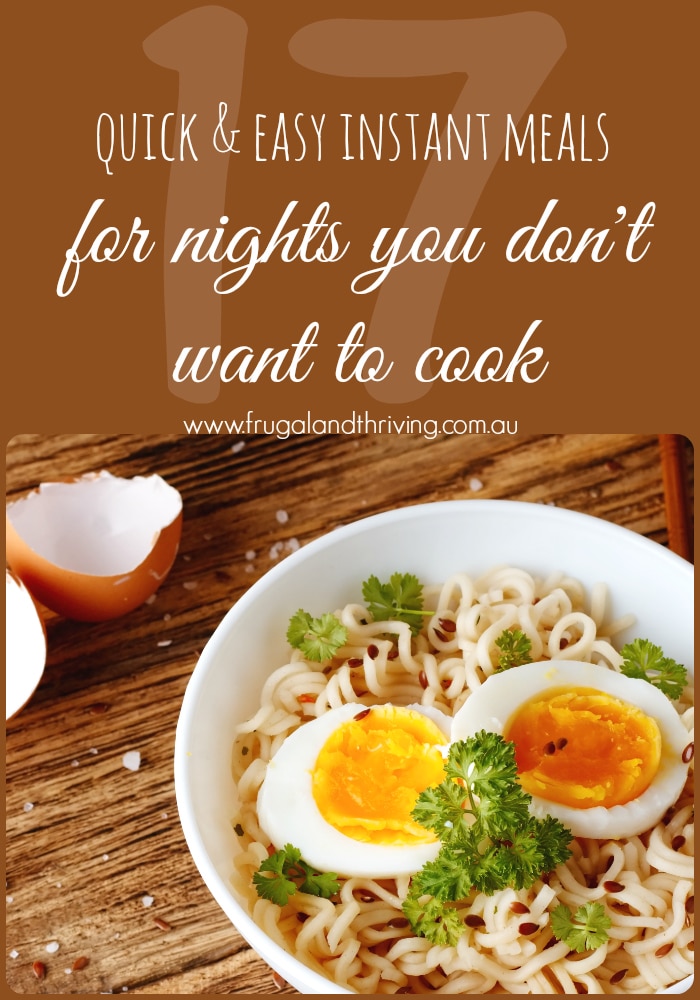 Melissa Goodwin has been writing about frugal living for 10+ year but has been saving her pennies since she first got pocket money. Prior to writing about frugal living, Melissa worked as an accountant. As well as a diploma of accounting, Melissa has an honours degree in humanities including writing and research and she studied to be a teacher and loves sharing the things that she has learned and helping others to achieve their goals. She has been preparing all her life to write about frugal living skills.
JOIN THE NEWSLETTER