This choc oat biscuit slice is a delicious lunchbox treat and is nice with a cuppa for morning tea. It can also be frozen for later.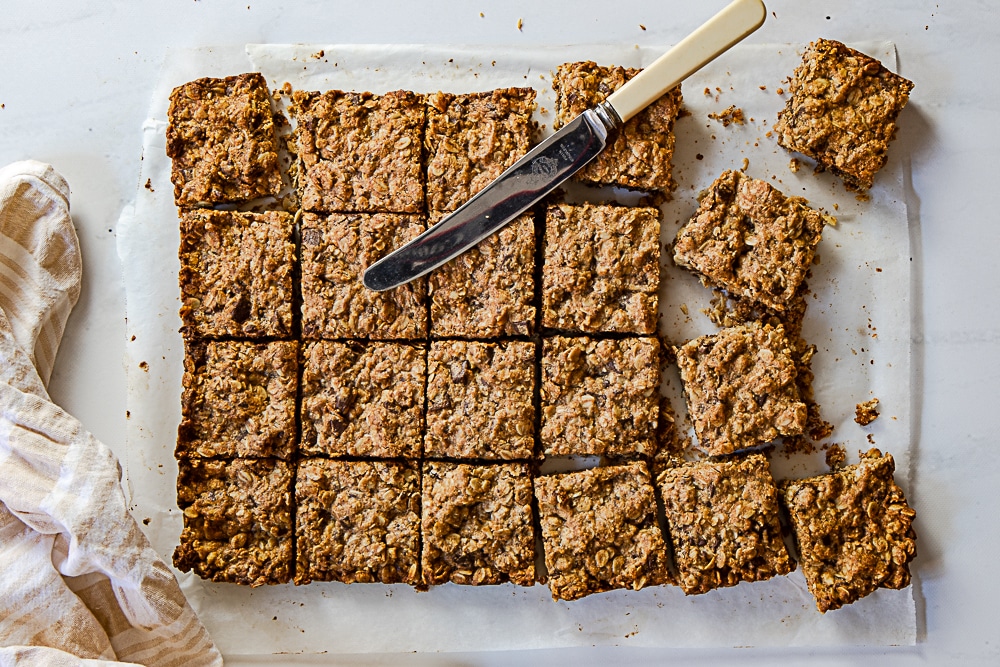 This slice is made entirely from everyday staples.
Flour, sugar, oats, baking powder, vanilla and cooking chocolate (or their equivalents if you're allergic) are all essential pantry staples.
And butter and eggs are also handy to always have on hand.
From these ingredients come this delicious biscuit slice that is perfect for morning tea or a lunchbox treat.
Baking Notes
The choc oat slice is easy quick and easy to make and takes about half an hour to cook.
Cut it while it's still warm and then let it cool completely – although it is delicous warm.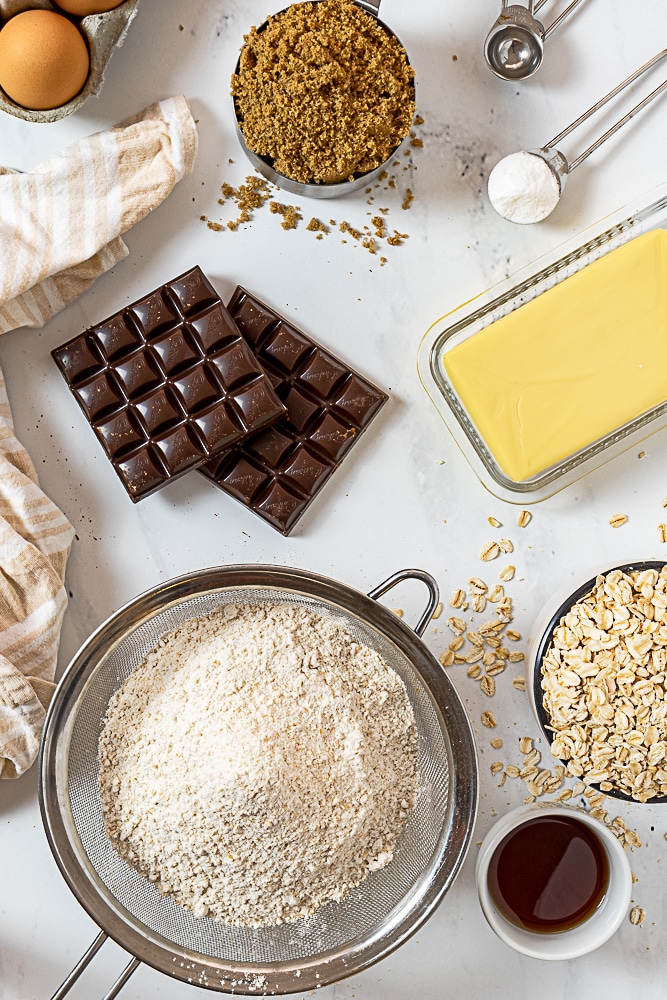 This slice is sweet with a crumbly texture, although the oats give it a little bit of chewiness. The wholemeal flour also adds to the texture.
The bitterness of the dark chocolate complements the caramel sweetness of the brown sugar.
Substitutions
You can substitute plain flour for the wholemeal flour. The slice will have a slightly less chewy texture.
You can also substitute your favourite gluten-free flour and oats etc.
You don't have to use brown sugar, any sugar will do. If you use white sugar, you lose some of the caramel flavours. Raw sugar is a good substitute if you want to maintain a similar flavour.
Can you make this using a Mixer?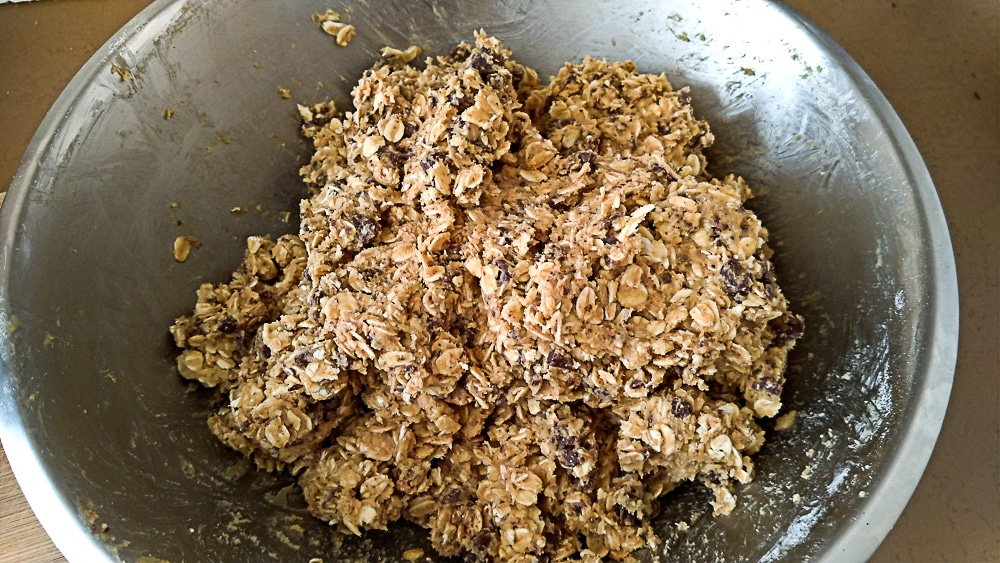 The dough gets very stiff. More like a cookie dough than a cake batter.
If you use a mixer, you will need to use the flat beater attachment and stop once the ingredients are just incorporated. Over beating can make the biscuit slice flat and crispy.
The best tools I've found for mixing is a spoon to cream the butter and sugar and mix in the flour and egg, and then your hands to mix in the chocolate and oats.
Using your hands makes the job so much easier.
Can I Use Choc-Chips instead of Chopped Chocolate?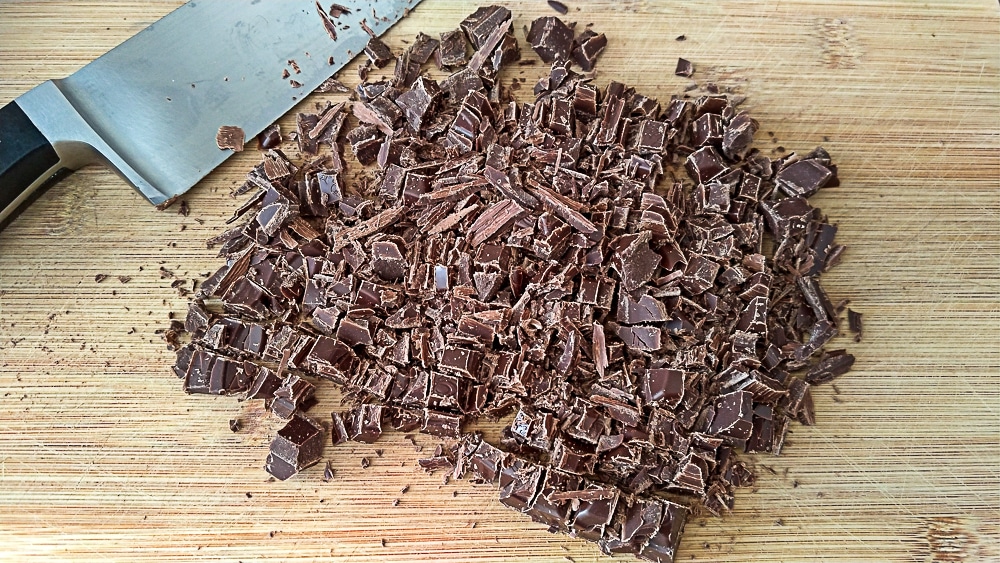 You can definitely use chocolate chips in this recipe. Choc chips are quick and easy and there's less mess to clean up.
However, I've used both and this recipe is better if you use chopped chocolate. The unevenness of the chocolate when it's roughly chopped, from big chunks to small crumbs, means it disperses more evenly through the biscuit dough.
When it comes to saving money on the chocolate, keep an eye out for catalogue sales and buy it half price. Then hide it at the back of the pantry. Then you always have it on hand when the baking bug bites and it makes it more affordable when you're not paying full price.
Can You Use Milk Chocolate?
The brown sugar in this recipe makes it very sweet. The bitterness in dark chocolate provides a nice contrast to the sweetness.
While you can use milk chocolate, Using it will make this oat slice super sweet and you won't get the contrast of flavours.
What baking tray size is best?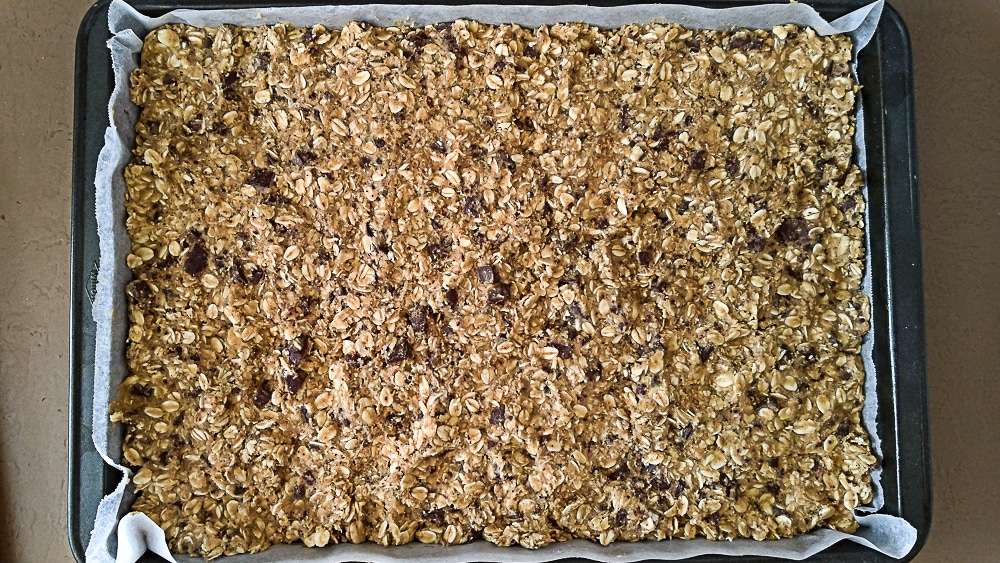 The recipe calls for a baking pan that is approximately 30 cm x 20 cm x 2.5 cm (12 in x 8 in x 1 in).
Fun fact: in Australia, we call these Lamington pans (or slice pans) after the famous Australian cake that is cooked in this size pan. And while nothing beats a good Lamo, this oat slice is pretty good.
You can bake this in a square pan but because the pan is smaller and deeper, your slice will take a little longer to cook.
Adjust the time by a few minutes and turn down the temperature of your oven a bit to compensate. Test and cook a bit longer if it needs.
How to Freeze The Biscuit Slice
To freeze the slice, let it cool completely and place squares in a single layer it in a plastic container.
To defrost, remove the container from the freezer and leave at room temperature until defrosted.
If you want to freeze individual pieces, places the slices on a lined tray, making sure the pieces don't touch.
Once frozen, transfer to an airtight container and store in the freezer. The airtight container will prevent the slice from being crushed.
You can store multiple layers in the same container by placing baking paper between layers. Defrost pieces as needed at room temperature.
If you like, you can gently reheat the slice in the oven or microwave to give it that just-baked touch but this is optional.
Yield: 24
Choc Oat Biscuit Slice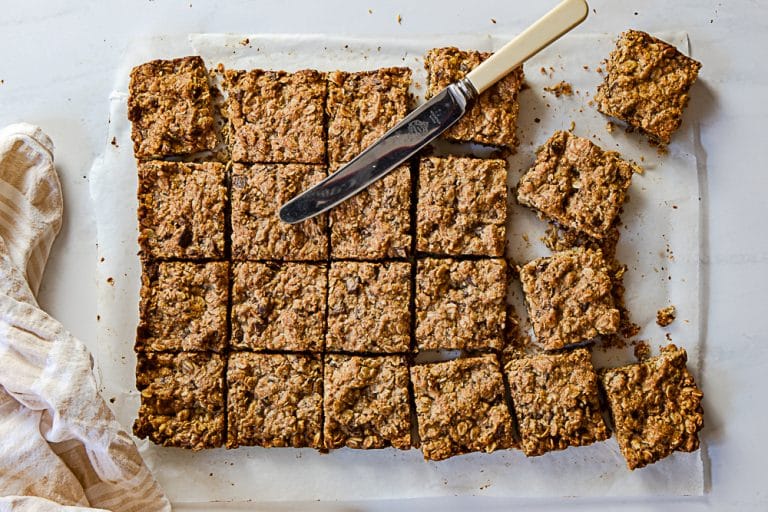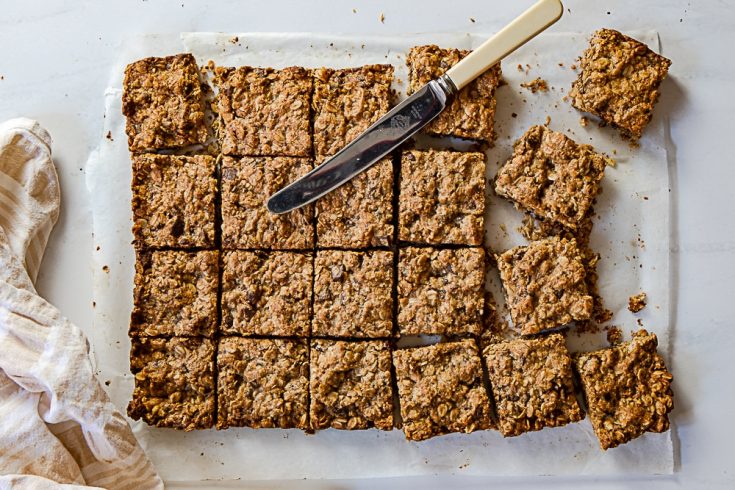 This choc oat biscuit slice is a delicious lunchbox treat and is nice with a cuppa for morning tea. It can also be frozen for later.
Ingredients
225g butter softened
170g brown sugar (1 cup)
1 egg
1 tsp vanilla
225g wholemeal flour (1.5 cups)
1 tsp baking soda
300g rolled oats (3 cups)
180g chocolate, chopped
Instructions
Preheat oven to 180°C. Grease a lamington/slice tray with a little butter and line tray with baking paper.
Cream butter and sugar. Add eggs and vanilla and beat until combined.
Sift in the flour and baking soda. Add the meal left in the sifter and combine.
Stir in the oats and the chopped chocolate.
Press the mixture into a lamington tin spreading evenly over the base of the tin.
Bake for 30 – 35 minutes or until golden and set in the middle.
Cut into 24 squares and cool (or eat).
Hide the leftovers.
Notes
You can add extra chocolate if you like.
Nutrition Information:
Yield:
24
Serving Size:
1
Amount Per Serving:
Calories:

217
Total Fat:

11g
Saturated Fat:

6g
Trans Fat:

0g
Unsaturated Fat:

4g
Cholesterol:

30mg
Sodium:

125mg
Carbohydrates:

27g
Fiber:

3g
Sugar:

11g
Protein:

4g
Nutritional information is calculated automatically using the Nutritionix database. Nutrition information can vary for a recipe based on factors such as precision of measurements, brands, ingredient freshness, serving size or the source of nutrition data. We strive to keep the information as accurate as possible but make no warranties regarding its accuracy. We encourage readers to make their own calculations based on the actual ingredients used in your recipe, using your preferred nutrition calculator.
Looking for more recipes using oats? Try: