This choc oat biscuit slice is a delicious lunchbox treat or as well as going great with a cuppa for a morning tea snack. It can also be frozen for later.
I found this recipe at Tammy's Recipes (who got it from A Mummy's Blessings) after a reader recommended Tammy's website. This slice made it to our family favourites list without any discussion, it was immediately loved, and I've made it dozens of times in the last few months (Hmm, I think I'll go and make some now).
I baked this slice and froze it when I was still pregnant, in order to have something to give guests after the little fella was born (it defrosts well by the way). After tea one day, I watched my dad surreptitiously transfer the leftover pieces to his own Tupperware container while he thought nobody was watching. Later, he gave me back our container saying 'Here. I washed it up for you!" Hmm, thanks. It's a popular slice.
I've altered the recipe a little bit to suit our tastes (and I've written it up here in metric and Celsius). I use wholemeal flour, raw or rapadura sugar (if I have it in the cupboard) as both have a much nicer flavour than white sugar, and I chop a chocolate bar rather than use choc chips. Choc chips are less work and still taste great, but choc bits that you cut yourself are smaller and mix through the slice better. And then there are all the chocolate crumbs that make the whole slice yum.
This looks like a 'health' bar as some people have commented when I've served it. You will notice that it has quite a lot of sugar though, so not exactly healthy, but we eat it a lot anyway and at least it's got real ingredients in it.
Choc Oat Biscuit Slice
Ingredients
225g butter softened
3/4 cup brown sugar
1/4 – 1/2 cup raw or rapadura sugar
1 egg
1 tsp vanilla
1 1/2 cups wholemeal flour
1 tsp baking soda
3 cups of rolled oats
about 340g chocolate, chopped
Method
Preheat oven to 180°C. Grease a lamington tray with a little butter.
Cream butter and sugar. Add eggs and vanilla and beat until combined.
Sift in flour and baking soda. Add the meal left in the sifter and combine.
Stir in the oats and the chopped chocolate. This is a pretty stiff mixture, too stiff, I think, for electric beaters. A wooden spoon is good for this job.
Press the mixture into a lamington tin spreading evenly over the base of the tin.
Bake for 30 – 35 minutes or until golden and set in the middle.
Cut into 24 squares and cool (or eat).
Hide leftovers.
Looking for more recipes using oats? Try: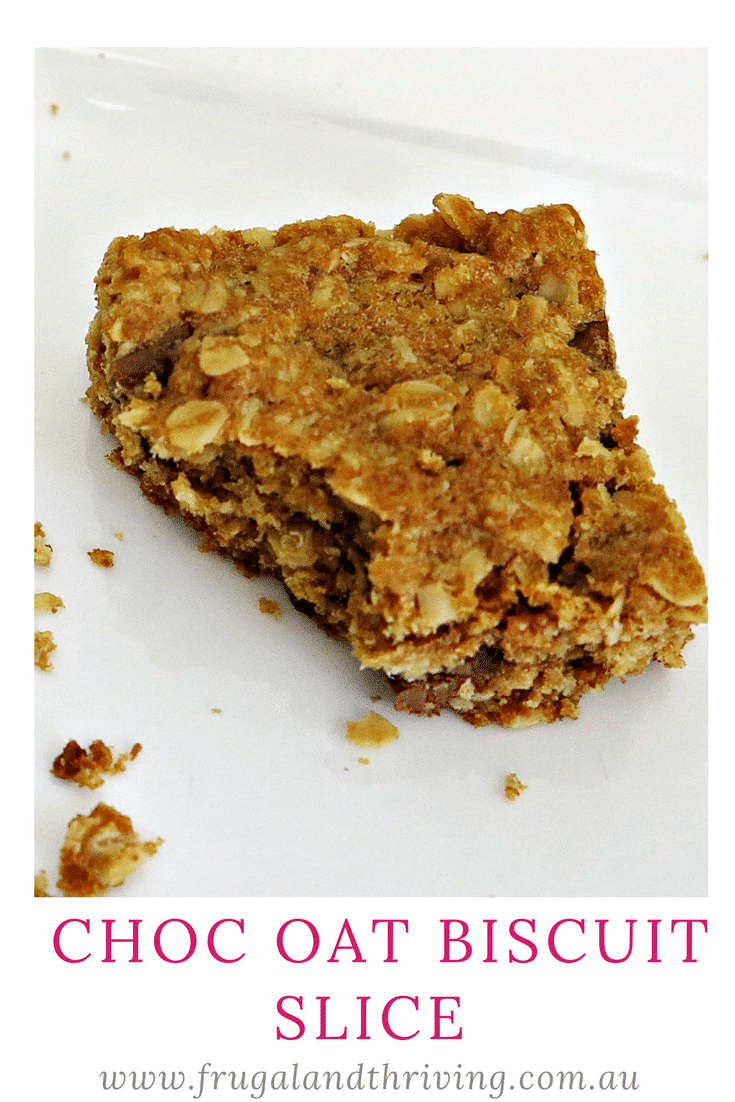 Melissa Goodwin is a writer and the creator of Frugal and Thriving who has a passion for living frugally and encouraging people to thrive on any budget. The blog is nine years old and is almost like her eldest baby. Prior to being a blogger and mum (but not a mummy blogger), she worked as an accountant doing other people's budgets, books and tax.