Traditional Rock Cakes – Baking From Grandma's Era
This website may earn commissions from purchases made through links in this post.
Rock cakes are old-fashioned frugal tea buns that are quick and easy to make as well as being frugal. Great with a cuppa for morning tea.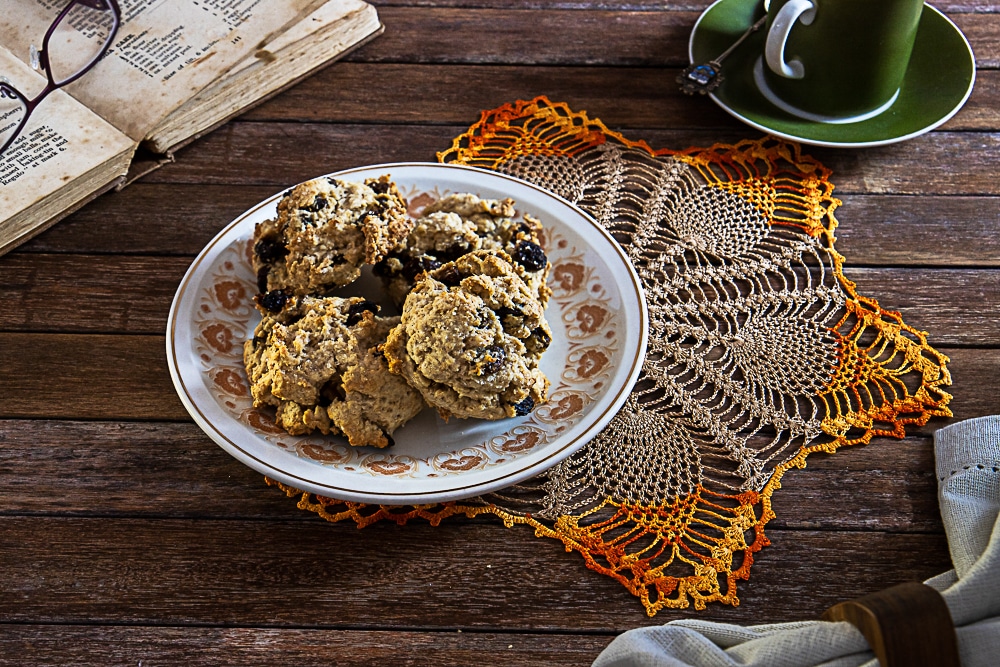 Rock cakes, or rock buns as they are also called, are an old recipe going back hundreds of years. Mrs Beeton included two recipes in her 1861 recipe book, but the recipe no doubt predates the great Mrs Beeton.
According to the great Wikipedia, these little sultana buns were promoted during WW2 because they use less sugar and eggs than regular cakes. This was important during times of rationing, but it's also helpful for the frugal cook. These make great frugal treats.
Because rock cakes have less sugar, they are not super sweet. Instead, the sultanas give them little pops of flavour.
Traditionally, the recipe calls for mixed peel. If you're like me, and you don't find peel…appealing (ahem), then substitute the peel with more sultanas.
Despite their name, these cakes aren't hard. They are soft and crumbly although they can dry out in the oven if you cook them too long.
How to make Rock Cakes
Like many traditional recipes, rock cakes are best made with your hands.
When you use your hands, you can feel how wet or dry the mix is and can adjust accordingly. We like to think of baking as an exact science with exact measurements, but it's more of an art. Old-fashioned recipes like these are great for getting in touch – literally – with how ingredients interact with each other.
For example, when baking, you may need to use more or less liquid than is stated in the recipe depending on the flour brand, how hard the type of wheat is, whether it is wholemeal or not and how many husks were left, the altitude you're baking at, the weather and humidity….
So let your hands guide you for perfect rock cakes.
The first step is to rub in room temperature butter. Add chunks of butter, toss it in the flour and rub it between your fingers and hands to disperse the butter through the flour. It should look like fine breadcrumbs as pictured below.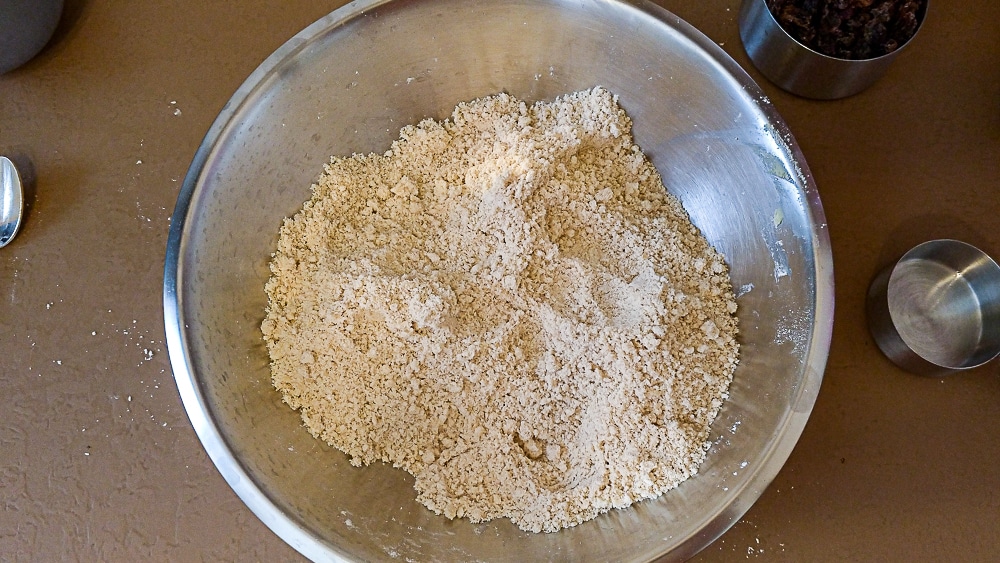 Next, add your sultanas and toss them in the flour, coating them well.
Finally, add your wet ingredients and mix them into the flour until you have formed a fairly stiff dough.
Once you have your dough made, scoop up walnut sized dollops of dough and place on a prepared baking tray. At this point, it's ok to go back to using a spoon. In fact, an ice cream scoop makes this job easy.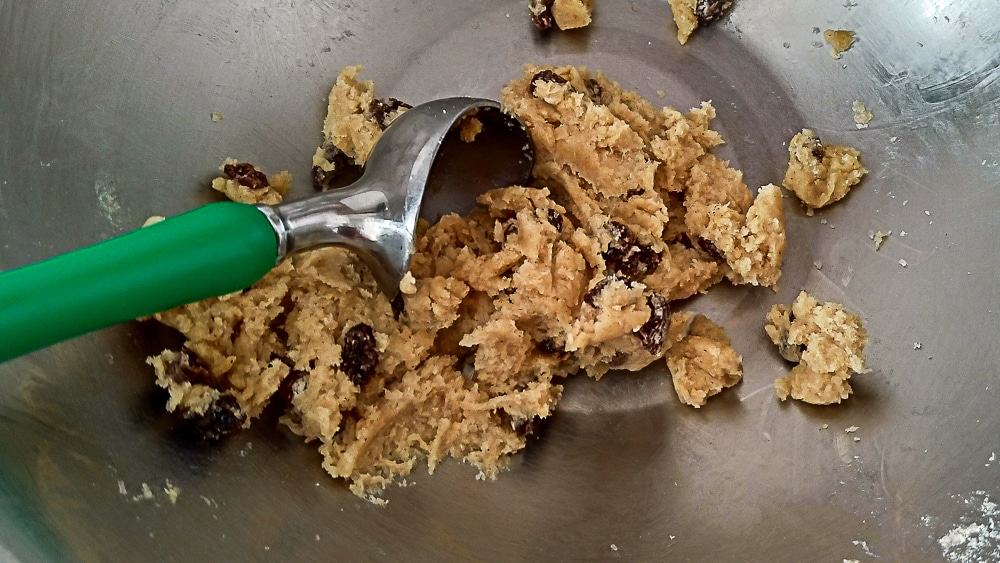 Leave a little space on the tray for spreading. Once you've filled the tray, sprinkle with sugar and bake in a moderate oven for around 15 to 20 minutes.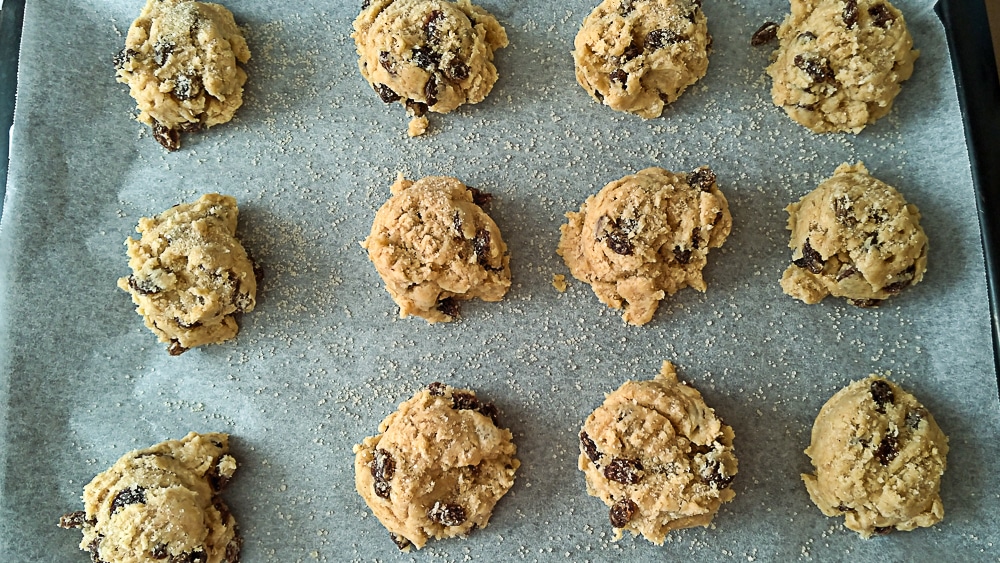 Again, just as flour may need more or less liquid, your oven might run hotter or cooler depending on the type of oven you have and how old it is. The average household oven can vary in accuracy by around +- 10-20°C. So it's important to get to know your oven's personality.
Old-fashioned cook books didn't use precise temperatures because old-fashioned ovens didn't come with thermostats! The oven thermostat wasn't invented until around 1915 and wasn't in common use until later.
Instead, you had to get to know the feel of your oven, along with a few other tricks. That is why recipes would call for a "moderately hot" oven. Experience with your oven would guide you as to what that means.
Here's the rock cake recipe.
Yield: 12
Traditional Rock Cakes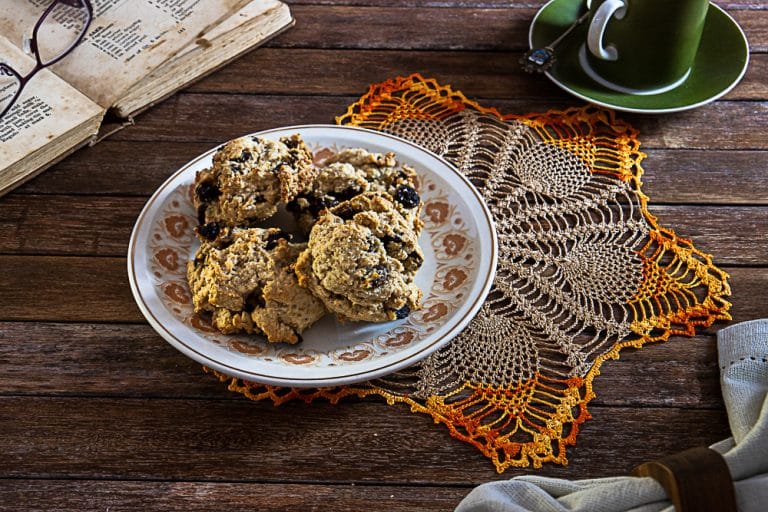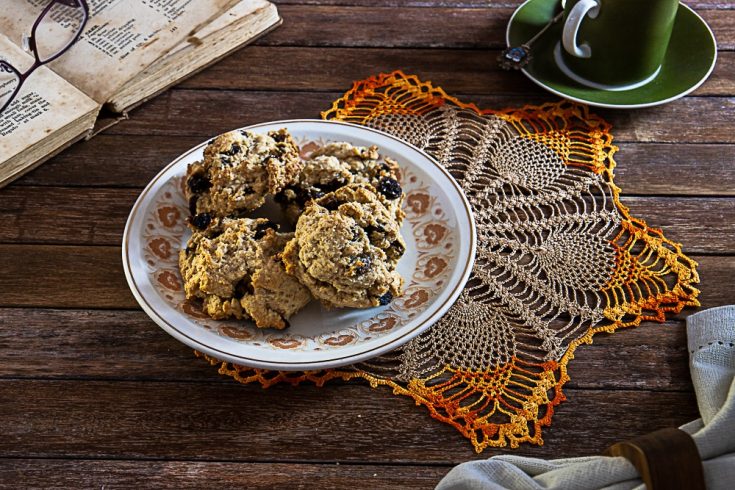 Rock cakes are an old-fashioned frugal tea bun that are quick and easy to make as well as being frugal. Great with a cuppa for morning tea.
Ingredients
250g (2 cups) of self-raising flour
65g (1/3 cup) raw sugar
1/4 tsp cinnamon
90g butter
75g (1/2 cup) sultanas
75g (1/2 cup) mixed peel (or substitute with more sultanas)
1 egg
80ml (1/3 cup) of milk
extra sugar for sprinkling
Instructions
Preheat oven to 'moderately hot' about 180°C (360°F). Grease a baking tray or cookie sheet with butter.
Sift flour, sugar and cinnamon together in a bowl. Using your fingertips, rub in the butter until mixture resembles fine breadcrumbs.
Add sultanas and mix well breaking up clumps.
Beat the egg and add. Add sufficient milk to make a moist but stiff consistency. Depending on the flour you may need a little less or a little more milk.
Spoon mixture into rough walnut-sized lumps onto the greased tray. Leave space for slight spreading. Sprinkle with sugar.
Bake for 15- 20 minutes or until cooked through.
Loosen on trays while hot and allow to cool or eat warm with or without butter.
Notes
I like to use half plain flour and half wholemeal flour for texture and taste.
If you don't like mixed peel, substitute with more sultanas.
White sugar is fine in this recipe. I use raw sugar because it has a caramel taste white sugar lacks.
You can sprinkle the rock cakes with regular sugar or demerara sugar if you have it.
Nutrition Information:
Yield:
12
Serving Size:
1
Amount Per Serving:
Calories:

179
Total Fat:

7g
Saturated Fat:

4g
Trans Fat:

0g
Unsaturated Fat:

2g
Cholesterol:

32mg
Sodium:

307mg
Carbohydrates:

27g
Fiber:

1g
Sugar:

10g
Protein:

3g
Nutritional information is calculated automatically using the Nutritionix database. Nutrition information can vary for a recipe based on factors such as precision of measurements, brands, ingredient freshness, serving size or the source of nutrition data. We strive to keep the information as accurate as possible but make no warranties regarding its accuracy. We encourage readers to make their own calculations based on the actual ingredients used in your recipe, using your preferred nutrition calculator.
Looking for more traditional Australian baking? Check out:
JOIN THE NEWSLETTER