homemade almond milk and almond meal
This website may earn commissions from purchases made through links in this post.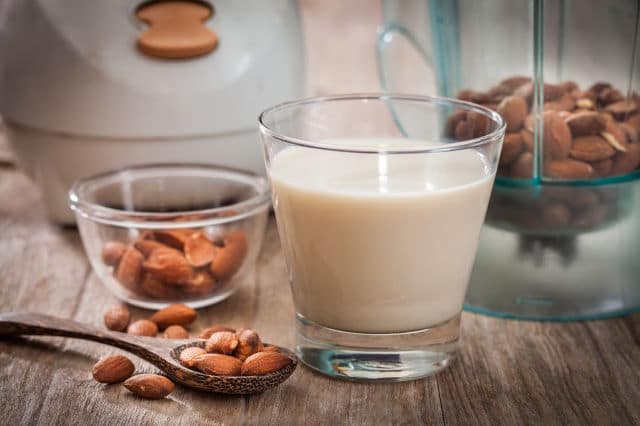 Almond milk is something that I've been wanting to make for a long time, but it wasn't until I took an online wholefood course that I finally got up the courage to try it. It is actually quite easy to make, only takes a few minutes and tastes great, especially in smoothies, hot chocolate and hot chai tea.
There is a generous amount of almond meal left over after making the milk and this almond meal makes baked goods taste moist and fabulous (at a fraction of the cost of the store-bought almond meal). I have baked with it as it is once the milk is extracted, and I have dried it in the oven – both work fine although as there is more moisture in the un-dried meal, so you may need to adjust your baking recipes slightly.
Yield: 1 cup
Homemade Almond Milk and Meal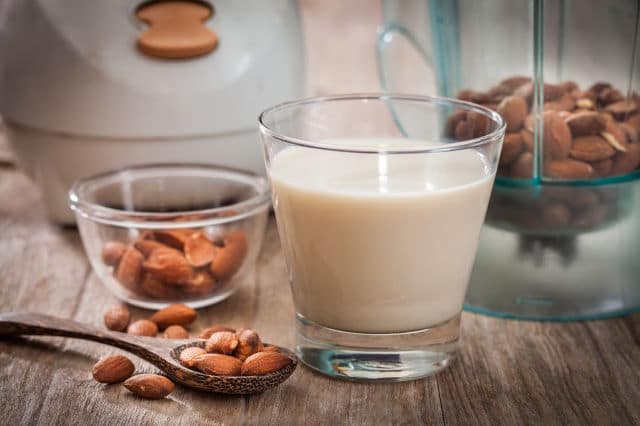 Make your own almond milk and then make almond meal leftover from the meal.
Ingredients
I cup of almonds
4 cups of filtered water + water for soaking
1 – 2 dried dates or to taste
Instructions
Place almonds in a bowl to soak overnight. In the morning, add the dates and let them soak for 10 minutes or so until soft (you can soak these overnight as well if you like – they look absolutely terrible in the morning but are quite edible).
Strain almonds and rinse. Place almonds in a blender with the dates and 4 cups of water and blend on high for a few minutes until liquid and the almonds have been ground to meal. Depending on your blender, it may need a motor rest or two during blending.
Place a strainer over your bowl and a clean tea towel or nut bag in the strainer (cheesecloth isn't fine or strong enough unless you double or triple fold it). Draw up the sides of the cloth and then gently twist and squeeze the milk into the bowl. Continue to do this until you have the milk separated from the meal (you may find it easier to do this in batches). The milk can be refrigerated for 2 – 3 days, it will need a bit of a shake before drinking as there is some settling.
The meal can be used as is, refrigerated for a few days or frozen. You can also dry the meal. To do this, set your oven to it's lowest temperature, spread the meal onto a tray and leave it to dry for a few hours (I dried it for about 5 hours). If your oven doesn't do low, you can heat it slightly every half hour or so and then turn it off to keep the temperature low. Alternatively, if you have a dehydrator, you can use that.
If you prefer, you can run the dried almond meal through a coffee or spice grinder or blender for a few seconds to get a finer texture. Refrigerate or freeze meal.
Nutrition Information:
Amount Per Serving:
Trans Fat:

0g
Cholesterol:

0mg
Nutritional information is calculated automatically using the Nutritionix database. Nutrition information can vary for a recipe based on factors such as precision of measurements, brands, ingredient freshness, serving size or the source of nutrition data. We strive to keep the information as accurate as possible but make no warranties regarding its accuracy. We encourage readers to make their own calculations based on the actual ingredients used in your recipe, using your preferred nutrition calculator.
JOIN THE NEWSLETTER