Whip up this easy self-saucing butterscotch pudding from ingredients you already have in your pantry.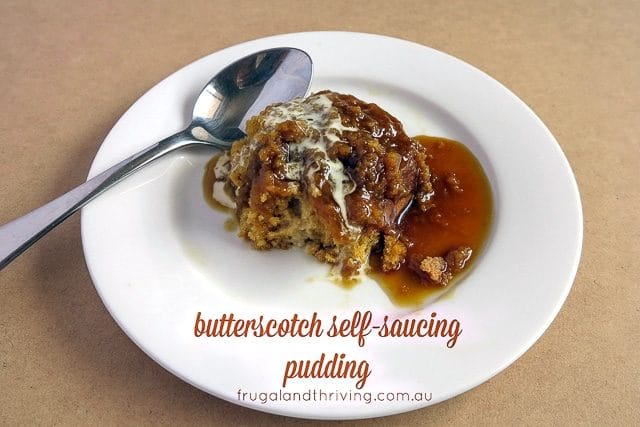 This pudding is so easy to whip up in a flash: all the ingredients are basic pantry staples that can be thrown together when you want a dessert (without going out to buy extra ingredients).
But don't be fooled, this is one delicious dish!
This pudding makes a great winter dessert, perfect for after the Sunday roast.
For something a little different, add some chopped nuts to the batter.
Butterscotch self-saucing pudding
For the batter
1/3 cup brown sugar
1 1/4 cups self-raising flour, sifted
1/2 cup milk
80g butter, melted
1 egg
2 Tbsp. golden syrup
For the sauce
1/2 cup brown sugar
1 Tbsp. cornflour
1/4 cup golden syrup
1 1/4 cups boiling water
For the pudding
Preheat oven to 170°C and grease a 1-litre oven dish.
Combine the sugar and sifted flour. Add the milk, egg, butter and golden syrup to the combined flour and sugar. Mix to a smooth batter and pour into the prepared oven dish.
For the sauce
Combine sugar and cornflour and sprinkle evenly over the pudding batter.
Mix the golden syrup and boiling water together until the syrup has dissolved. Pour evenly and gently over sugar mixture onto the batter.
Bake for 40 – 50 minutes or until the cake forms on top and a skewer inserted into the cake part comes out clean.
Serve with cream or ice cream.
Serves 4 – 6
Melissa Goodwin is a writer and the creator of Frugal and Thriving who has a passion for living frugally and encouraging people to thrive on any budget. The blog is nine years old and is almost like her eldest baby. Prior to being a blogger and mum (but not a mummy blogger), she worked as an accountant doing other people's budgets, books and tax.