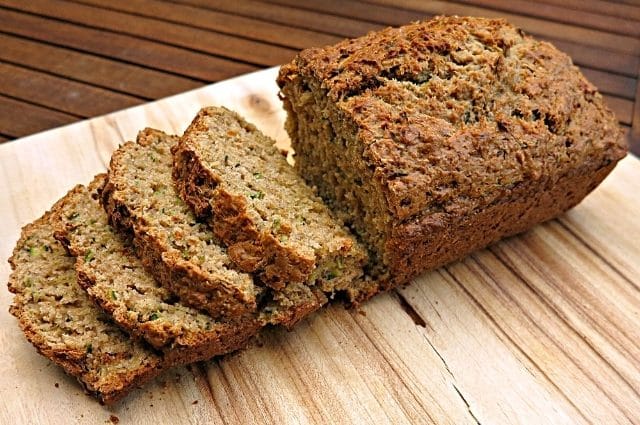 There's nothing like cake with vegetables in it to make us feel like we're not being so naughty.
It's still cake, despite the veggies, but the added greens take the edge off the guilt, right?
Although this cake isn't too indulgent, and the sugar quantity can be reduced if you prefer.
It is a good way to get extra veg into kids, which is what I tell myself when I'm loading up school lunchboxes.
Speaking of which, this recipe makes two loaves – one for this week and one for the freezer, making next week's morning teas oh so much easier.
After cooking the first loaf, I add in a couple of tablespoons of cocoa to the remaining cake mix for some chocolaty variety.
The cake mix will seem very stiff and dry as you mix it, but the zucchinis will add moisture to the mix, so don't squeeze out the grated zucchini.
While this cake is a nice addition to lunchboxes, it is particularly nice toasted and served with butter.
Spiced Wholemeal Zucchini Bread
Ingredients
3 cups wholemeal flour
2 tsp. baking powder
1 tsp. bicarbonate of soda
2 tsp. cinnamon
1/2 tsp. allspice
1 cup of sugar
2 eggs
1/2 cup oil
1/2 cup yoghurt
2 tsp. vanilla essence
2 cups of grated zucchini
Instructions
Preheat oven to 170°C. Grease two loaf tins.
Combine dry ingredients (flour, spices, baking powder and soda and sugar) in a bowl.
In a separate bowl, combine remaining wet ingredients.
Mix wet ingredients into dry, combining well.
Pour into prepared loaf tins and cook for 1 hour or until a skewer comes out clean when inserted into the middle of the cake. Cool in pan before turning out.
Slice to serve. It's easier to slice once cool. Can be toasted and served with butter.
Notes
If you only have one loaf tin, cook in batches.
Macadamia nut oil gives the loaf a lovely nutty flavour.
For a dairy-free option, replace the yoghurt with 1/2 cup oil.
Variations include a few tablespoons of cocoa for a choc zucchini loaf, chopped nuts, choc chips or blueberries.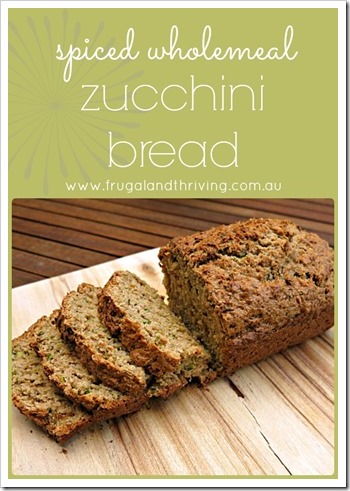 Melissa Goodwin is a writer and the creator of Frugal and Thriving who has a passion for living frugally and encouraging people to thrive on any budget. The blog is nine years old and is almost like her eldest baby. Prior to being a blogger and mum (but not a mummy blogger), she worked as an accountant doing other people's budgets, books and tax.