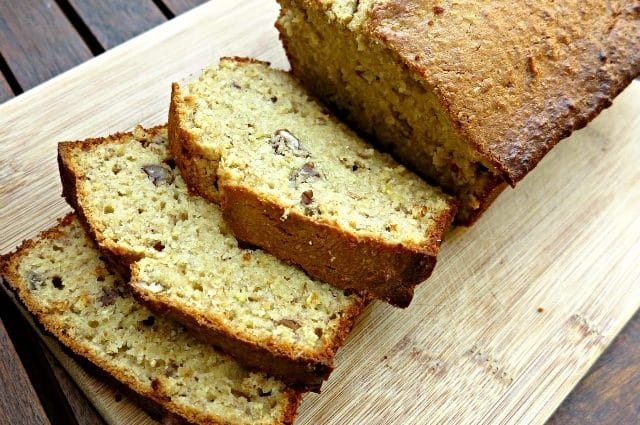 Some things never go out of style.
Handed down from grandmother to mother to me, this banana yoghurt cake is one I used to look forward to as a child, just as my children look forward to it when I bake it.
Great for morning tea or lunchbox snacks, double the recipe and freeze one loaf to make next week even easier.
In true frugal tradition, this bread is all about leftovers. Use over-ripe bananas or the yoghurt dregs rather than waste them.
Despite this being an old-fashioned favourite, I have altered it just a little bit by reducing the sugar. In fact, you could probably halve the amount again, depending on how ripe your bananas are, and it would still be sweet enough.
Bake this plain or shake things up by adding some chopped pecans or walnuts, blueberries or choc chips.
Banana Yoghurt Bread
Ingredients
125g butter softened
1/2 cup raw or brown sugar
1 cup of over-ripe bananas, mashed
2 eggs
1/2 cup plain or Greek yoghurt
1 3/4 cup wholemeal self-raising flour
2 Tbsp. linseed meal (optional)
Method
Preheat oven to 180°C. Grease a large loaf tin.
Cream butter and sugar with beaters or a wooden spoon.
Mix in banana, egg and yoghurt.
Fold in sifted flour until well combined.
Bake for 40 minutes or until a skewer comes out clean.
For a variation add in 1/2 – 1 cup of chopped nuts of choice, blueberries of choc chips.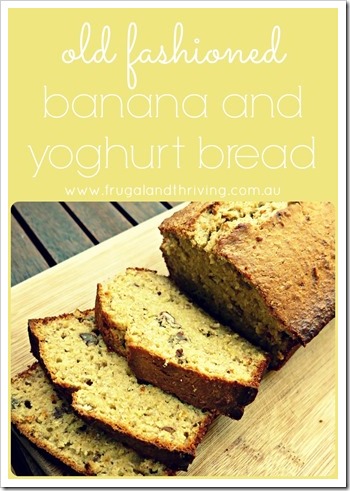 Melissa Goodwin is a writer and the creator of Frugal and Thriving who has a passion for living frugally and encouraging people to thrive on any budget. The blog is nine years old and is almost like her eldest baby. Prior to being a blogger and mum (but not a mummy blogger), she worked as an accountant doing other people's budgets, books and tax.