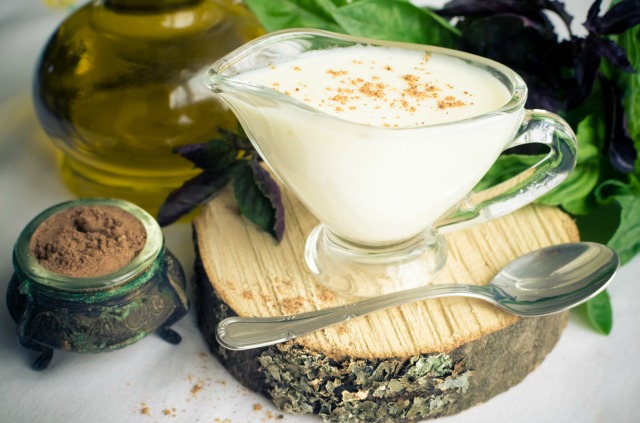 A simple white sauce can form the basis of many meals from macaroni and cheese and lasagne to chicken pie as well as just being a sauce for meat or fish.
White sauce is quick and easy to make – no need for a sauce in a packet, which isn't very nice anyway. White sauce is a good way to use up leftover vegetables and meat that are sitting in the fridge. Rather than throwing out leftovers, or those vegetables that don't get used before next week's shop, combine them with white sauce. Add leftover cooked meat or tuna if you have it and cover with a piece of puff pastry for a pie to feed a whole family. Or mix in some rice or pasta, top with cheese for a mornay bake.
Below is a recipe to make a basic white sauce as well as suggestions for use and flavour variations.
To make about a cup of basic white sauce:
Ingredients
2 Tbsp butter
2 Tbsp flour
1 cup milk
Method
Melt butter in a saucepan over medium heat
Stir in the flour and cook, stirring for a couple of minutes to cook out the raw flour taste
Add the cold milk gradually, stirring continually as you do to avoid lumps. Continue to stir over a medium heat until sauce has thickened.
Season to taste (white pepper works better than black; add a pinch of nutmeg if you wish) and add flavourings as desired (ideas below)
Ideas for using the white sauces:
To pour over meat or vegetables
For lasagne or moussaka
As a base for cream soup, for soufflés or croquettes
As a pasta sauce (ie. Add some cooked mushrooms and bacon, or steamed or roasted vegetables, or some cooked chicken, or some cheese and herbs)
Make a thick white sauce and add mushrooms and chicken for a crepe filling; or try a combination of vegetables, herbs and meat such as chicken and asparagus, sundried tomato and tuna.
As a Mornay base
As a pie filling
As a vegetable gratin
As macaroni and cheese
Variations on the basic white sauce include:
For Velouté sauce substitute the milk for chicken, vegetable or fish stock
For a traditional Béchamel sauce infuse milk by first heating it with a slice of onion, 1 bay leaf and a few peppercorns. Leave to sit for about 20 minutes before straining and adding to the butter and flour mix as for white sauce.
Use soy milk or stock if you're not into dairy
Add cheese for a cheese sauce. Add a little mustard for extra flavour
For a different flavour, substitute part of the milk or stock with white wine
Add cayenne pepper instead of nutmeg or try paprika.
For mustard sauce add some mustard to taste.
Add mushrooms for mushroom sauce. Good in the gravy or brown sauce.
Add herbs for herb sauce, parsley sauce is a traditional variation to white sauce
Or a combination of any of the above.
Melissa Goodwin is a writer and the creator of Frugal and Thriving who has a passion for living frugally and encouraging people to thrive on any budget. The blog is nine years old and is almost like her eldest baby. Prior to being a blogger and mum (but not a mummy blogger), she worked as an accountant doing other people's budgets, books and tax.