12 Ways to Revamp Your Home on a Budget
This website may earn commissions from purchases made through links in this post.
Update the look and feel of your home without spending a fortune with these 12 ways to revamp your home on a budget.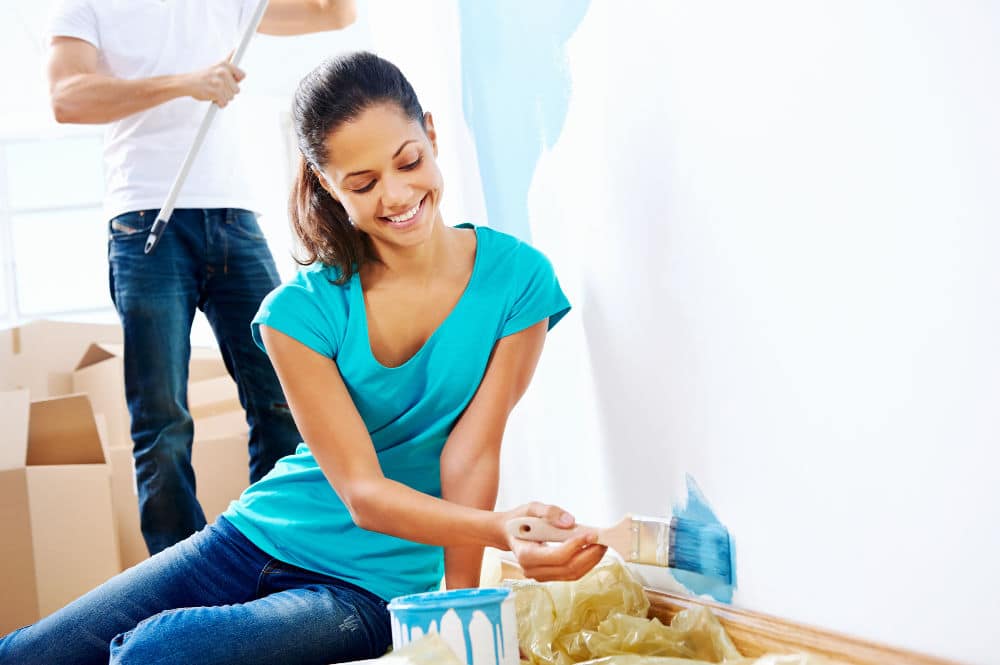 Is your home looking a bit tired?
Time for a new look and a little TLC?
Not only does regular maintenance save you money in the long run by helping to avoid major repairs, the way your home looks impacts your mood and mental wellbeing, so it pays to give it a spruce up every now and then.
Major renovations can cost thousands and aren't guaranteed to add to the value of your home.
But that doesn't have to stop you from updating your home.
Small, inexpensive adjustments can improve the look and feel of your home without breaking the budget.
HOW TO REVAMP YOUR HOME ON A BUDGET
Here are 12 tips to give your home a fresh new look on a budget.
1. Declutter and Organise
A good tidy, declutter and organise can make a big difference to the look and feel of a room.
Decluttering your house can also help clear the cobwebs from your mind as well.
Less clutter will open up and brighten a room, giving it a more relaxed and peaceful feel.
2. Revamp with a Good Clean
After decluttering, the next step is to give your home a good deep clean.
When was the last time you cleaned the carpets or washed down the walls?
A deep clean can make your house look like new.
Before refurbishing your home, clean windows, walls, carpets and floors. Give furniture a good clean. Wash blinds and curtains.
Once the place is sparkling and clutter-free, you may find there's no more that needs to be done.
3. Fix Things That are Broken
There's nothing that says neglect more than broken furniture, fixtures or fittings.
That's coming from someone who has a maintenance to-do list is longer than my arm. I can say from first-hand experience that broken things look ratty.
A more appealing home can be as simple as fixing or replacing anything that is broken or looking shabby.
4. Let There Be Light
The right type of light – lots of daylight during the day and soft, dim light at night, can improve the mood and overall feel of your home.
The best way to increase light in your home is to open the curtains, clean the windows and let the light in. If you have large windows, all the better, especially in winter, when the sunlight can also help warm your home.
Skylights are another inexpensive way to increase the amount of light in your home.
At night, lamps set the right mood – the low wattage of the light bulbs saves you money and less white light at night helps you get a better night's sleep.
5. Add Greenery For a Natural Revamp
Bring the outdoors in by including pot plants as part of your decor. Pot plants not only give a room a lift, but they possibly help detoxify the air and improve your home's health.
6. Update Frames and Wall Hangings
Are you hanging wall art in frames that are 10, 20 or more years old?
Give your pictures a modern look by updating the frames. Frames are cheap or you can give the old frames a spruce up with paint for a more frugal, less wasteful approach.
Alternatively, invest in or create new art for your walls.
7. Add a Coat of Paint
If you have the budget for just one thing, consider a fresh coat of paint.
A new coat of paint can completely refresh a tired looking room and give it an updated look.
If your budget doesn't stretch for a whole paint job, paint just the woodwork and skirting or paint a single feature wall to draw attention away from less appealing areas of a room.
See also: freshen a room with this alternative to painting
8. Update Fixtures and Fittings
Give your home a modern update by replacing out-dated fittings and fixtures.
These can include light fittings, fans, door handles, doorknobs and locks. If you don't want to replace fittings, you can revamp them with a coat of paint.
For instance, this post has some tips for spray painting doorknobs so they look new for a fraction of the cost.
9. Update Curtains or Blinds
New window treatments are a great way to give a room a lift without spending a lot of money.
You can buy ready-made blinds or curtains inexpensively from craft and haberdashery stores. Wait for the sales to get the best price.
Or save even more money by sewing the curtains yourself.
10. Refinish or Reface
A whole new kitchen can cost thousands of dollars. To give your kitchen a modern look, leave the structure as it is and refinish by painting or replacing the cupboard doors and benchtops and replacing the door handles.
A new splashback is another way to revamp the kitchen and is easy to DIY.
11. Update Your Furniture or Decor
'New' furniture doesn't have to cost a fortune. You can revamp old furniture by giving it a lick of paint or covering it with slipcovers.
Second-hand furniture and decor items are another way to refurnish a room without spending up big on brand new items.
12. Upgrade Appliances
Upgrading old appliances will not only give your kitchen a new look, but it could also save you money on running costs if you buy energy-efficient models.
It doesn't have to cost thousands to revamp your home. As long as the underlying structure is solid, cosmetic changes like paint and replacing fixtures and furniture will give you a whole new look without breaking the budget.
Melissa Goodwin has been writing about frugal living for 10+ year but has been saving her pennies since she first got pocket money. Prior to writing about frugal living, Melissa worked as an accountant. As well as a diploma of accounting, Melissa has an honours degree in humanities including writing and research and she studied to be a teacher and loves sharing the things that she has learned and helping others to achieve their goals. She has been preparing all her life to write about frugal living skills.
JOIN THE NEWSLETTER