The pears and the yoghurt make this a dense cake but the almond meal makes sure the pear almond and yoghurt cake isn't too heavy.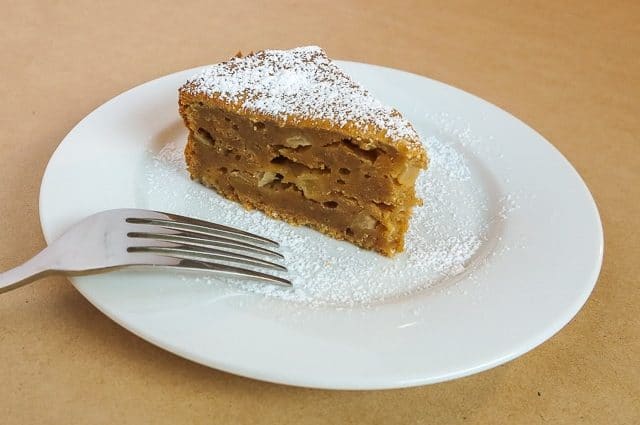 This deliciously moreish cake is perfect for a winter's morning tea and showcases one of my favourite winter fruits: pears.
Almond meal can be quite expensive when you buy it, but it's easy to make and much cheaper. Just grind up a batch and keep it in the fridge or freezer for whenever you want to use it in baking. It's a great addition to any baking, just switch out some flour for almond meal.
To make this cake gluten free, simply substitute wholemeal flour with gluten-free flour. I've made it both ways and they both the gluten and non-gluten version taste equally as good. If you use self-raising flour, leave out the baking powder.
Rapadura sugar is essentially dehydrated sugar cane juice. It is now sold in the supermarket as 'Panela'. Because it's dehydrated, it retains the natural vitamins and minerals of the sugar cane plant. It's still sugar, so it's no health food, but it's a little healthier than white sugar. It also has a caramel flavour, which gives this cake an extra depth of flavour. Use raw sugar to get that caramel flavour if you don't have rapadura. If you just have white sugar, that's fine too.
Pear Almond Yoghurt Cake
Ingredients
125g butter, softened
3/4 cup raw or rapadura sugar
3 eggs
1/2 cup yoghurt
2/3 cup wholemeal flour
1 tsp. baking powder
1 tsp. cinnamon
1 1/2 cups almond meal
2 – 3 pears, diced into 1 cm cubes
Instructions
Preheat oven to 170°C. Grease a round cake pan.
Cream butter and sugar.
Beat in eggs one at a time, then beat in yoghurt.
Fold in the flour, almonds, baking powder and cinnamon until combined.
Fold through the pears and spoon mixture into cake tin.
Bake for around 1 hour or skewer comes out fairly clean. The cake should be still moist but not doughy.
Serve as is or with a sprinkling of icing sugar.
Adapted from The Real Food Companion
Melissa Goodwin is a writer and the creator of Frugal and Thriving who has a passion for living frugally and encouraging people to thrive on any budget. The blog is nine years old and is almost like her eldest baby. Prior to being a blogger and mum (but not a mummy blogger), she worked as an accountant doing other people's budgets, books and tax.