French Toast 'Chips' – A Novel Way to Use Bread Crusts
This website may earn commissions from purchases made through links in this post.
Kids don't eat their bread crusts? Turn them into crust chips! This easy, frugal idea reduces waste and saves money. Kids love them!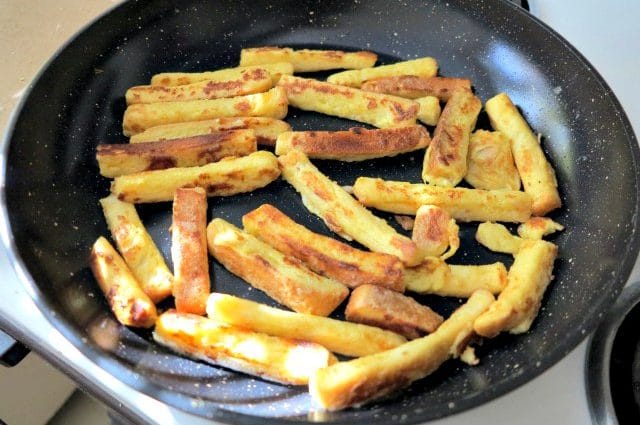 Do your kids eat their bread crusts?
Mine…don't.
If I cut the crusts off sandwiches and tell my two-year-old that she's not allowed to eat her crusts, then she will insist on eating them and with gusto.
The old reverse psychology trick, however, does not work on my four-year-old.
While we hate the waste that goes with throwing out crusts, there are only so many crusts you can collect in the freezer to blitz into breadcrumbs.
So the other day, hubby came up with a novel way to use bread the bread crusts and get the kids to eat them: he made crust 'chips'.
These chips are essentially French toast made with crusts of bread.
How to Use Bread Crusts to Make French Toast Chips
As with French toast, you make them by soaking the crusts in egg beaten with milk for a minute or two and then fry them in a little oil or butter.
When making French toast, you usually use stale bread – the dry bread being perfect for soaking up the eggy mixture.
So crusts work just the same as stale bread. And because they have been soaked, softened and flavoured, the crusts are more palatable for kids.
To make these crust chips savoury, mix into the milky egg any of the following: parmesan, garlic, mustard, herbs, salt and pepper. Or top with parmesan cheese.
Serving French Toast Chips
For a savoury version of these chips, serve with bacon, grilled tomato and mushrooms for a frugal breakfast.
Or you can just serve with tomato sauce for a simple snack.
For sweet crust chips, soak in the eggy mixture and fry and then sprinkle with cinnamon sugar.
To make cinnamon sugar, mix together one teaspoon of cinnamon with about a quarter of a cup of sugar – I like raw sugar best for its caramel flavour.
You could also serve these with a yoghurt dipping sauce and some fresh fruit.
The sweet version makes a very frugal dessert, one the kids love and that reduces waste at the same time.
So if your kids don't eat their crusts either, don't throw them out, try crust chips for an inexpensive, waste free meal.
Other ways to use up bread crusts include: making dried breadcrumbs.
Yield: variable
French Toast Chips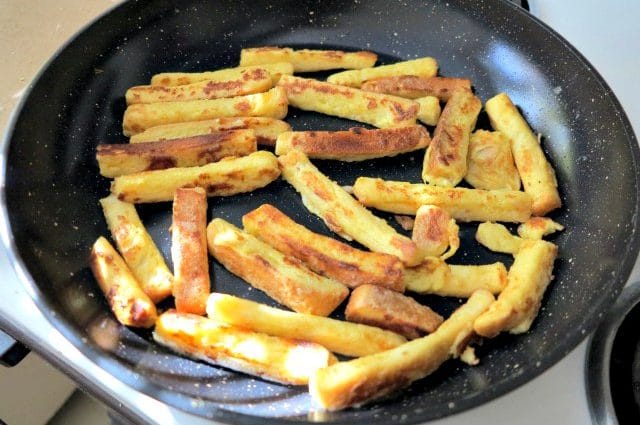 Kids don't eat their bread crusts? Turn them into crust chips! This easy, frugal idea reduces waste and saves money. Kids love them!
Ingredients
Bread crusts from 6 slices of bread
1 egg
1/4 cup milk
Instructions
Beat egg and milk together in a shallow bowl.
Heat oil or butter in a frying pan over medium heat.
Dip crusts in the egg mixture and leave for a minute or so for the bread to absorb the eggy milk without dissolving in it.
Fry the toast 'chips' in the hot oil or butter until golden.
Serve with you favourite topping.
Notes
For a sweet version, serve with cinnamon sugar, fresh fruit and yogurt. You can make a dipping sauce from the yoghurt.
For a savoury version, serve with sauce or bacon and mushrooms.
Nutrition Information:
Yield:
2
Serving Size:
1
Amount Per Serving:
Calories:

338
Total Fat:

7g
Saturated Fat:

2g
Trans Fat:

0g
Unsaturated Fat:

4g
Cholesterol:

95mg
Sodium:

579mg
Carbohydrates:

55g
Fiber:

3g
Sugar:

6g
Protein:

14g
Nutritional information is calculated automatically using the Nutritionix database. Nutrition information can vary for a recipe based on factors such as precision of measurements, brands, ingredient freshness, serving size or the source of nutrition data. We strive to keep the information as accurate as possible but make no warranties regarding its accuracy. We encourage readers to make their own calculations based on the actual ingredients used in your recipe, using your preferred nutrition calculator.