14 of the Best Budget Art and Craft Supplies for Kids
This website may earn commissions from purchases made through links in this post.
Encourage creativity and develop fine motor skills at home with arts and crafts. Here are 14 of the best budget art and craft supplies for kids.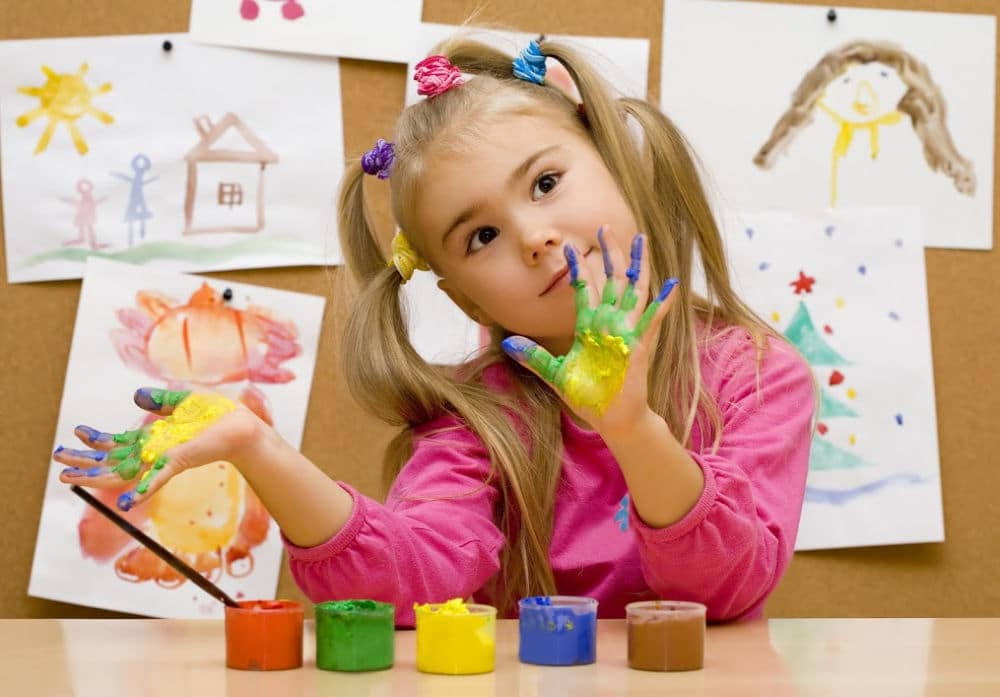 I'm embarrassed to admit how many hours I've spent on Pinterest looking for kid's craft ideas.
I found a craft project that I thought was perfect. These letter B butterflies with a stained glass look. Easy enough for both my (then) 5-year-old and 3-year-old to do.
And they were easy. They looked great when they were finished. BUT the kids were finished in about 2 minutes flat. And it took me around 40 minutes to prepare it all.
That's not a good return on investment of my time!
The perfect craft activity is where I say Go create, my little muses! and then I sit back with a book and a cup of tea.
And this hands-off approach is beneficial for the kids as well as me because it encourages creativity.
There are two types of art and craft activities.
The type of activity you choose will influence how much hands-on time you spend on the activity, and how much creative licence your child has.
Two Types of Creative Activities For Kids
The two types of art and craft are:
Outcome-based craft
Process art/craft
Outcome-based craft is where you're aiming for a specific finished product or result at the end of the craft session. Like my letter B Butterflies.
Older children tend to enjoy and get more out of outcome-based arts and crafts than younger children.
Process art is where the creative process is more important than the finished product.
Not only are kids exploring different art and craft mediums and techniques without the pressure to create something, but they also get to exercise their own creative muscles, instead of copying someone else.
This kind of craft also keeps younger children entertained for longer with only a small parental input. I find that any activity where I have to stand over the kids and give them constant direction ends in tears and frustration and stifles their creativity.
And when kids get older and move towards more outcome-based arts and crafts, they are CAPABLE of doing them because of all the practice they have when younger doing process-based arts.
Process art not only encourages creativity, but it helps kids develop essential gross and fine motor skills, cognitive, maths and language skills.
Best Budget Arts and Crafts Supplies For Kids
When it comes to what craft supplies you should have available, it's easy to get overwhelmed or carried away (I flip-flop between both). There's just so much to choose from.
We have our fair share of pop sticks, pipe cleaners, pom-poms but my kids rarely use these and if they do, it requires a lot of my direction and input (outcome-based craft).
But there are a few craft supplies that my kids come back to every single day. These supplies listed below encourage open-ended creativity and a whole lot of fun.
And the great thing is, you don't have to spend a whole lot of money. In fact, you probably have a lot of these things already.
1. Paper
I'm sure high-quality art paper is nice but it's not necessary.
Instead, recycled paper is always a good option. My kids go through heaps of paper (especially after watching Paper Planes, surely the best Australian kids' movies since Dot and the Kangaroo), so recycled paper is a must.
If you work in an office, you might be able to bring some recycled paper home (just check with the boss that you're not bringing home anything confidential).
We get lots of coloured paper as junk mail, and then there's magazines and newspapers.
For new paper, look for specials on office paper at the supermarket or discount store. The discount store is also great for coloured construction paper, card and other specialty papers (and just about all craft supplies).
Paper plates are also good to have on hand for something a bit different.
If your kids are into drawing a lot, then an art book is essential. You can pick these up cheaply from discount stores. The benefit of an art book is you don't have paper all over the house. All of their drawings are neatly contained. And as they get older, you have a record of their progress without any sorting or organising or filing of papers.
2. Scissors
Children love cutting stuff. Scissors are essential for a whole range of craft projects and they are great for developing fine motor skills and hand strength.
I'm not convinced children need safety scissors. We've has our fair share of child-friendly scissors and they've caused a whole lot of tears and frustration because they don't cut!
On the other hand, children's scissors are small and fit little hands better than adult scissors. I like metal scissors like these ones, they cut well but are still small and have rounded ends.
3. Masking Tape
If I could only choose one craft supply, it would be masking tape.
Get it cheap from the hardware store, kids will use it for just about anything. Today my daughter stuck a scrap of paper to an empty toilet roll, giving 'Mini' a dress, for instance.
In fact, masking tape and boxes from the recycling have kept my kids entertained more than any other toy in our house.
4. String and Wool
While you're at the hardware store, pick up a ball of cotton twine. The children in Enid Blyton's books all have pockets full of useful bits and bobs including pieces of string.
It's amazing what inventive games and crafts kids come up with, with just string (and possibly some masking tape).
String is essential for construction-type crafts and stringing beads and hanging creations.
As kids get older, they may venture into fibre crafts. A great first project is finger knitting or French knitting using a French knitting bobbin.
5. Crayons
Crayons are a child's second writing implement (after a stick in the dirt) and it's important to choose quality crayons.
We ignored the advice to get quality supplies and wasted our money as a result. Good quality crayons draw better than cheap ones and are so much more satisfying to use. Your child will draw more as a result.
Pay the extra $1-$2 for good quality crayons. You can't go past Crayola for good crayons.
6. Pencils
Good quality pencils are also important. I like Fabre Castell for quality and they're still pretty cheap to buy.
7. Recycled boxes and containers
Empty yoghurt containers, toilet rolls, egg cartons, empty boxes…these all have great creative potential.
I keep a craft box full of recycled containers, magazines, paper, yarn, old ribbon, envelopes and other recycled craft materials for the kids to dig into.
Recycled containers encourage constructive and engineering creativity and problem-solving as well as art and craft.
Practical, hands-on skills are waning thanks to the digital world. But they are so important. Developing those skills start at a young age with boxes and tape.
8. Glue
A glue stick is easy to use for very young kids and it's good for gluing paper.
For other craft projects, plain white school glue or PVA glue is a good choice. This is only a dollar or two from discount stores or you can pick up PVA glue from the hardware store.
9. Playdough
Playdough is easy to make at home and is great for all ages. It's super cheap, and a good introduction to model making.
We recently watched this amazing cake decorating video on YouTube (high tea on a cupcake) and we had fun recreating these with playdough.
10. Tempera / Poster Paint and Brushes
Basic poster paint in primary colours (red, yellow and blue) plus white and black allow you to mix any colour your kids like.
This is a great introduction to colour theory and children often have as much fun mixing colours as they do painting with them.
You can buy poster paint cheaply at the discount store or Crayola do a set of paints in primary colours.
Art Supplies That Are Nice To Have But Not Essential
If you only ever get the above budget art and craft supplies for your kids, then they will have hundreds of hours of fun and creativity while learning important skills.
But if you're looking to extend your craft supplies, here are a few ideas.
11. Watercolour Paints
Watercolour paints are not essential but we use them a lot of projects like salt painting, crayon resist painting and masking tape resist painting.
The trays with the dried blobs of watercolour are awful unless you buy really good quality ones made for adults. And they can be pretty expensive.
The other option is watercolour paints in tubes.
We use the Tim and Tess kids brand of watercolour paints in squeezable tubes, which we picked up for 50% off from our local craft store, but an inexpensive adult brand would be fine too.
12. Markers
A lot of people like markers but my kids use these art supplies the least. Pencils are much more satisfying to colour with and give better results. And pencils don't go dry.
But if you want to get markers, Crayola Markers are good quality but not too expensive. Look for specials at Kmart or Big W and put them away for stocking stuffers.
13. Beads
Children love threading and it's a great fine-motor activity. Large pony beads (or small beads for older children) can be found at the discount store.
You don't need to buy plastic beads, though.
Other things to thread include dried pasta, buttons and straws or bits of card with holes punched in them.
Shoelaces make good threading cords for young fingers.
14. Embroidery Thread, Felt and Canvas
For first sewing projects, canvas, tulle, or hessian with a large, open weave – stretched over an embroidery hoop – is a good way to introduce kids to sewing.
Let them create their own pattern with wool and a large embroidery needle.
When kids grow older they may want to start sewing real projects. Felt is great for first sewing projects. It's easier to handle than cotton fabric. Our first projects were stuffed pillows for their teddies.
I found the plastic needles to be a waste of time. Let kids learn with real embroidery needles that have large eyes. There's less frustration because they actually pierce fabrics and don't break.
Avoid losing the needle by doubling the thread and knotting both ends together to form a 'loop'. That way the needle can't fall off the thread and it avoids a lot of frustration for the kids too.
Should you keep the art supplies in reach of kids?
Obviously, the answer to this depends on the age of your kids, how responsible they are for their age and your tolerance level to mess.
We kept all of our craft supplies within easy access from when the kids were around 3-years-old so they could be independently creative whenever the mood took hold.
The benefit is that they can be creative whenever inspiration strikes.
But yes, we have paint and playdough in the carpet and a few scissor incidents that are best forgotten about. So go with what's right for your family.
The best tip I have is to keep your creative space tidy and encourage kids to always tidy up after they finish being creative.
(This is easier said than done and we're still working on that ourselves.)
But a messy space is a turn off for adults and kids alike. Children will be more likely to engage with craft items if their space isn't overwhelming and messy.
A Few Amazing Creative Books for Parents
The great thing about these craft supplies (and process art in general) is you can put it out and let the kids go wild without having to stand over them and give them direction.
But if you're in need of a little inspiration, here are three wonderful books on children's craft and creativity that I love and have found inspiring:
What's your child's favourite craft supply? What are your tips for helping kids explore their creative side?
Melissa Goodwin has been writing about frugal living for 10+ year but has been saving her pennies since she first got pocket money. Prior to writing about frugal living, Melissa worked as an accountant. As well as a diploma of accounting, Melissa has an honours degree in humanities including writing and research and she studied to be a teacher and loves sharing the things that she has learned and helping others to achieve their goals. She has been preparing all her life to write about frugal living skills.
JOIN THE NEWSLETTER