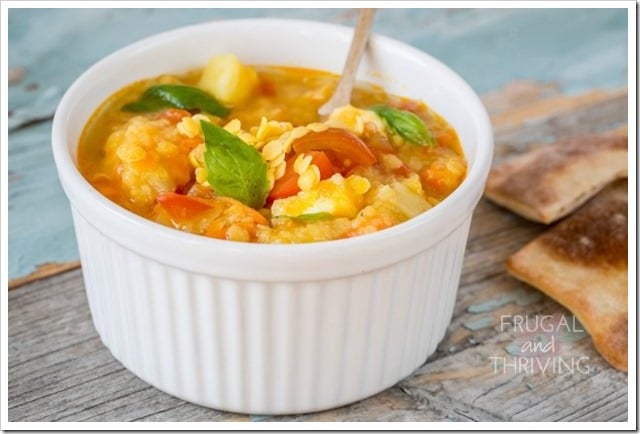 I didn't take this photo. My food photography tends to look a whole lot less than appetising, and it's a shame because this is a really tasty and delicious dish.
So instead of putting you off with a bad photo, I've used one that does the dish justice.
There are quite a few ingredients in this aromatic lentil stew, but most of them are pantry staples, so if you stock a full pantry, you'll have no trouble whipping this up.
You can mix and match the vegetables to whatever is in season or what you have on hand.
Besides being very flavourful and tasty, this dish is healthy and super cheap with plenty of leftovers.
I like my lentil stew really liquid, but if you prefer a drier dhal like consistency, add less water. Taste as you go and add more or fewer spices and adjust to suit your own preferences.
Aromatic Lentil and Vegetable Stew
Ingredients
oil to sauté
1/2 – 1 onion finely chopped
1-2 cloves of garlic, crushed
1-2 chillies finely chopped (optional)
1 tsp fresh grated ginger
1/2 tsp cumin
1/2 tsp turmeric
3/4 cup of red lentils, washed and picked over for stones
1 tin tomatoes, chopped
water to cover
1 cup or so of mixed veggies – whatever you have on hand ie. cauliflower, zucchini, carrot, beans, capsicum, peas, potato etc.
small bunch of spinach washed and trimmed
small (165ml) tin of coconut milk
Juice of 1/2 lime or lemon or a splash of vinegar
1/4 cup chopped coriander
salt to taste
Instructions
In a large saucepan sauté onions in oil until translucent.
Add the garlic, ginger and spices and cook for 1 minute.
Stir in the lentils. Add the tinned tomatoes, vegetables and enough water to cover. Cover, bring to the boil and simmer for 20 – 30 minutes or until lentils are cooked through (soft and mushy). Add extra water as necessary to stop the lentils drying out or according to your preferred consistency.
When the lentils and veggies are cooked, stir in the spinach, enough coconut milk to make the consistency you like, lime juice, coriander and salt to taste. Warm until the spinach is just wilted.
Serve with white or brown rice, naan bread or cooked quinoa and a dollop of yoghurt.
Melissa Goodwin is a writer and the creator of Frugal and Thriving who has a passion for living frugally and encouraging people to thrive on any budget. The blog is nine years old and is almost like her eldest baby. Prior to being a blogger and mum (but not a mummy blogger), she worked as an accountant doing other people's budgets, books and tax.