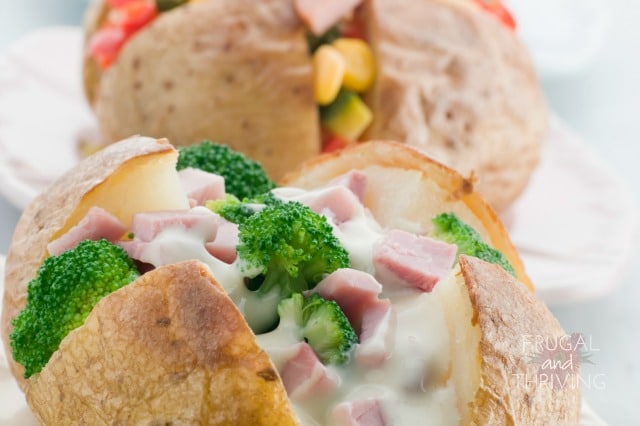 Looking for a cheap dinner idea?
Well, you can't get more frugal than the humble spud.
And it doesn't get any easier than throwing a few in the oven to bake.
Potatoes have long been a poor man's meal. In an episode of one of my favourite shows, Larkrise to Candleford, the narrator's father, played by Brendan Coyle, has a single baked potato for his work lunch.
We're not going to eat our spuds plain, however. We're going to jazz them up with some easy, delicious, frugal toppings.
There are hundreds of ways you can load up your spud. You're only limited by your imagination. But I'm sharing 12 ideas below that are family friendly, easy and frugal.
Potatoes aren't just a cheap meal when the budget is tight. This essential food staple is a great source of Vitamin B6, Potassium, Copper, Vitamin C, fibre and phytonutrients to name just a few. They're also a great source (once cooled) of resistant starch, which feeds your gut bacteria.
What if you can't or don't want to eat potatoes?
I hear you.
Neither of my kids like potatoes. You can easily substitute regular white potatoes with sweet potatoes if you prefer. Prep and cook your sweet potato in the same way.
Best potatoes to use: big Russet potatoes
Best time to eat potatoes in Australia: March – September
12 Family Friendly Baked Potato Topping Ideas
HOW TO PREP AND COOK YOUR SPUDS:
Preheat the oven to 200°C.
Wash and scrub your potatoes if necessary. Use potatoes that are around the same size so they cook at the same time.
Prick around your spuds a couple of times with a fork
Rub with a little bit of oil and sprinkle on a little good salt.
Bake in the oven for around 1 hour, or until soft and cooked through when tested with a knife (obviously, the bigger your spud, the longer the cooking time).
Cut a cross into the cooked potato and squeeze slightly to open. Top with your favourite toppings and serve as is or with a side salad.
TOPPING IDEAS:
1. Baked beans (kids love baked beans because, let's be frank, they're vegetables…covered in sugar. Surely everyone's a winner with baked beans).
2. Cheese and sour cream
3. Butter and garlic salt
4. Sour cream and chives
5. Bacon, sour cream and cheese
6. Leftover bolognaise sauce
7. Leftover chilli mince or savoury mince
8. Leftover vegetarian nacho filling
9. Steamed vegetables in cheesy white sauce
10. Tinned tuna, steamed vegetables and mayo or cheesy white sauce
11. Bacon, cheese, avocado and chopped tomato
12. Homemade coleslaw
WHAT'S YOUR FAVOURITE BAKED POTATO TOPPING?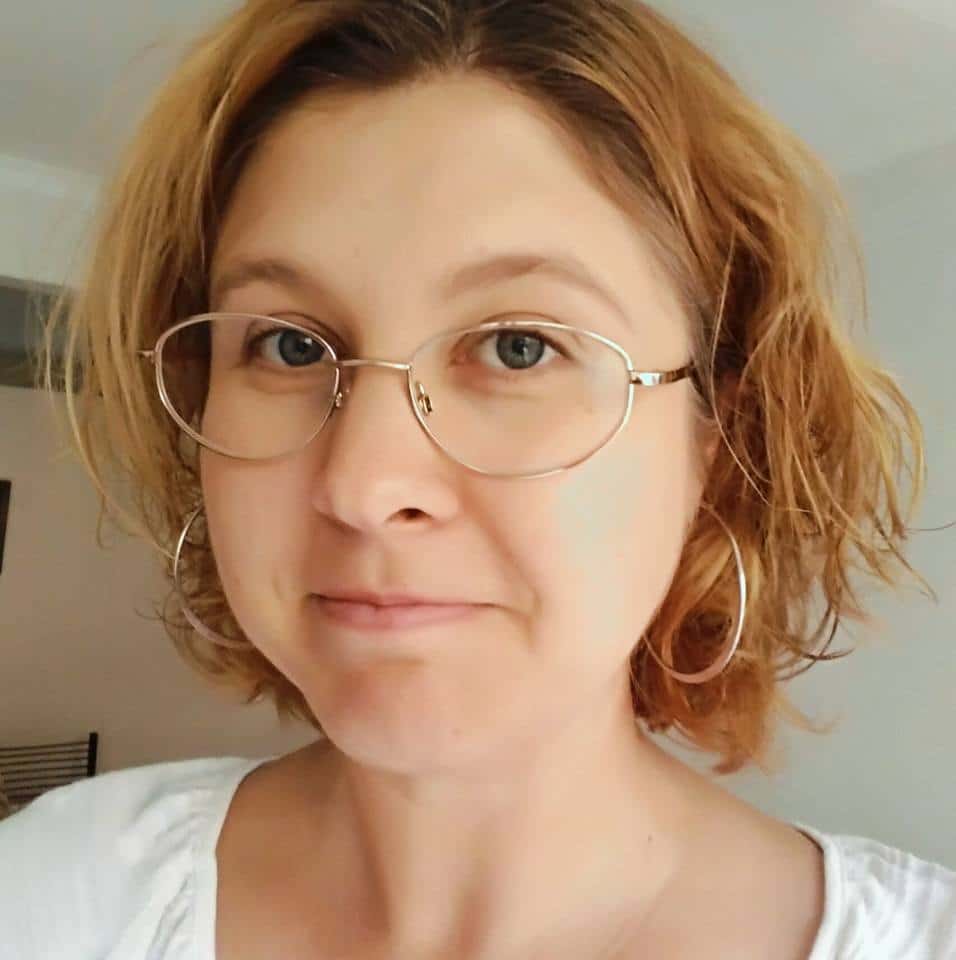 Melissa Goodwin is a writer and the creator of Frugal and Thriving who has a passion for living frugally and encouraging people to thrive on any budget. The blog is nine years old and is almost like her eldest baby. Prior to being a blogger and mum (but not a mummy blogger), she worked as an accountant doing other people's budgets, books and tax.