Chicken Schnitzel At Home – Pub Grub For Less
This website may earn commissions from purchases made through links in this post.
Feel like some good pub grub but on a budget? Here's how to make chicken schnitzel at home – classic pub food for less.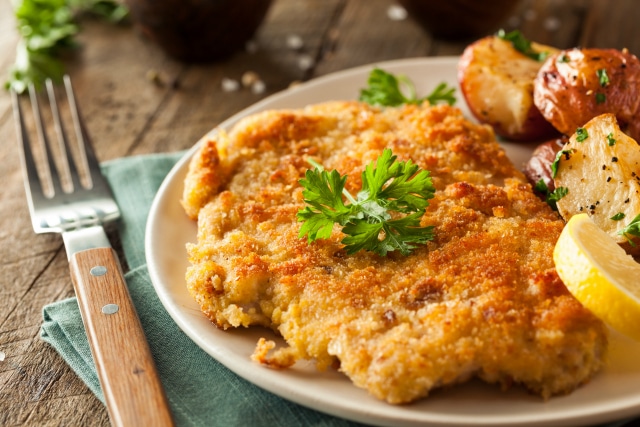 Making your own chicken schnitzel is very easy.
It's cheaper than buying it pre-made and you know exactly what has gone into it. I admit, it takes an extra few minutes to make and there are a few extra plates to wash up, but it is well worth the effort. All up, it takes around 30 minutes to cook this meal.
One large chicken breast is enough to feed two people. It's simple to increase the number of servings by adding an extra chicken breast.
A single chicken breast comes to around AU$3.00 (2020 prices). As one chicken breast can feed two people, with vegetables, you can feed a family of four for less than $10.
How to Cut Chicken Breast into Schnitzels
To cut chicken schnitzels, first, trim the tenderloin off the chicken breast if it is still attached and trim any visible fat and sinew. You can flatten and crumb the tenderloin or use it in another dish.
Place the chicken breast on the cutting board and with the knife horizontal to the board, slice the chicken breast in half as shown below.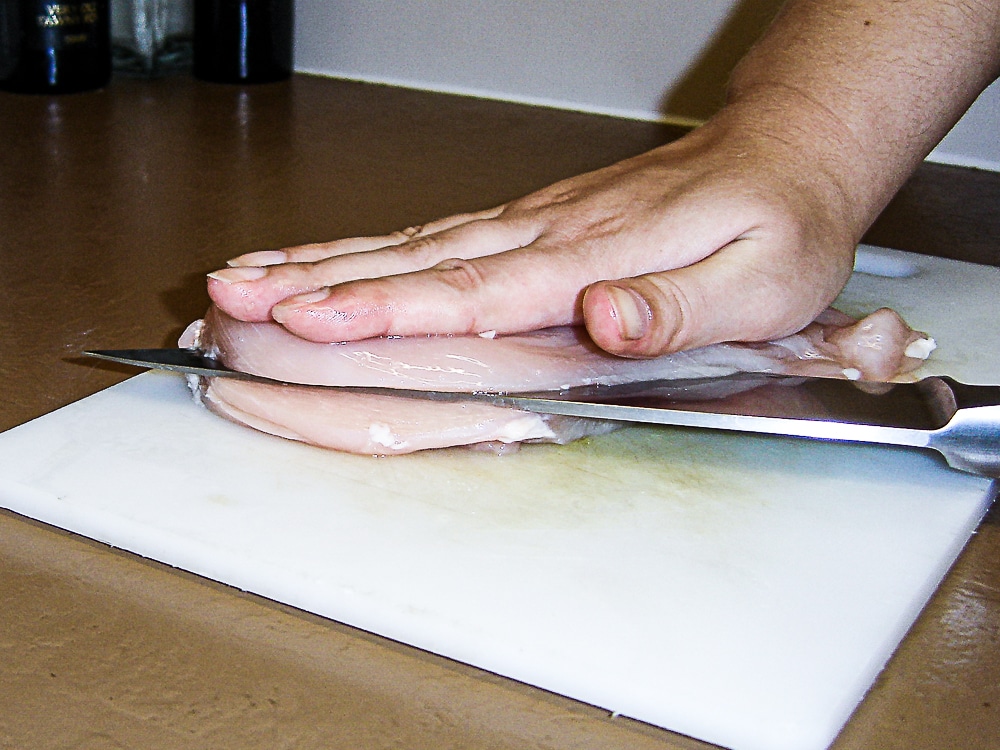 If may be easier to open the slice up as you get towards the end and continue slicing, holding the top half open so you can see where you're cutting.
The technique is hard to explain with words, so check out the picture below.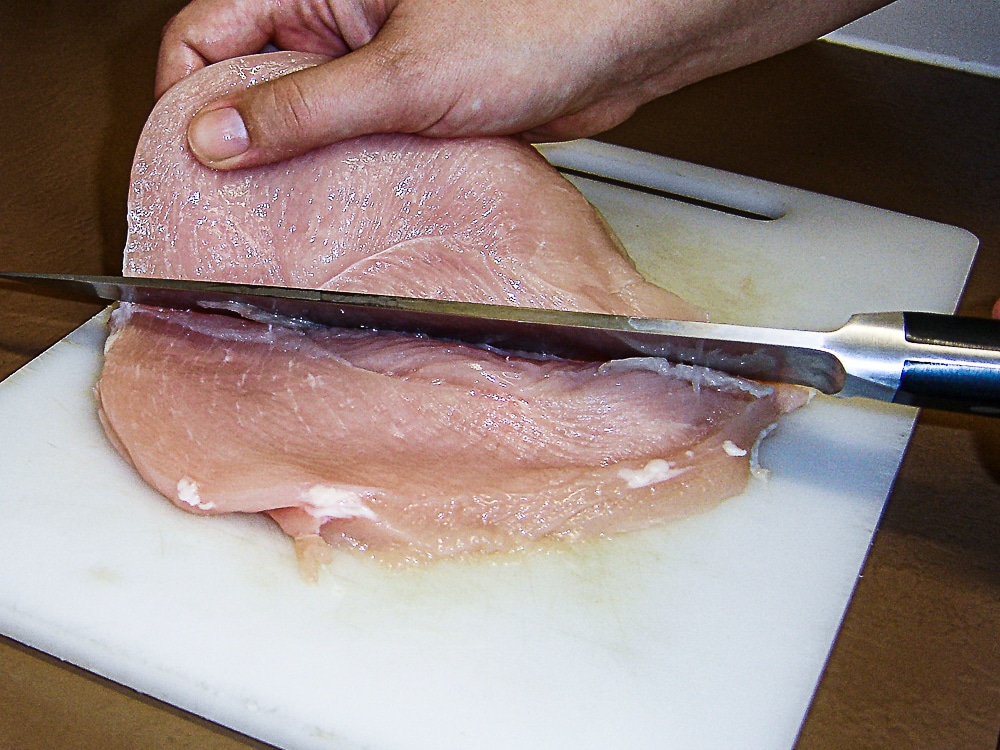 In order for the schnitzel to cook evenly, it needs to be an even thickness. Using a meat mallet or a rolling pin, give each schnitzel that you've cut a bit of a bash to create an even thickness.
If you're using the tenderloin, give it a bang too.
You can cover the chicken with baking paper to flatten if you prefer.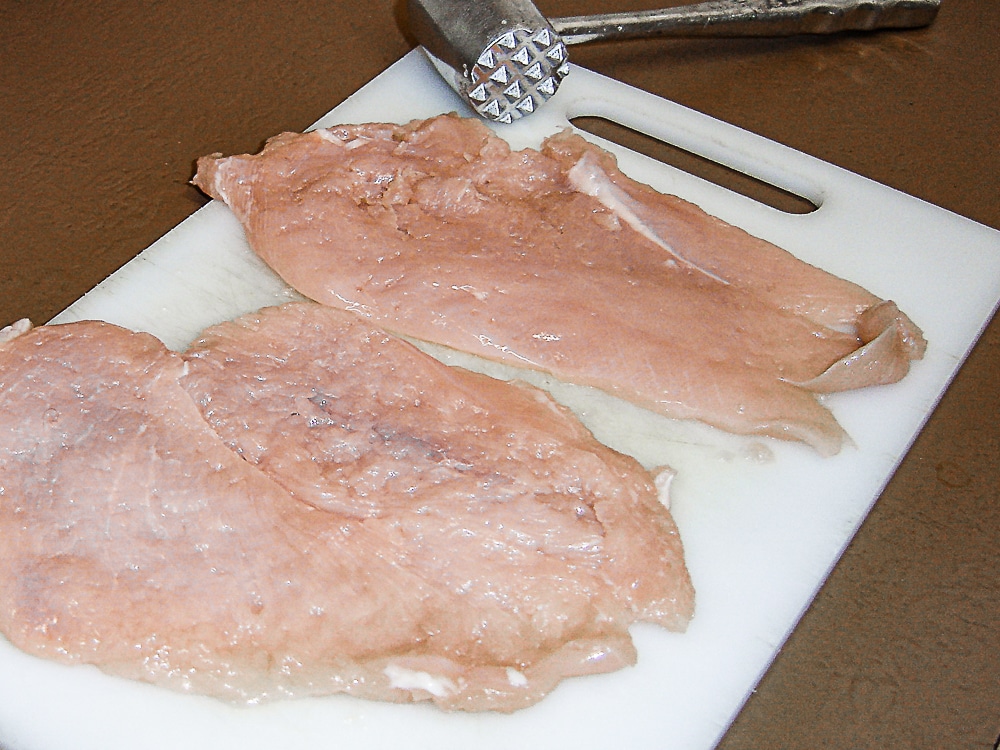 Crumbing the Chicken Schnitzel
In three separate plates or bowls, add flour to one, beaten egg to the second and breadcrumbs to the third plate.
Take each schnitzel and dust it in the flour, shaking off any excess. Next dunk it in the egg, covering the whole schnitzel. Let any excess egg drip off.
Finally, place the schnitzel in the breadcrumbs and cover the top with crumbs, pressing into the chicken. Flip and press more crumbs into the other side.
Repeat the process for each schnitzel. It is less messy if you use one hand for the flour and egg and the other hand to press the breadcrumbs into the schnitzel.
Place on a tray and rest in the schnitzel in the fridge for half an hour. This helps the crumbs stay on when cooking.
How to Cook Chicken Schnitzel
You can either pan fry or oven bake schnitzel.
If you're pan frying, shallow fry in a little olive oil (enough to coat the bottom of the pan). To make your schnitzel extra tasty, add some butter to the oil when frying.
To oven bake, place the chicken on a greased tray and spray or drizzle a little oil over the top. Bake in a hot oven for 10 minutes or until cooked through.
Try to avoid over-cooking. You want the chicken to be cooked through, but not tough and dry.
What to Serve with Chicken Schnitzel
For traditional pub grub, you can't go past mashed potato, some steamed beans and loads of real gravy to go with your chicken schnitzel.
Other schnitzel side ideas include:
If don't want gravy, you could finish off with a lemon wedge to serve.
Yield: 2
Homemade Chicken Schnitzel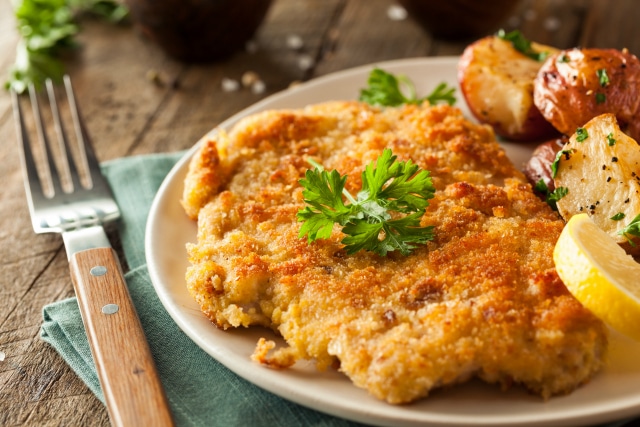 Additional Time
30 minutes
Ingredients
1 chicken breast
plain flour
1 egg
dried breadcrumbs
salt and pepper to taste
Instructions
Remove the skin from the chicken breast if there is skin and trim off any extra fat etc. Remove tenderloin from the breast if it is still attached. You can crumb the tenderloin or use it in another meal.
With the breast flat on the board, place one hand flat on top of the breast and with the knife parallel, slice the breast in half. Once you get towards the other side, it might be easier to open up the cut and finish off with the cut open (see pictures in the article above).
Using a meat mallet or rolling pin, flatten schnitzel to an even thickness so that it cooks evenly. You can cover the chicken with baking paper if you prefer.
To crumb: set up three plates, the first with the flour, seasoned with salt and pepper; the second with the beaten egg and the third with breadcrumbs.
One at a time, dust each schnitzel with flour, shaking off excess, then coat with egg and finally coat with breadcrumbs. Press breadcrumbs onto the chicken. Place the crumbed schnitzel in the fridge to rest for 30 minutes.
To pan-fry: over medium-high heat, heat enough olive oil and butter to coat the bottom of the pan. Add a couple of breadcrumbs to the oil to check it's hot enough. The oil should sizzle around the breadcrumbs.
Cook for a couple of minutes or until golden then turn and cook the other side. Remove from pan and drain on a paper towel or a clean tea towel before serving.
To oven-bake: preheat oven to 200°C. Lightly grease a tray with oil and place schnitzel on the tray. Spray or drizzle the top of the schnitzel with a little oil if you like and bake for 10 minutes or until cooked through.
Notes
Flavour variations:
add fresh chopped parsley to the breadcrumbs
add freshly grated parmesan to the bread crumbs
add some crushed nuts to the breadcrumbs
add a small amount of mustard to the egg dip
add some freshly chopped garlic to the egg dip.
Nutrition Information:
Yield:
2
Serving Size:
1
Amount Per Serving:
Calories:

419
Total Fat:

6g
Saturated Fat:

2g
Trans Fat:

0g
Unsaturated Fat:

3g
Cholesterol:

144mg
Sodium:

333mg
Carbohydrates:

58g
Fiber:

2g
Sugar:

1g
Protein:

30g
Nutritional information is calculated automatically using the Nutritionix database. Nutrition information can vary for a recipe based on factors such as precision of measurements, brands, ingredient freshness, serving size or the source of nutrition data. We strive to keep the information as accurate as possible but make no warranties regarding its accuracy. We encourage readers to make their own calculations based on the actual ingredients used in your recipe, using your preferred nutrition calculator.
More Chicken Breast Recipes:
JOIN THE NEWSLETTER