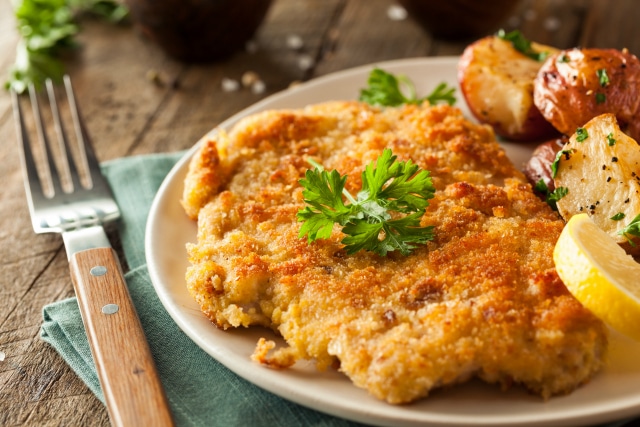 Making your own chicken schnitzel is very easy. It's cheaper than buying it pre-made and you know exactly what has gone into it. I admit, it takes an extra few minutes to make and there are a few extra plates to wash up, but it is well worth the effort. All up, it takes around 30 minutes to cook this meal.
One large chicken breast is enough to feed the two of us – it gives two large schnitzels and a smaller one with the tenderloin. We buy our chicken breast from the local wholesaler. A chicken breast comes to around $1.90 each so the whole meal above with veg for two people cost less than $5.00 in total.
Ingredients for two
1 chicken breast
plain flour
1 egg
dried breadcrumbs
salt and pepper to taste
Method
1. Remove the skin from the chicken breast if there is skin and trim off any extra fat etc. Remove the tenderloin from the breast. With the breast flat on the board, place one hand flat on top of the breast and with the knife parallel, slice the breast in half. Once you get towards the other side, it might be easier to open up the cut and finish off with the cut open (see pics).
2. Now for the fun part. Give it a good bash to flatten each schnitzel out, making it an even thickness so that it cooks evenly. Use a meat mallet or a rolling pin. If you feel the need to cover it with plastic or paper while you wack, then do so, but I never bother. Be careful though not to hit it too much otherwise you will tear the chicken. Don't forget to do the tenderloin as well.
3. Set up three plates or bowls, the first with some plain flour seasoned with a little salt and pepper, the second with a beaten egg and the third with your breadcrumbs. One at a time, dust each schnitzel in flour, shaking off any excess, coat it well in the egg and then in the breadcrumbs. Press the breadcrumbs down lightly as you go to ensure that they stick. Put the finished schnitzel in the fridge while the pan or oven heats up and you prepare the sides.
4. I prefer to cook my schnitzel in the oven, because it's easier, but DH likes it when I pan fry them. If you are going to cook them in the oven, preheat the oven to around 200°C. Grease an oven tray and drizzle the schnitzels with oil or melted butter or spray them with cooking spray if you prefer. Bake them for around 20 minutes or until golden. You want a hot oven and a short cooking time to ensure that they don't dry out.
If you prefer to pan fry them, then heat some oil (and a little butter for flavour if you wish) in the pan to medium-high heat. You want it fairly hot so that they cook quickly and stay moist inside. Because they are thin, they only need a minute or two on each side, so you will need to keep an eye on them. Cook until each side is golden brown. Depending on how many you're doing or the size of your pan, you may need to cook them in batches, keeping the cooked ones warm until serving.
5. I love serving this with mash potato and steamed greens. Serve with a wedge of lemon to squeeze over the top.
For variations, you could add some chopped fresh parsley or other herbs and/or some grated fresh parmesan to the breadcrumbs. Or a little paprika or some crushed macadamia nuts. Alternatively, you could also add a small amount of mustard or mayonnaise to the egg wash for extra flavour.
I like to finish my steamed greens off with a touch of butter, a little salt and pepper and a squeeze of lemon to bring out the flavour. As you can see, one chicken breast is plenty to make a fairly large meal for two.
And of course, we finished it off with a serving of the quick apple crumble that I 'whipped up' while all this was cooking. 😉
Melissa Goodwin is a writer and the creator of Frugal and Thriving who has a passion for living frugally and encouraging people to thrive on any budget. The blog is nine years old and is almost like her eldest baby. Prior to being a blogger and mum (but not a mummy blogger), she worked as an accountant doing other people's budgets, books and tax.