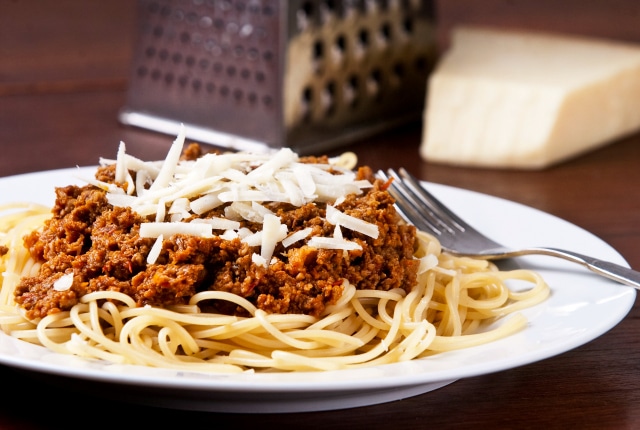 Why make bolognese from scratch when you can get it pretty cheap and easy from a bottle? That's what I thought anyway until I didn't have any in the cupboard and decided to make it myself. I have never gone back to the store bought bottled pasta sauce.
This makes a very rich, tasty bolognese. And it's not that much harder or more time consuming than the bottled variety. It is a foundation recipe, though. You can add anything you like: olives, sun dried tomatoes, carrots, zucchini, corn, kidney beans, extra garlic, fresh herbs, spices… endless possibilities. Or you could remove ingredients that you don't like or don't have on hand like the capsicum or mushrooms. A tasty variation is adding a couple of crushed cloves to the sauce. It adds a subtle but lovely aroma to your bolognese.
Of course, instead of serving this over spaghetti, you could make a simple white sauce, layer with a few sheets of pasta, grate some cheese over the top and have lasagne instead.
Ingredients
500g mince
1 onion diced
1-2 cloves of garlic, crushed
handful of mushrooms, sliced
1/2 capsicum, diced
2 Tbsp tomato paste
400g tin crushed tomatoes
splash of wine (optional)
1 tsp dried oregano or basil (or a mix)
1 tsp sugar
salt and pepper to taste
Method
Brown mince over medium heat, breaking up lumps with a spoon. Remove and drain in a colander.
Sauté onion until soft, add in the capsicum and garlic and cook for a couple more minutes then the mushrooms and cook for a minute more.
Add in the tomato paste and herbs and cook for half a minute or so to caramelise the paste a little, then add in the mince, stirring.
Add the tomatoes, wine if using (use the wine to rinse out the tomato tin), sugar, salt and pepper.
Bring to the boil and then simmer for 10 – 20 minutes while the pasta cooks so that the sauce reduces, thickens and the flavours intensify.
Serve over pasta with a generous scattering of freshly grated parmesan.
Melissa Goodwin is a writer and the creator of Frugal and Thriving who has a passion for living frugally and encouraging people to thrive on any budget. The blog is nine years old and is almost like her eldest baby. Prior to being a blogger and mum (but not a mummy blogger), she worked as an accountant doing other people's budgets, books and tax.