Enjoy fish cheaply with these easy, healthy tuna patties.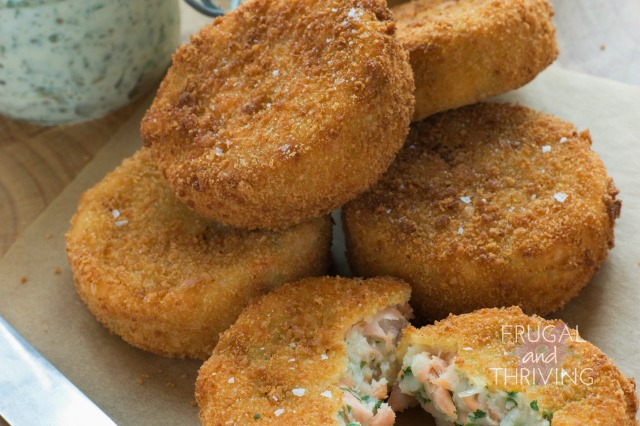 These tuna patties are a family favourite – the kids like to eat them and because I hide a bunch of vegetables in them, I'm happy they are getting enough veggies.
A tin of tuna is very cheap, making these meals quite inexpensive – less than $5 for the meal, but even if you pay top dollar for ethically fished tuna, which is always a good idea if you can afford it, this meal will still come in at under $10.
Alternatively, you can use salmon instead of tuna.
The other reason I like this is that you can double batch the recipe and freeze half for later. Just divide the mix in half before rolling into the patties and freeze. All you have to do then is defrost and roll the mix in breadcrumbs.
My husband likes to turn these into tuna burgers with lettuces, cheese, tomato and mayo on a burger bun. Because there are hidden vegetables in the tuna rissole, burgers make a great variation and you know your family are still getting plenty of goodness.
To cook your patties, try macadamia nut oil, which has a lovely nutty flavour and a high smoke point, so it's good for frying and it's also super healthy.
Any breadcrumbs are good, in fact, you can make your own, but if you can pick up Panko breadcrumbs on special, they give a nice crunchy texture. Almond meal makes a great gluten-free substitute.
To transform these into something special and adult, add a few chopped capers and serve with a dollop of aioli.
Tuna Patties
Ingredients
1 440g tin of tuna
1/2 cup uncooked rice (swap with 1 cup of mashed potato or sweet potato for extra veg)
1/2 lemon
1 small onion finely diced or grated or a couple of shallots, finely diced, or a handful of chives, chopped
1 carrot grated
1 small zucchini grated
a handful of parsley, chopped
1 egg
breadcrumbs
salt and pepper to taste
oil for cooking
Instructions
Cook rice until tender. Drain. (Make this recipe even easier by using up leftover rice).
Combine the tuna, rice, onion, vegetables, parsley and egg in a bowl. Squeeze in the juice from 1/2 a lemon and add salt and pepper to taste.
Stir well to combine, breaking up the tuna chunks. Use your hands to mix it really well, smushing it all together.
If the mixture is too wet, add some breadcrumbs to get a consistency that holds together. Roll golf ball size amounts into patties or rissoles, press lightly to flatten.
Roll the rissoles in breadcrumbs until well coated. Place the rissoles in the fridge for 1/2 hour to firm up.
Heat oil in a frying pan to moderately high heat and cook rissoles until golden. Drain on paper towel.
Serve with salad or vegetables and a nice mayonnaise or aioli.
Notes
Use brown rice rather than white for extra fibre. The brown rice will need longer to cook.
Instead of rice, try mash potato or mash sweet potato – about two medium spuds, or three small ones.
Substitute salmon for the tuna or some gently steamed white fish.
For a more lemony flavour, add more juice or grate some of the lemon rind into the mix.
Add other types of vegetables such as corn kernels to the mix to bulk it up and make it go further.
For an adult flavour, add some chopped capers and serve with a garlic aioli.
Looking for more tuna recipes? Why not try: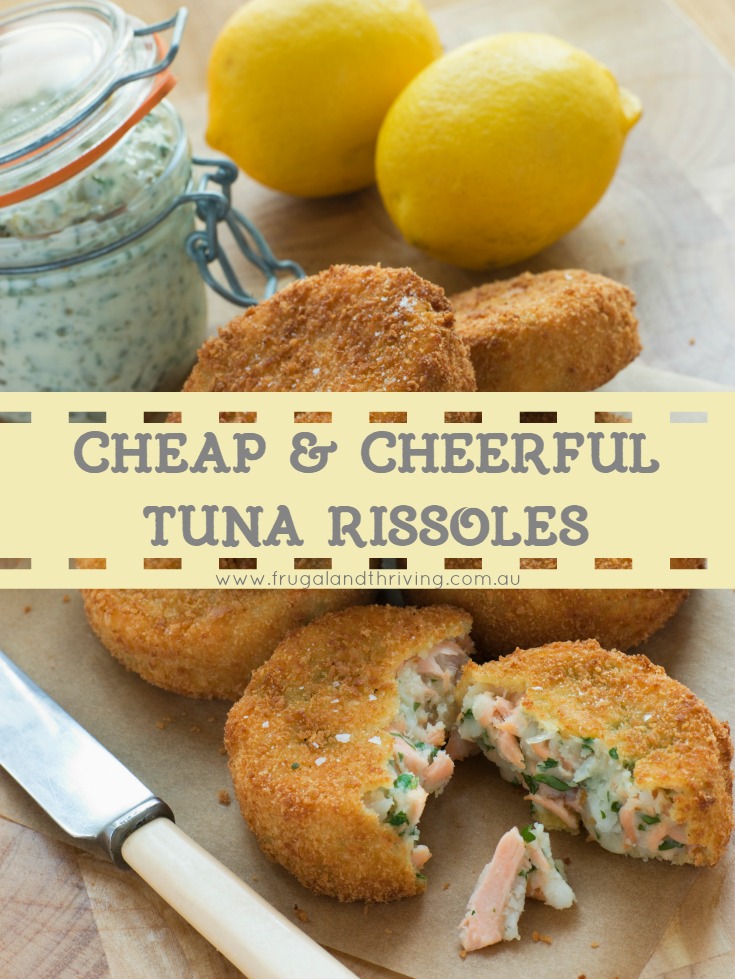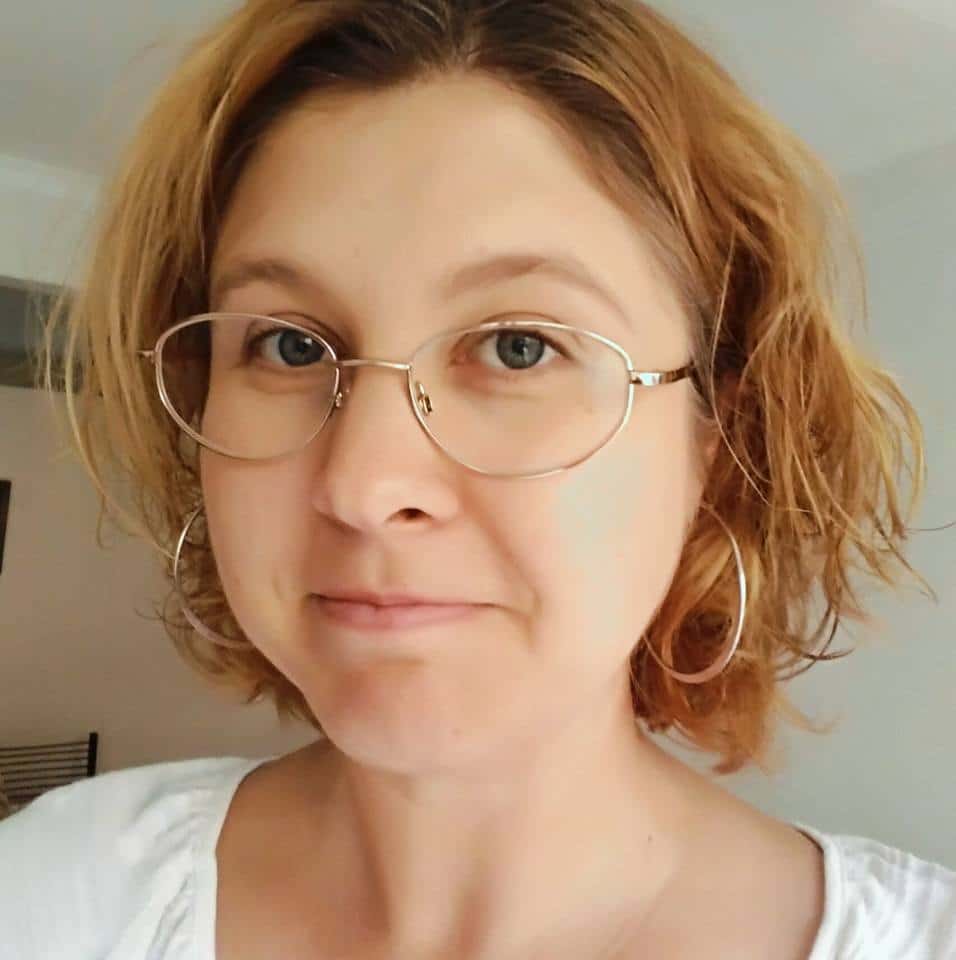 Melissa Goodwin is a writer and the creator of Frugal and Thriving who has a passion for living frugally and encouraging people to thrive on any budget. The blog is nine years old and is almost like her eldest baby. Prior to being a blogger and mum (but not a mummy blogger), she worked as an accountant doing other people's budgets, books and tax.