Dessert or lunchbox treat, these apple turnovers are sure to please. They are also a great way to use up floury apples.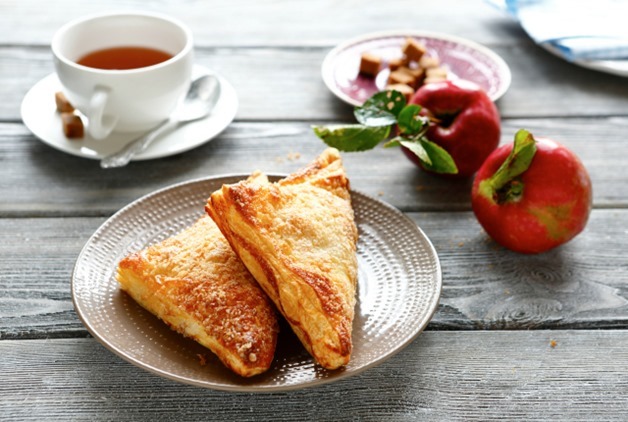 I stole this idea from a friend.
I've been baking apple turnovers, she said. And I thought, what a good idea, I'm going to do that too.
Apple turnovers make a super easy dessert, an indulgent breakfast or an afternoon treat.
You can make the apple filling from scratch and I share how I like to stew apples in the recipe below.
But you can also use tinned apples – there are no food snobs here!
With some tinned apples and frozen puff pastry, you can have this dessert in the oven in a matter of minutes!
If it's early Sunday morning and there's been a night before, I use tinned apples. Everyone is happy. I can throw these in the oven in minutes and crawl back into bed and we all enjoy a bit of a special Sunday breakfast (the kids have yet to embrace the idea of brunch, no matter how hard I try to sell it).
Even so, making the apple filling from scratch only takes a few extra minutes. You can either leave the apples raw and spoon the chopped apples straight onto the pastry or you can stew them.
To stew the apples, peel and chop your apples and throw them in a pan with a little water. Add sugar or honey to taste. Cinnamon makes a nice addition too. Cook them until they are done to your liking.
Change things up by adding a few sultanas or berries when in season or swap the apples with pears or tinned peaches – this frugal dessert is flexible!
Cut the thawed puff pastry into 4 squares and dollop the apple filling on top. Fold the pastry over, brush with a little milk and sprinkle with sugar. Bake until golden and serve.
For something a little extra special, try caramel apple turnovers. Caramelise the apples by adding a little butter to the sugar. All good things come from combining butter and sugar.
Here's our favourite way to caramelise apples: with cardamom and slivered almonds – yum!
Apple Turnovers
Ingredients
2 sheets of puff pastry, thawed
4 apples, peeled, cored and chopped
sugar or honey to taste + some for sprinkling
cinnamon
milk or beaten egg
Instructions
Preheat oven to 200°C. Line a baking sheet with baking paper.
Combine apples, sugar and cinnamon to taste.
You can either leave raw and bake as is, or stew the apples. To stew, add a tablespoon of water or so to stop the apples catching and burning on the bottom and stir apples over low heat until soft to your liking.
Cut the pastry sheet into four squares.
Spoon 1/8 of the apple filling into the middle of the squares and fold corners over to form a triangle. Press edges together with your fingers or a fork to seal.
Place turnovers on a tray. Brush tops with milk or egg and sprinkle on extra sugar and cinnamon.
Bake for 25 minutes or until pastry is golden.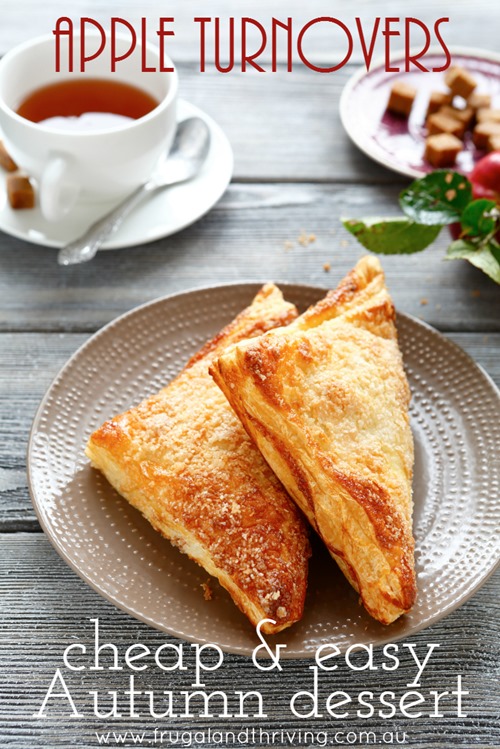 Melissa Goodwin is a writer and the creator of Frugal and Thriving who has a passion for living frugally and encouraging people to thrive on any budget. The blog is nine years old and is almost like her eldest baby. Prior to being a blogger and mum (but not a mummy blogger), she worked as an accountant doing other people's budgets, books and tax.