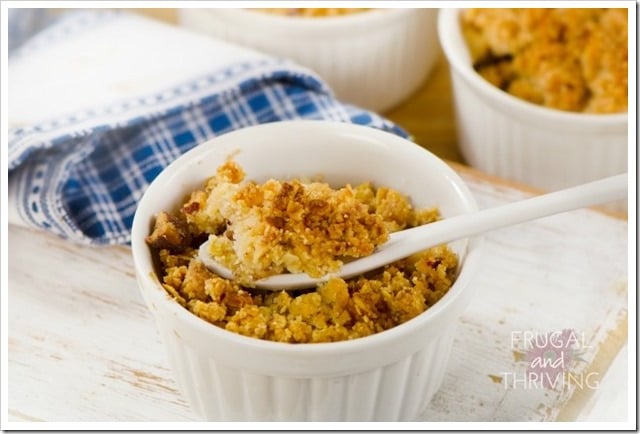 I threw this quick apple crumble together the other night while I was cooking dinner, had it in the oven in 10 minutes and it was ready just after we had finished dinner. Cooking from scratch doesn't need to take a long time or be complicated. And of course it tastes better and is healthier than the store bought alternative.
The measurements are given as a guideline but I didn't measure as I cooked this so taste as you go and adjust to suit how you enjoy your crumble. You may need to adjust the sugar level with the apples anyway depending on what variety of apples you have and how naturally sweet they are. If you don't have lemon leave it out, it adds an extra dimension to the flavour, but isn't necessary, substitute the cinnamon for nutmeg or cardamom or allspice if you prefer.
Ingredients
1 apple per person
sugar to taste
a small squeeze of lemon juice
a pinch or two of cinnamon
about 1/4 cup of flour per apple
about 1/8 cup of brown sugar
about 25g of butter per apple (enough to make a 'breadcrumb' like consistency)
cinnamon to taste
Method
Preheat the oven to 200°C
Core, peel and chop the apples. In a saucepan add apples, sugar, lemon and cinnamon.
Simmer apples until soft or to the texture that you prefer.
Meanwhile combine the flour, brown sugar, butter and cinnamon and rub together with your fingers to get a 'breadcrumb' like consistency.
Pour apple mixture into greased oven dish or individual dishes, sprinkle with crumble mixture and bake for about 20 minutes or until the top is golden.
Variations
Add sultanas or other dried fruit for variety
You can use any fruit that you have on hand like berries (fresh or frozen) pears, peaches, plums etc.
To make this dish even quicker, use tin fruit. No need to cook just drain.
Add rolled oats or crushed nuts to the crumble mixture for more texture. You may need to add a little extra butter to get the right consistency.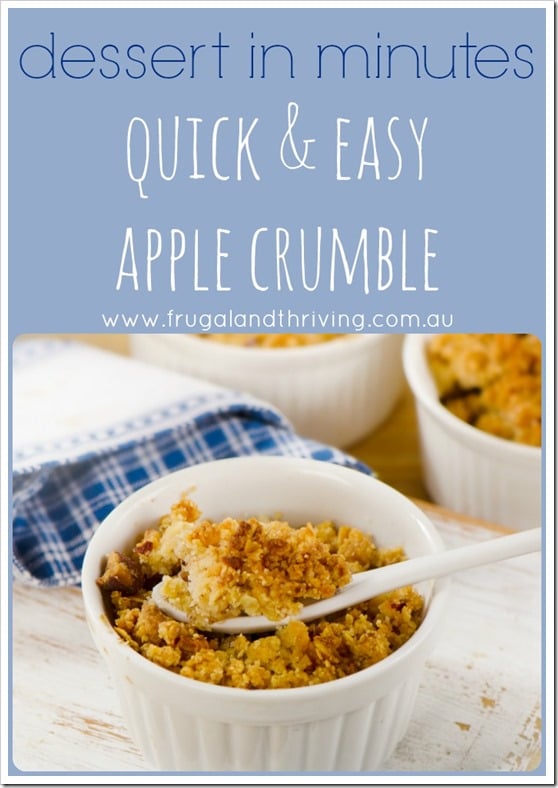 Melissa Goodwin is a writer and the creator of Frugal and Thriving who has a passion for living frugally and encouraging people to thrive on any budget. The blog is nine years old and is almost like her eldest baby. Prior to being a blogger and mum (but not a mummy blogger), she worked as an accountant doing other people's budgets, books and tax.