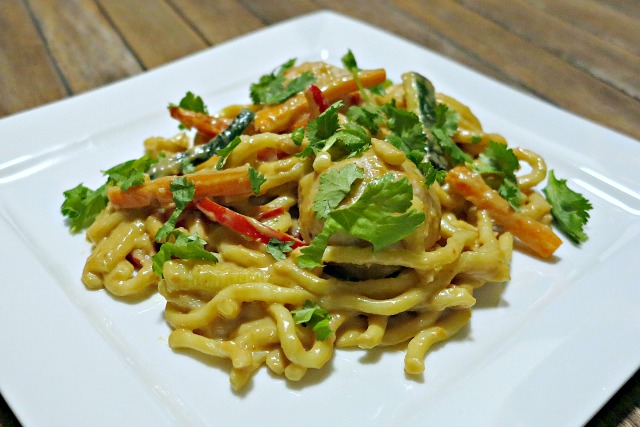 You can't beat the combination of meatballs, noodles and peanut butter for comfort food. These chicken satay meatballs hit the spot when it's comfort food you're looking for.

This dish was adapted from two recipes: I used this recipe for the satay sauce, halving the quantities and leaving some of the ingredients out and adding a little lime juice; and this recipe for the meatballs. Then I tossed both with some noodles and cooked vegetables. It was quite a hit, even the little fella telling me it was 'ummy' as he slurped peanut buttery noodles.
I didn't use all of the sauce, just add enough to coat rather than drown out the noodles – the rest was frozen; I found the sauce to be a bit claggy and added water to loosen it up a bit once I mixed in the noodles.
One packet of noodles was sufficient for the two of us and the little fella; if you're feeding more, use two packets of noodles and maybe a bit of extra veg and enough sauce to coat.
The ginger in the meatballs works really well to cut through the nuttiness of the sauce. Ginger in a jar is one of the few cheats that I use in the kitchen.
As usual, use whatever vegetables you have in the crisper.
Chicken Satay Meatballs
Serves 4
Ingredients
For the meatballs:
500g chicken mince
1/2 tsp ginger
1 small clove of garlic, crushed
shallots, finely chopped
2 Tbsp breadcrumbs
For the Satay Sauce:
1 clove of garlic, crushed
1/2 cup of natural peanut butter
1 Tbsp soy sauce
2 Tbsp sweet chilli sauce
1/2 Tbsp fish sauce
1 tsp brown sugar (optional)
1/2 cup of coconut cream or milk
juice from 1/2 lime or lemon
For the stir fry:
1 – 2 x packets of Hokkien noodles
1 carrot, cut into small matchsticks
1 zucchini, cut into small matchsticks
1/2 capsicum, finely sliced
Method
To make the meatballs: combine all ingredients, squooshing well with your hands. Roll teaspoon-full amounts into small balls and set aside in the fridge.
To make the sauce: sauté the garlic in a little oil over low heat until soft. Add the rest of the ingredients and stir for a few minutes over low heat until combined and thickened slightly. Set aside.
Prepare noodles as per packet directions (usually soak in boiling water for a few minutes).
Fry meatballs in a little oil over medium heat until browned and cooked through. Remove from pan.
Sauté the vegetables in the same pan until softened slightly. Return the chicken to the pan and toss in the noodles. Stir in enough sauce to coat and make the dish saucy. Add a little water if needed to loosen the sauce. Serve.
Looking for more mince recipe ideas? Try: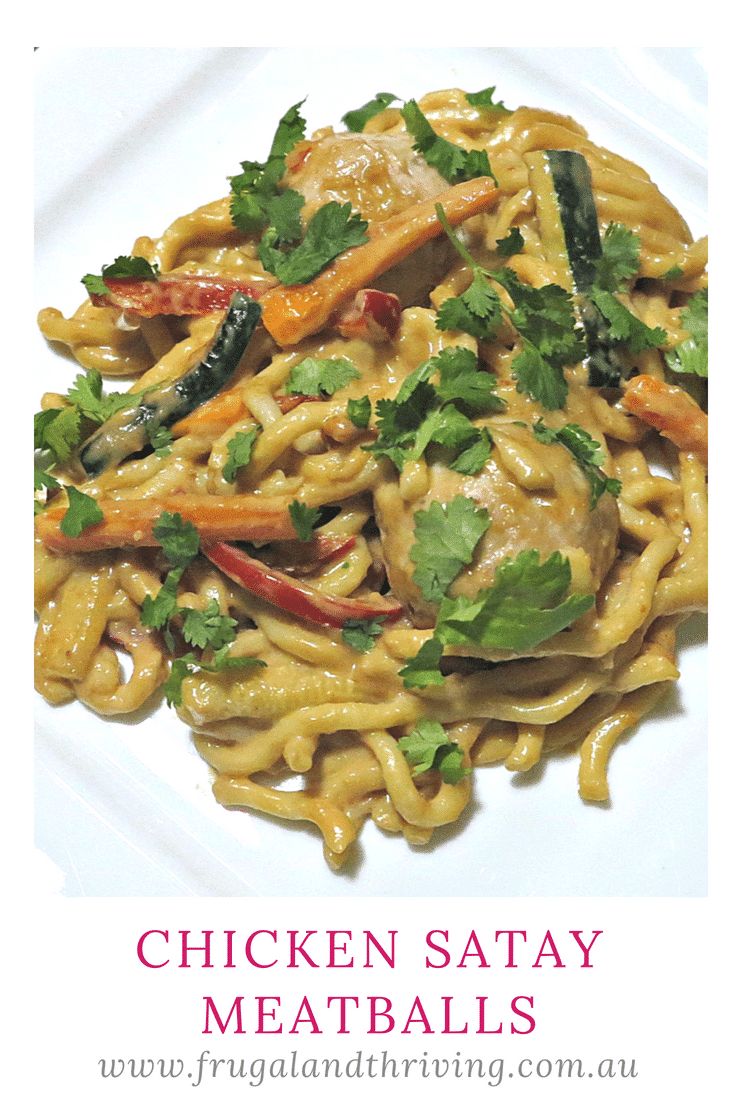 Melissa Goodwin is a writer and the creator of Frugal and Thriving who has a passion for living frugally and encouraging people to thrive on any budget. The blog is nine years old and is almost like her eldest baby. Prior to being a blogger and mum (but not a mummy blogger), she worked as an accountant doing other people's budgets, books and tax.