Parmesan Crusted Oven-Baked Fish
This website may earn commissions from purchases made through links in this post.
Enjoy a cheaper and healthier fish and chips at home with this delicious oven-Parmesan crusted oven-baked fish.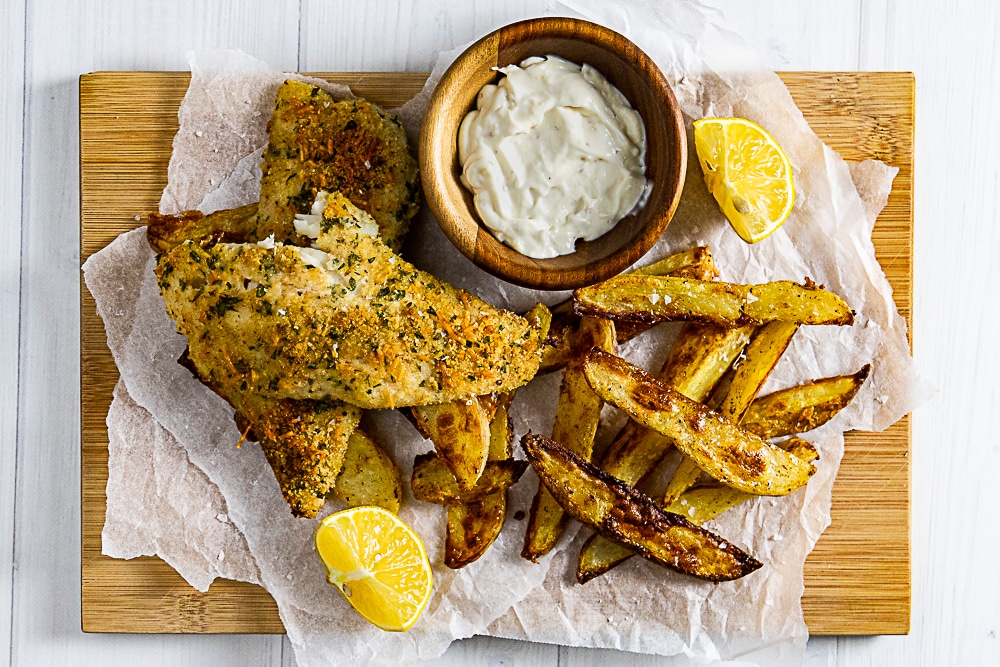 Love fish and chips but don't enjoy the greasy feeling you get after eating fish and chips from the local chippy?
Here's a delicious homemade version that is oven-baked (so fewer calories) and crusted in Parmesan cheese, breadcrumbs and parsley to make it super tasty.
Parmesan Fish – The Steps
The first step is to soak the fish for 10 minutes in a mixture of milk and garlic.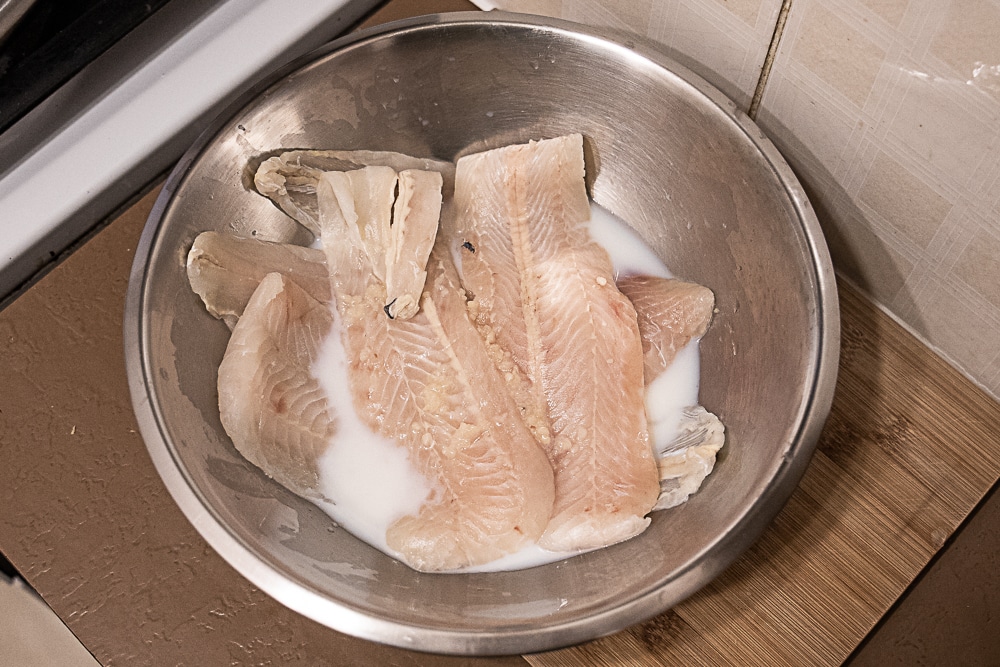 Why do we soak the fish in milk?
It takes away some if the 'fishy smell' that fish can get if it's not super fresh. If you have fresh fish, or fish that was snap-frozen, you can probably skip this step. However…
While the milk is to get rid of the fishy smell, I take the opportunity to impart it with a little garlicky flavour.
You don't have to add garlic if you don't want, but if you like garlic, putting it in the milk adds a subtle hint of garlic flavour.
The next step is to crumb the fish.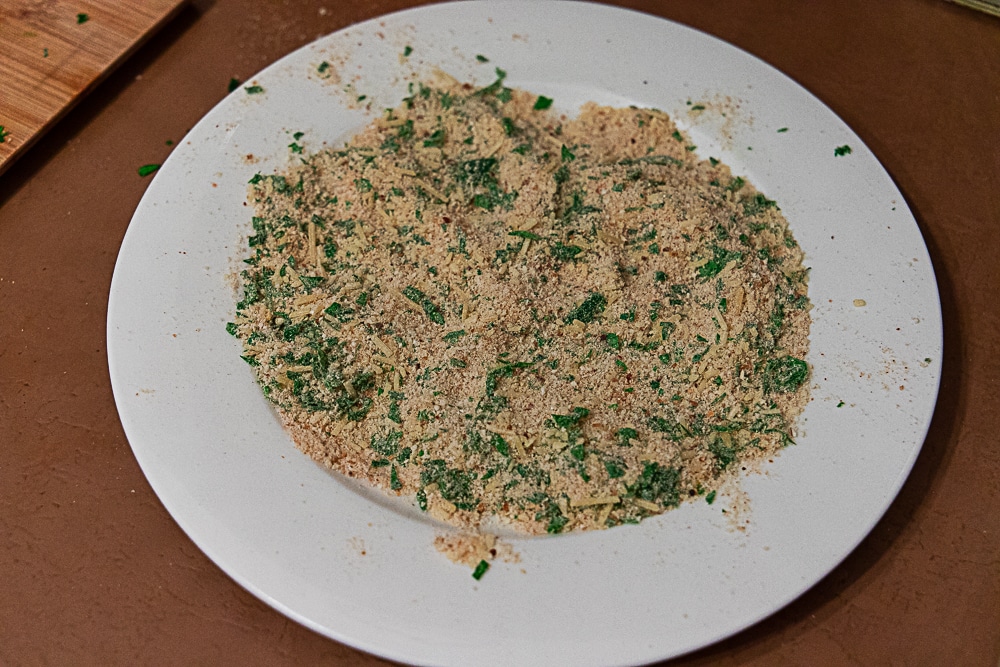 Remove the fish from the milk one at a time and press them into the breadcrumb mixture. It's easier if this is in a rectangular tray, but a plate works fine as well.
Place the fish on a greased baking tray and press in some extra breadcrumbs if you like.
Spray the top with oil or drizzle on some oil or melted butter then bake in a hot oven until cooked through and golden.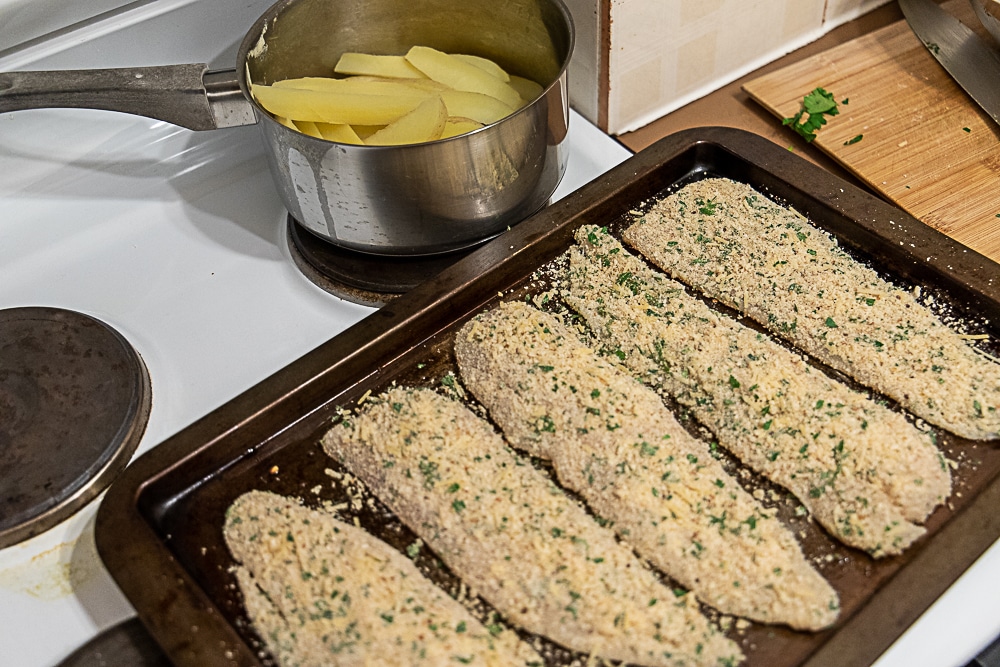 What Fish Should You Use for Homemade Fish and Chips?
For this dish, I used frozen Hoki fillets from New Zealand. These were $1.40 a fillet, so for a family of four with homemade chips, the whole meal came in under AU$10. But the frozen fillets often go on sale, so this meal can come in under AU$7. That's a whole lot cheaper than takeaway.
Other fish options include:
flathead
bream
whiting
mullet
barramundi
What to serve your oven-baked fish with:
[mv_create key="85″ type="recipe" title="Parmesan Crusted Oven Baked Fish" thumbnail="https://www.frugalandthriving.com.au/wp-content/uploads/2020/06/parmesan-crumbed-oven-baked-fish-opt.jpg"]
JOIN THE NEWSLETTER