Old-Fashioned Lamb's Fry and Bacon with Onion and Gravy
This website may earn commissions from purchases made through links in this post.
Here's a retro recipe from our grandparent's era – lamb's fry and bacon with onion and gravy sauce. For those who haven't heard of lamb's fry before, it's the liver.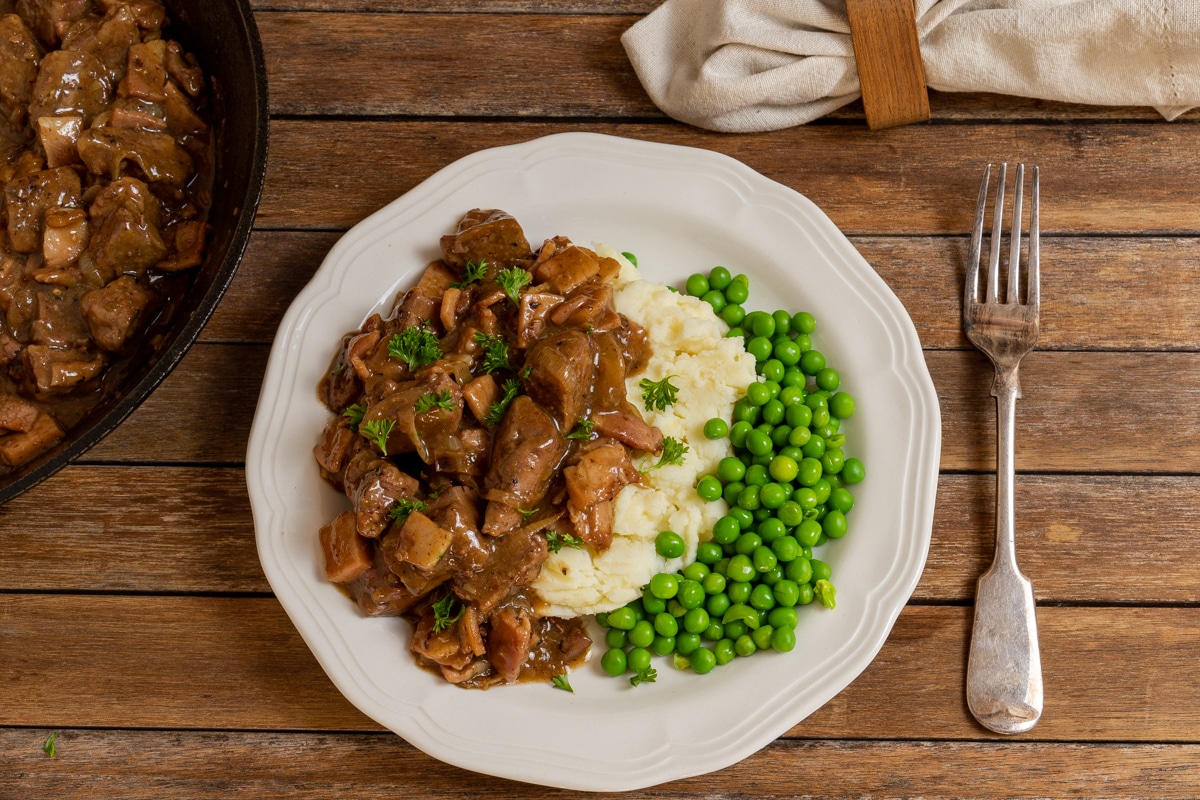 Liver has a texture and flavour distinct to the cuts of meat many of us are used to eating, and that can make it a shock to the palate. Offal is almost as polarising as an election – you're either for it or…yeah nah.
I grew up eating lamb's fry and bacon. This recipe comes from my mum, who got it from her mum.
One of the biggest benefits of eating lamb's fry and other offal compared to more standard meat cuts is the cost. The liver in this meal cost me AU$3.50. Add a little bacon and onion, stock or water, plus some veggies, and you've got a hearty meal for the family for well under $10.
Liver is also a highly nutrient-dense food, high in vitamin A and iron and other key nutrients [source]. While low in calories, it can be high in cholesterol, however, so if you're sensitive to cholesterol in food, it might not be a good choice for you [source].
What's the deal with soaking liver – water or milk?
While my mum always soaked liver in salted water, many people swear by soaking it in milk instead.
First up, the soaking helps you to remove the skin (more on that below). People also believe that milk improves the taste – the acid in the milk neutralises some of the bitter flavours, although there is some debate about that. I've read vinegar or lemon water can do the same.
When I researched why people soaked their liver in milk, the predominant answer was: "because my grandma did." This isn't to say it's wrong because our grandmas knew a thing or two – old wisdom that we've almost forgotten.
But I use salted water for the simple fact that it's cheaper than milk.
And because my grandma did.
Try milk and see how it affects the flavour.
You might also like Sausage and Bean Stew or slow cooker lamb neck chop stew.
How do you remove the skin from lambs fry?
This step is slightly finicky.
It helps to slice a little off the end to create a pocket to slide your knife into to help lift the membrane off the liver.
Then, when you've lifted a little of the membrane up, peel it back slowly and it will come off in sections. Continue to lift and peel on both sides of the liver.
Tips For Slicing the Liver
Slicing the liver thinly and cooking it on high quickly will improve the texture and flavour.
There's a bit of sinew and 'tubes' in the liver that needs cutting out. It can be easier to slice the liver upside down to see the sinew.
That makes it sound like a lot of work, but it only takes a few minutes of hands-on peeling and slicing.
What to Serve with Lamb's Fry and Bacon
When I was a kid, Mum would serve this on toast. But if you want to round out the meal with some veg, mashed potato and peas are a traditional combo.
You could also do steamed spuds and green beans if you don't eat potatoes, some roast carrots would add a nice sweetness to this dish.
Yield: 6 serves or 4 generous serves
Old Fashioned Lamb's Fry and Bacon with Onion and Gravy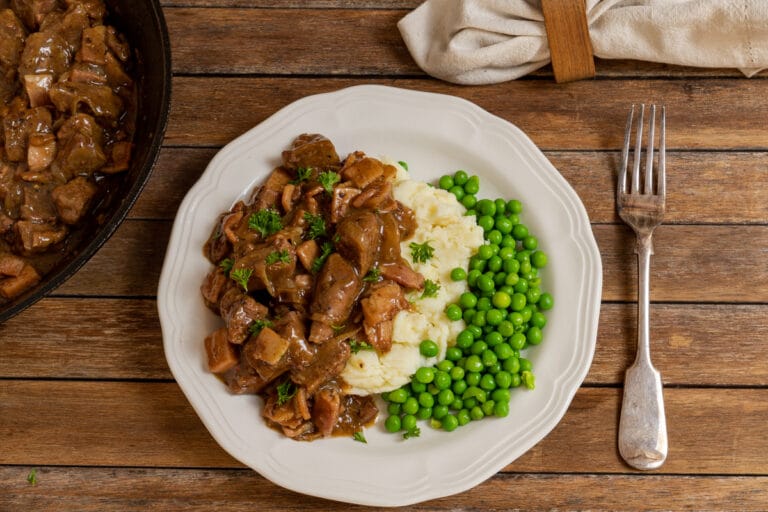 Lamb's Fry and Bacon is a retro recipe that's full of flavour and nutrition and makes a super cheap meaty meal.
Total Time
2 hours
45 minutes
Ingredients
1 Lamb's Liver (approx. 450g)
4 rashes of bacon, diced
2 onions, sliced
4 Tbsp. plain flour, divided in half
salt and pepper to season
olive oil for frying
1 1/2 AU cups (375 ml) stock
Instructions
Add 2tsp. salt to a bowl of water, place the lambs liver in the bowl of salty water and leave to soak in the fridge for 2 hours.
Meanwhile, remove the rind from the bacon and cut into large dice and slice the onion.
Remove liver from the water, drain or pat dry and remove the skin from both sides by slipping a knife under the skin and peeling it away.
Slice the liver thinly into bite-sized pieces, cutting off any sinewy bits.
Add 2 Tbsp. of flour to a plate and season well with salt and pepper. Dredge the liver in the flour, coating all over, remove and place on a plate.
Heat a frypan over medium heat, add a little oil and cook the onion for a few minutes until starting to brown and soften.
Add the bacon and cook for a further 3 minutes or until the bacon is cooked. Remove from the pan.
Turn the heat up to medium-high, add some more oil to the pan and place the liver in the pan, leaving room around each piece. Fry, turning, for about five minutes until browned on all sides. Remove from pan and turn down the heat to medium.
Add a little extra oil if necessary and the remaining flour and fry stirring for 1 minute. There will be brown, crispy bits on the bottom of the pan, that's fine.
Add the stock and stir well to make a gravy. Scrape up all the crispy bits up from the pan into the gravy - that will give it more flavour.
Simmer gravy for a few minutes until slightly thickened. Add the bacon mix and liver back into the stock and cook for a further 5-10 minutes or until the liver is cooked through.
Notes
Traditionally, my mum and grandmother made the gravy with water, not stock, which is cheaper - you can use plain water instead.
I used stock in a tetra pack, you can use a stock cube to reduce the cost.
Some recipes add either a tablespoon of tomato sauce (ketchup) OR Worcestershire sauce for extra flavour.
Nutrition Information:
Yield:
6
Serving Size:
1
Amount Per Serving:
Calories:

120
Total Fat:

6g
Saturated Fat:

2g
Trans Fat:

0g
Unsaturated Fat:

4g
Cholesterol:

79mg
Sodium:

187mg
Carbohydrates:

8g
Fiber:

1g
Sugar:

1g
Protein:

8g
Nutritional information is calculated automatically using the Nutritionix database. Nutrition information can vary for a recipe based on factors such as precision of measurements, brands, ingredient freshness, serving size or the source of nutrition data. We strive to keep the information as accurate as possible but make no warranties regarding its accuracy. We encourage readers to make their own calculations based on the actual ingredients used in your recipe, using your preferred nutrition calculator.