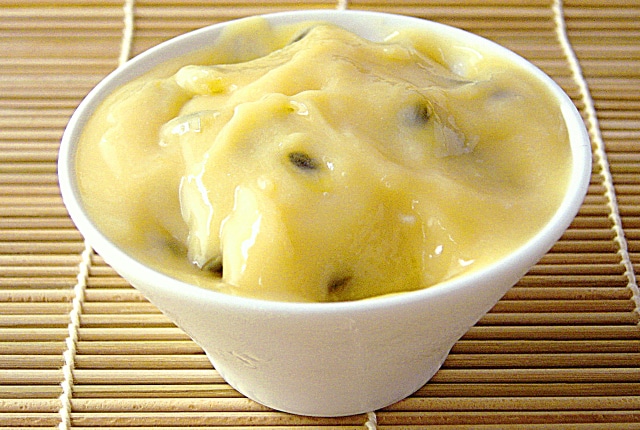 Rather than being a boring time for fruits and vegetables, winter offers some delicious tastes to tantalise the taste buds, citrus being among my favourite. And what better way to enjoy lemons than in a lemon curd?!
When we visited our nanna as kids, we would be welcomed with fresh lemon butter, made from her home-grown lemons, dolloped in fresh-baked pastry tartlets and topped with cream. It makes for a lovely afternoon tea.
This recipe is adapted from a lemon curd recipe that I have been cooking since I was a teenager – the original recipe, however, is a microwave one. As we don't microwave, I've adapted it back to old fashioned stove top. And I prefer to use raw sugar rather than white.
I made this recipe specifically to use up what was in our fruit bowl, which at the time happened to be a combo of lemons, limes and passionfruit. To make up the 3/4 cup of juice, I used 2 small limes and 1 1/2 lemons.
You can use any combination of lemons, limes and passionfruit you like. Leave out the passionfruit if you don't have any and just use lemons or just limes.
Makes around 2 cups.
Ingredients
3/4 cup of citrus juice
1 cup of raw sugar
4 eggs, beaten
125g butter, cubed
pulp from 4 or so passionfruit
Method
Place the juice, sugar and beaten eggs in a saucepan over very low heat and cook stirring for 10 minutes or so, until the sugar has dissolved and the eggs thickened slightly.
Add the butter, a couple of cubes at a time, stirring to melt, until all the butter is incorporated.
Continue to stir over low heat until curd has thickened. Stir in the passionfruit pulp.
The curd will thicken further as it cools. It will keep for around a month in the refrigerator if you store it in sterilised glass jars, but to be honest, ours gets eaten long before that, so I don't worry about sterilised jars

.
How do you enjoy eating your lemon curd?
Melissa Goodwin is a writer and the creator of Frugal and Thriving who has a passion for living frugally and encouraging people to thrive on any budget. The blog is nine years old and is almost like her eldest baby. Prior to being a blogger and mum (but not a mummy blogger), she worked as an accountant doing other people's budgets, books and tax.