How to Create a Savings Plan
This website may earn commissions from purchases made through links in this post.
Do you want to have money in the bank so that when the bills come in, you can pay them straight away, with cash and without stress?
Do you have a specific savings goal that you want to achieve, like going on a holiday or saving for a house deposit?
A savings plan can help with both.
Below I'll outline my savings plan we've been using for many years now. It's simple but highly effective, based on the timeless envelope system.
Disclaimer: This is general information only. In this blog, I share my savings and budget planning and what works for us. You should always consult a qualified financial expert when making money decisions to tailor plans to suit your circumstances.
The 4 Steps to Creating A Savings Plan
The whole point of us creating a savings plan is to stay out of debt and reduce the pain of paying large bills when they crop up.
Putting aside a few dollars each week is a whole load easier than having to suddenly come up with several hundred dollars when a bill falls due.
This is how I do it.
1. What Are You Saving For?
Before creating a savings plan, you need to know what you want to save for and how much you need to save.
To do this, I started off by writing a list of what I wanted to save for. Here's an example list to give you a few ideas.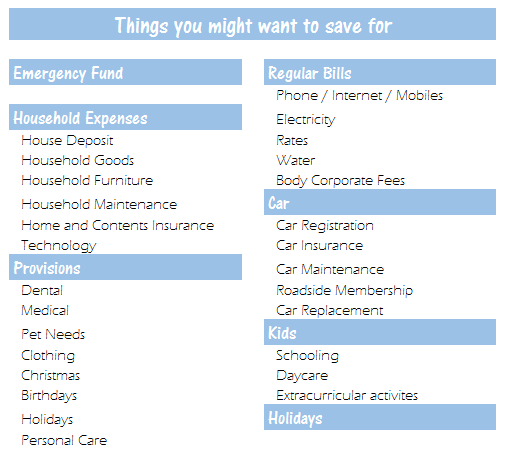 This is a general list – we don't save for everything at once. Think of it as a work in progress. What we save for has changed over the years as we had kids and they grew older, and our needs and circumstances changed.
It's easier to start with the most important and pressing savings goals first and build a savings plan as life happens.
2. How Much do You Need to Save
Maths isn't my strong point (thank you, calculators and Excel), but it is sooo useful to sit down and work out how much you need to save for each item.
How much is the electricity bill usually (then I add some for the coming price hikes!)? How much do I need for a planned holiday?
Bills have a due date, so that's the next step – how much time do I have to save? It's easier to write down the due date.
These are basically SMART goals, by the way. The goal is SPECIFIC (I'm saving for the electricity bill or a holiday, for example), it's also MEASURABLE (I can see how far I've come by looking in the bank) and TIMELY (I know exactly when I'm going to reach my goal.
Is it attainable and realistic? That's the next question about smart goals.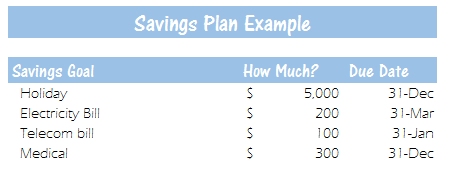 3. Work out How Much You Need to Save Each Payday
In the example above, the goal is to save a total of $5,600. There are different time frames for each goal, but that's ok; I'll show you how I work it out so I can reach each goal in the desired timeframe.
The next step is to calculate how many paydays are between now and the due date for each bill. For example, assuming I get paid fortnightly and my goal is 12 months away, I've got 26 pays to save.
I do this for all the savings goals and add up the total.

That's how much I need to save each payday to reach each savings goal. In the example above, the total amount to save each fortnightly pay is $287.18.
The next question I ask myself is: is this saving goal ATTAINABLE? Can I actually afford to put $287 away each fortnight on top of rent, groceries etc?
To work that out, I need to fit my savings plan into my broader budget that includes everyday expenses and debt repayments.
I like to track our savings goals using excel (you can see how I do it here), but this isn't necessary. I just like to see whether I have enough to cover each bill.
Once I've calculated and automated the savings plan, I can be confident my savings are on track (unless, of course, the bills go up a lot).
It helps to update the plan regularly, especially once I reach a goal. For example, This quarter, I might only have four paydays until the electricity bill is due, so I have to save extra each pay.
But next quarter, I will have the whole six pays to save, which means I can reduce the amount I put aside each pay.
4. Automate Your Savings Plan
When I know how much I need to save as part of my savings plan, I use online banking to schedule my savings to come out each payday.
That way, I don't have to worry about saving money; it happens automatically as soon as our pay comes in. Then I can spend the rest on our everyday expenses.
As long as I don't dip into my savings (and the bills don't go up too much), I can be assured I will reach my goal while I get on with living.
What if I Can't Afford to Save as Much as You want?
There are times I can't save as much as I would like because…life. And a tight budget.
But saving as much as I can makes bill payments a bit easier, even if I haven't saved the whole amount.
For goals, like saving for a new fridge, for example, I can adjust the time frame to give myself longer to save.
Or I can use these tips to boost my savings in order to reach my savings goals sooner.
In some instances, we only put aside $2 a fortnight for certain savings goals. Once, it took me nearly a year to save up for a new frying pan after the handle on ours broke. I wanted to get a quality pan, so I saved for ages, bought it on sale at half price, and used oven mitts with the broken one in the meantime.
The thing to remember is, over time, $2 adds up, and when we need it, we're glad we put it aside.
Are there better ways to use money than build savings $2 at a time? Possibly, depending on your circumstances. That's why it's important to speak to a qualified financial advisor.
Creating a savings plan helps reduce stress when it comes to future expenses like bills. And less stress works for me.