These wattleseed macadamia nut and white choc-chip cookies celebrate two Australian native ingredients.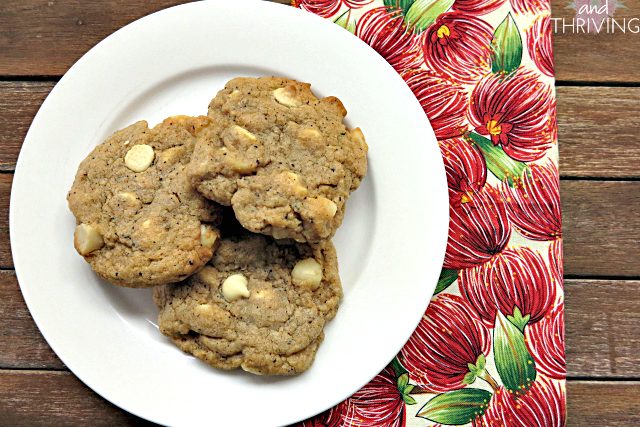 As much as the traditional Australia Day lamb ads are amusing, it would be nice to highlight some actual Australian native cuisine at this time of the year.
Cue today's recipe, which includes two native Australian ingredients: wattle seed and the macadamia nut.
The macadamia nut is one of Australia's few native food success stories. And for good reason – they're delicious!
Not only that, they are very nutritious. They are a good source of a range of minerals, B vitamins, dietary fibre and healthy.
Wattleseed is a bit more unusual, but it's becoming more popular.
Of the 600 types of acacia (wattle) plant, about 120 have edible seeds. The seeds are a rich source of protein and contain high concentrations of potassium, calcium, iron and zinc. The seeds are usually roasted and ground and have a lovely mild nutty, vanillary, coffee-like flavour, with a crunchy, chewy texture.
They are often used in desserts like ice cream, chocolate, toasted muesli, bread and, of course, baking.
Wattleseed can be purchased from any store that stocks a good selection of herbs and spices. I purchased mine from our local greengrocer. It's the Herbie's brand. Or you can buy ground wattle seed online.
Looking for more ways to use Australian native ingredients? Check out these articles:
Wattleseed Macadamia Nut and White Choc-chip Cookies
Ingredients
125g butter, softened
1 cup brown sugar
1 tsp. vanilla
1 egg
1 heaped tablespoon of ground wattleseed
1 1/2 cups wholemeal plain flour
1/2 tsp. baking powder
1 heaped cup of chopped macadamia nuts
1 cup white choc chips (optional)
Instructions
Preheat oven to 180°C. Grease baking tray.
Cream butter and sugar with a wooden spoon.
Beat in egg and vanilla.
Add wattle seed, flour, baking powder and beat until mixture forms a soft dough.
Stir in nuts and choc chips.
Roll tablespoon-sized balls of dough and press onto the tray, flattening slightly.
Bake for 12 minutes or until golden. Cool before eating.