DIY Reed Diffuser For Less Than $5 And In Less Than 5 Mins
This website may earn commissions from purchases made through links in this post.
This DIY reed diffuser is a great natural air freshener for your home and it's a lot cheaper than store-bought. Freshen your home naturally.
Reed oil diffusers (otherwise known as stick diffusers) look chic and make your home smell great.
There are just two problems.
Store-bought diffusers are usually full of artificial fragrances and the nicer ones cost a small fortune.
A natural reed diffuser that you make yourself is just as nice (if not better) but at a fraction of the cost.
What's more, not only can you make a reed diffuser yourself, it will take you less than 5 minutes to whip up and you probably have all the ingredients already at home.
Homemade diffusers also make great inexpensive gifts.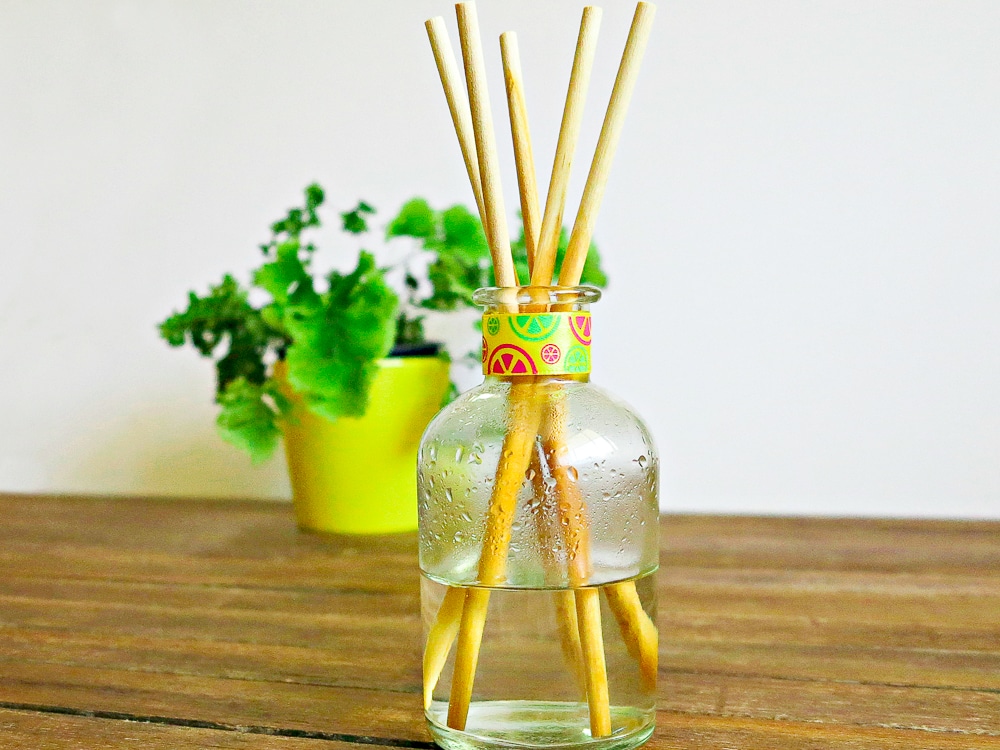 Making your Own Reed Diffuser
Making a read diffuser is very easy. It's a 5 minute craft that uses simple ingredients.
The first thing you need is a bottle. A narrow neck bottle is best and you can pick these up cheaply from the $2 shop.
You can also just use an old diffuser bottle! No need to buy expensive reed diffuser refill, just make your own personalised blend using the instructions below.
Alternatively, a recycled jar will work in a pinch. Just know that the liquid will evaporate more quickly.
The next thing you need are the reeds. You can use bamboo skewers if you have them. Just cut off the pointy tips. Some people argue that the bamboo skewers don't absorb the oil as well as other options. These are a great option if you use a water base.
You can also use craft sticks, which you can pick up in discount stores cheaply or at craft stores.
If you would like to use the 'proper' reed diffuser sticks, you can buy diffuser reeds very cheaply on Amazon.
As well as the bottle and reeds, you will need essential oils to scent your DIY diffuser and a carrier oil to diffuse the essential oils.
Essential oils are supposed to have beneficial properties, so these homemade diffusers are more than just a lovely ambient scent in your home. They may also impart the aromatherapy benefits of the oils you select as well.
Reed Diffuser Carrier Oils
You have two options for the carrier liquid when making your own reed diffuser.
You can use an oil base or water base to diffuse your essential oils.
If you choose an oil base, the best carrier oil for reed diffusers include:
grapeseed oil
safflower oil
canola oil
These oils tend to be thin oils which is important as the thinner the oil, the more easily it will travel up the reeds and diffuse the scent.
Fractionated coconut oil is the thinnest oil, safflower oil is another great option, but canola oil will work if that's what's in your cupboard.
You can also use mineral oil/unscented baby oil. Just be aware that this is a petroleum bi-product if you're trying to stay natural.
How to Make Reed Diffuser Oil
DIY diffuser oil is made by blending a carrier oil with up to 40 drops your favourite essential oil(s). Start with less essential oil and add a bit more until you get an intensity that you like.
Water Base Reed Diffuser
If you choose a water base, you will need to add a little vodka to the mix. The vodka helps mix the essential oils with the water. Remember oil and water don't mix without an agent to help them. That's where the vodka comes in.
The upside of water is that it's cheaper and thinner than oil, so it will travel readily up the reeds. This is great if you use the bamboo diffuser sticks or craft sticks.
The downside is that you will also need some vodka (or unscented rubbing alcohol) and it can evaporate more quickly than the oil.
When using water, you only need up to 15 drops of essential oils.
Keep reading for the reed diffuser recipe below.
Compliment the scent in your diffuser with homemade Linen Spray and homemade carpet deodoriser.
DIY Reed Diffuser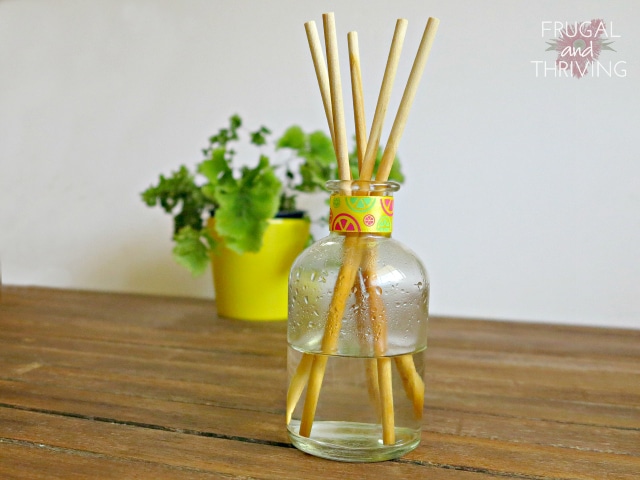 This DIY reed diffuser is a great natural air freshener for your home and it's a lot cheaper than store-bought. Freshen your home naturally.
Materials
A bottle jar or vase, preferably with a narrow neck
5 bamboo skewers, diffuser reeds or craft sticks
1/2 cup (115 ml) of water + 1 Tbsp. vodka or rubbing alcohol
OR
1/2 cup (115 ml) carrier oil
15 – 40 drops of your favourite essential oil or combination of essential oils (see combinations below)
decorative embellishments (optional)
food colouring (optional)
Tools
Funnel
Measuring cups or measuring jug
Instructions
If you want to decorate your bottle or jar, do this first.
Using a funnel, add the water, vodka and essential oils (and a drop of
colouring if using) to your bottle. Put in the stopper and give it a bit of a
shake.
Start with less essential oil and add extra for a stronger scent - up to 15 drops for a water-based diffuser and up to 40 drops for an oil-based diffuser.
If you're using bamboo skewers, cut the pointy end off with a pair of sharp scissors and
stick them in your bottle.
Enjoy your lovely room scent.


Notes
It may take a few hours for the oil to travel up the skewer.
Turn the skewers over every few days to strengthen the smell.
To refill your oil diffuser, make another batch when the oil mixture has gone. If you change the scent, replace the reeds.
Reed diffusers don't tend to have a strong smell. If you want a strong scent, and electronic mist diffuser is a great alternative.
Recommended Products
As an Amazon Associate and member of other affiliate programs, I earn from qualifying purchases.
Reed Diffuser Recipe Blends with Essential Oils
My favourite place at the moment to get quality essential oils in Australia is Eco Modern Essentials. They have a great range of essential oils and if you don't want to make your own blends, you can get one of their blends.
I usually stick to citrus oils because they are refreshing and the most inexpensive essential oil.
The combination I used in my diffuser was lemongrass – lavender – eucalyptus. This is a good combo for clearing the air when everyone is sick.
Here are a few other ideas:
orange – peppermint (air cleanser)
geranium – grapefruit (floral)
sandalwood – clary sage – lavender (warming)
lavender – peppermint – lemon (air cleansing)
lavender – rosemary – lemon (air cleanser)
lemon – lime – grapefruit (citrus fresh)
lemon – eucalyptus – peppermint – rosemary (air cleanser)
patchouli – cinnamon – orange – clove (Christmas smell)
peppermint – citronella – lemongrass (insect repellent)
lime – grapefruit – orange – patchouli (air freshener – this is a favourite of mine and what we use as a loo spray)
geranium – orange – clove (floral)
spruce – lavender – eucalyptus – cedarwood (forest)
peppermint – eucalyptus – lemongrass (refreshing air disinfectant)
grapefruit – bergamot – ginger – clove (refreshing)
lime – peppermint – cypress – cinnamon (alertness)
eucalyptus – ginger – grapefruit – bergamot – lime – rosemary (alertness)
lime – rosemary – ginger – sweet basil (alertness)
marjoram – lavender – orange (calming)
lavender – chamomile – mandarin (calming)
cypress – lemongrass – lavender – clove – patchouli (stress reliever)
For more essential blend ideas check out the article Best Essential Oils for Summer.
Decoration Ideas for Your Diffuser Bottle
You can leave your bottle plain, and that will look simple and elegant.
If you want to add a bit of your personality to your diffuser or make it matchy-matchy with your decor, here are some of the decoration ideas I got from the discount store.
Chalk label
Ribbon
Washi Tape
Burlap wrap
Scrapbook stickers (There were some lovely 3D burlap flowers that would have looked nice stuck to a burlap wrap)
Painted glass
Tie a large bead or pendant around the neck
Adding a fresh smell to your home doesn't have to be expensive or toxic.
If you use what you already have around the house, a DIY reed diffuser is practically free. But even if you pick up a few things from the discount store, this project will set you back less than $5 and will give your home a delicious scent.
JOIN THE NEWSLETTER