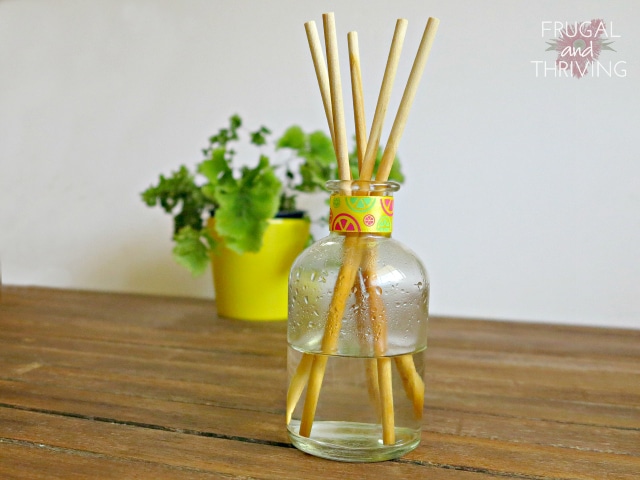 Reed oil diffusers look chic and make your home smell great.
There are just two problems.
Store bought diffusers are usually full of artificial fragrances and the nicer ones cost a fortune.
My mother always says, 'If you have to ask, you can't afford it.'
We were in this cute little homewares boutique and I asked…and I definitely couldn't afford it!
Nearly $50 for one little bottle!
It got me wondering if there was a DIY solution that was just as nice but at a fraction of the cost.
The good news is – there is!
Not only can you make a reed diffuser yourself, it will take you less than 5 minutes to whip up and you probably have all the ingredients already at home.
Not only will you save a fortune by making your own, but when you use pure essential oils, you're not putting more chemicals into your home.
Essential oils are supposed to have beneficial properties, so these homemade diffusers are more than just a lovely ambient scent in your home. They may also impart the aromatherapy benefits of the oils you select as well.
Homemade diffusers also make great inexpensive gifts. I came across diffusers in the discount store and they were still $15 and full of artificial perfume. For a fraction of the cost, you can make a much nicer one.
A note on what you need:
You can use any recycled jar at home, but a wider neck will mean the liquid evaporates quickly and doesn't last as long and the scent may be stronger. A recycled bottle with a narrow neck is ideal or an old vase with a narrow neck. Alternatively, you can pick up small bottles at the discount store. I picked up mine for $2.95.
Homemade reed diffusers usually use bamboo skewers, the ones you use for your barbecued meat! If you don't have any in the pantry already, you can find them at the supermarket. As I researched how to make a diffuser, some writers felt the bamboo skewers didn't absorb the oil well (others thought they worked just fine). I happened across some craft sticks at the discount store and thought I'd give them a go. They work great.
I bought a tiny bottle of vodka for $5 and it should make at least 5, if not more, diffusers. You can use rubbing alcohol instead, but mine is scented, and I didn't want it affecting the smell of the diffuser.
The quality of the essential oil affects how strong the scent is. I buy mine from here.
You can compliment the scent in your diffuser with homemade Linen Spray and homemade carpet deodoriser.
HOW TO MAKE A HOMEMADE NATURAL AIR FRESHENER REED DIFFUSER
WHAT YOU NEED
A bottle jar or vase, preferably with a narrow neck
5 bamboo skewers, diffuser reeds or craft sticks
1/2 cup of water
1 Tablespoon of vodka or rubbing alcohol
15 – 40 drops of your favourite essential oil or combination of essential oils
decorative embellishments (optional)
food colouring (optional)
HOW TO DO IT
If you want to decorate your bottle or jar, do this first.
Using a funnel, add the water, vodka and essential oils (and a drop of colouring if using) to your bottle. Put in the stopper and give it a bit of a shake.
Cut the pointy end off your bamboo skewers with a pair of sharp scissors and stick them in your bottle.
Enjoy your lovely room scent*.
*It may take a few hours for the oil to travel up the skewer. Turn the skewers over every few days to strengthen the smell. When the oil mixture is gone, simply add some more! If you want to try a different scent, change the skewers as well.
ESSENTIAL OIL COMBINATION IDEAS FOR YOUR NATURAL AIR FRESHENER
I usually stick to citrus oils because they are refreshing and the most inexpensive essential oil.
The combination I used in my diffuser was lemongrass – lavender – eucalyptus. This is a good combo for clearing the air when everyone is sick.
Here are a few other ideas:
orange – peppermint (air cleanser)
geranium – grapefruit (floral)
sandalwood – clary sage – lavender (warming)
lavender – peppermint – lemon (air cleansing)
lavender – rosemary – lemon (air cleanser)
lemon – lime – grapefruit (citrus fresh)
lemon – eucalyptus – peppermint – rosemary (air cleanser)
patchouli – cinnamon – orange – clove (Christmas smell)
peppermint – citronella – lemongrass (insect repellent)
lime – grapefruit – orange – patchouli (air freshener – this is a favourite of mine and what we use as a loo spray)
geranium – orange – clove (floral)
spruce – lavender – eucalyptus – cedarwood (forest)
peppermint – eucalyptus – lemongrass (refreshing air disinfectant)
grapefruit – bergamot – ginger – clove (refreshing)
lime – peppermint – cypress – cinnamon (alertness)
eucalyptus – ginger – grapefruit – bergamot – lime – rosemary (alertness)
lime – rosemary – ginger – sweet basil (alertness)
marjoram – lavender – orange (calming)
lavender – chamomile – mandarin (calming)
cypress – lemongrass – lavender – clove – patchouli (stress reliever)
My favourite place at the moment to get quality essential oils (in Australia) is here.
DECORATION IDEAS FOR YOUR BOTTLE
You can leave your bottle plain, and that will look simple and elegant.
If you want to add a bit of your personality to your diffuser or make it matchy-matchy with your decor, here are some of the decoration ideas I got from the discount store.
Chalk label
Ribbon
Washi Tape
Burlap wrap
Scrapbook stickers (There were some lovely 3D burlap flowers that would have looked nice stuck to a burlap wrap)
Painted glass
Tie a large bead or pendant around the neck
Adding a fresh smell to your home doesn't have to be expensive or toxic. If you use what you already have around the house, this project is practically free. But even if you pick up a few things from the discount store, this project will set you back less than $5 and will give your home a delicious scent.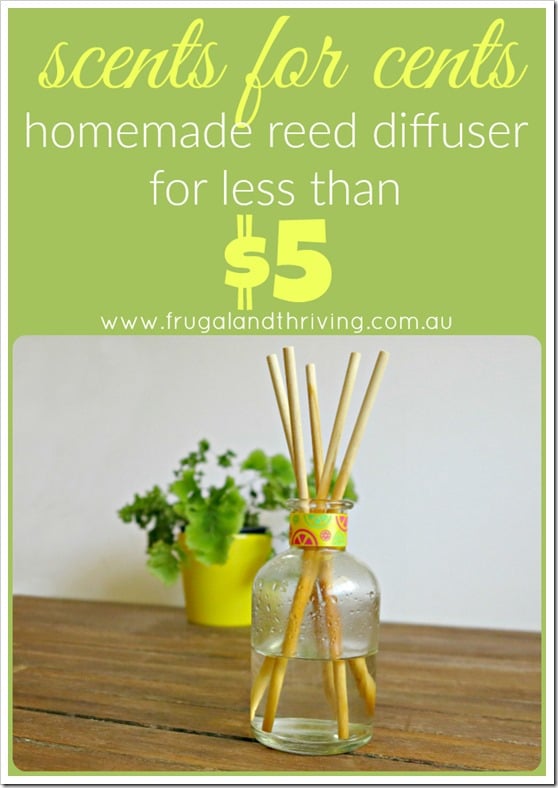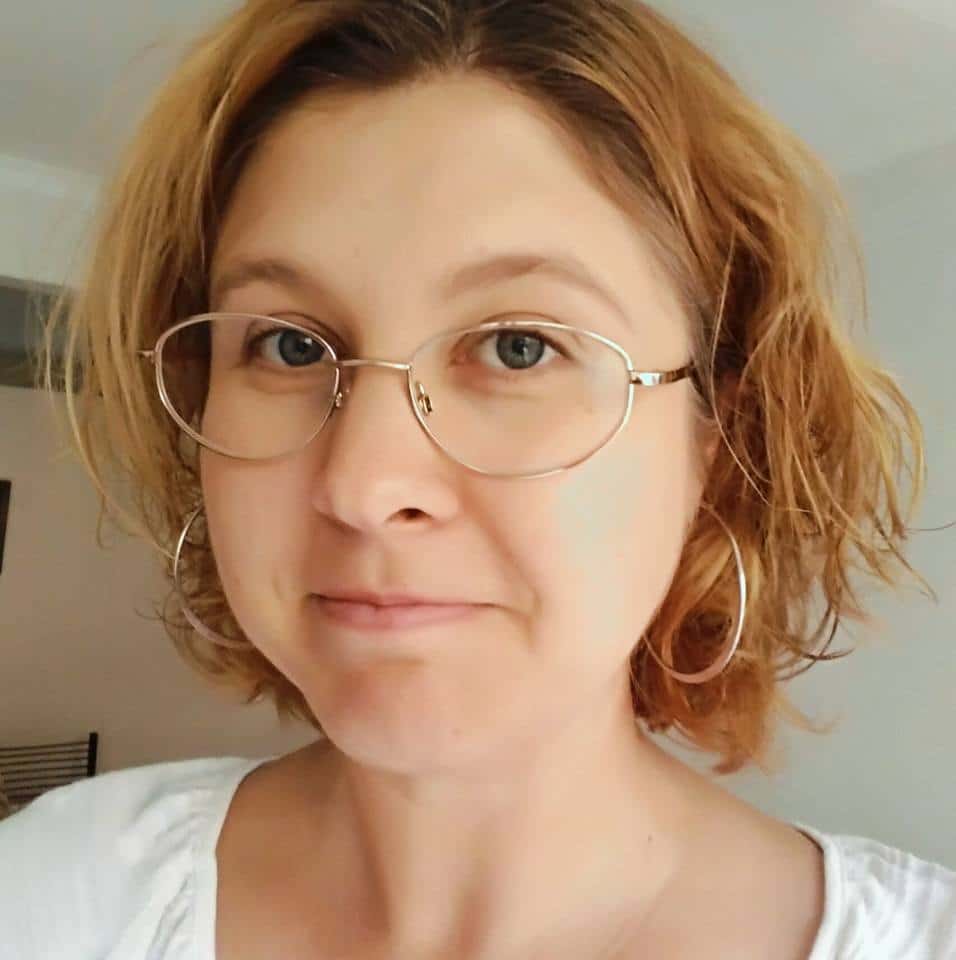 Melissa Goodwin is a writer and the creator of Frugal and Thriving who has a passion for living frugally and encouraging people to thrive on any budget. The blog is nine years old and is almost like her eldest baby. Prior to being a blogger and mum (but not a mummy blogger), she worked as an accountant doing other people's budgets, books and tax.