A personalised gift hamper is a perfect gift for the hard to buy for person. Find out here how to make a hamper and what to put in a gift hamper.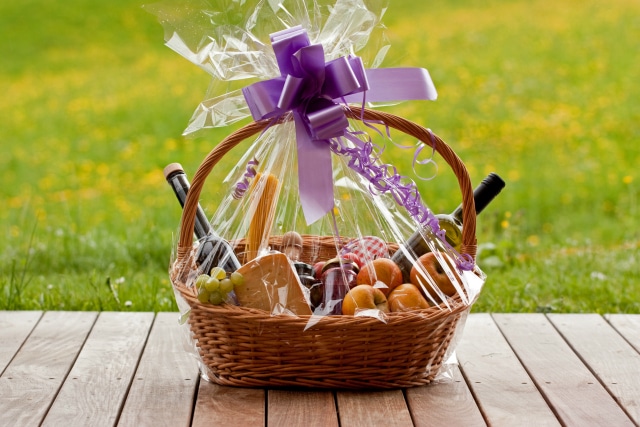 In my 20s, I worked at the department store Grace Bros (now Myer) in the gift section. During Christmas and Easter, we sold hampers, both pre-made and ones we made up ourselves.
To me, buying a pre-made hamper seemed a little impersonal, especially when I heard customers sigh: 'I don't care, let's just get them that one and be done with it.'
But the custom-made hampers were different. We would help people select what to include; sometimes they would add a nice bottle of wine, wine glasses or silk scarf, and we would do it up nicely for them. Over the years, I made up hundreds of hampers.
A well thought out, personalised hamper that you create yourself is light years better than a pre-packaged one you can buy at the shops.
Not only will it be well received because it's tailored to the recipient, but it can also be a lot of fun to make up as well.
Making a personalised hamper will ensure it is useful, with goodies the receiver likes, rather than it being just another hamper. And they can be very frugal if you make up a hamper with handmade items.
Fancy food items that a person wouldn't normally buy make a nice hamper, but a hamper full of useful groceries is also a well-received and practical gift.
It's a little more work than buying a pre-wrapped hamper off the shelf but isn't the effort you take to personalise your gift makes the gift so much more meaningful.
How to make up a personalised gift hamper
1. Decide on a theme
Often the theme will reflect the occasion for the hamper. A baby shower hamper will be quite different to a wedding hamper.
If the occasion doesn't present a specific theme (as in the case of a birthday) then consider:
Who is the basket for?
What are their interests and hobbies, likes and dislikes?
Some theme ideas include:
Food theme – not just any food, but it might be a wine or beer hamper or a chocolate hamper or a homemade hamper or a BBQ themed hamper. What does the recipient like to eat?
Gardening theme
Crafting theme – I would love a hamper full of quilting odds and ends and fabric!
Spa/bath products
Movie theme
A relaxing or time-out theme – a new mum might love a hamper with her favourite magazine, some nice tea, relaxing music, chocolates, bath salts etc.
Tea or coffee theme
Sports theme
2. Decide on a budget
Your budget will dictate what you put in the basket.
If your budget is minimal, including tickets to the opera in amongst the gourmet wine and chocolates will probably be out of the question. But if your budget is a little more flexible, don't just stick to the bickies and jam. A hamper is a great way of presenting a group of individual presents.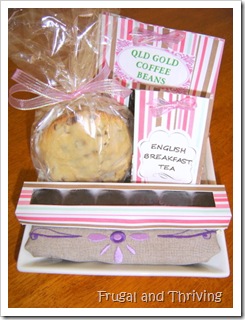 For a more frugal gift hamper, you can make the contents yourself. The hamper in the photo below includes homemade choc-chip cookies and homemade truffles. Homemade goodies taste so much better than store bought!
If you make great jam or chutney or have a secret spice mix, don't buy it, make it yourself. People really appreciate the time and effort you spend making things (and they enjoy your wares as well).
I once made up "gift pack" hampers for a couple of young girls to make their own cards.
I included scrapbooking supplies, cardstock, embellishments etc., that I already had on hand and supplemented these with a couple of glitter pens and some stickers, embellishments etc. from the $2 shop.
It ended up being a really well-received gift (their mother said they spent hours crafting) and only cost a few dollars. These were packed in recycled plastic sleeves that you get packs of speciality paper in and I made up a label in Word with card making instructions/hints to go in the pack. While not technically a hamper (nary a basket in sight) it's the same concept.
[Read more: 15 Second-hand items that make good gifts.]
3. The contents
Hampers aren't all about marmalade and shortbread. You can put anything in your hamper. The only important thing is to make sure the contents are personal and appropriate for the recipient.
The contents of your hamper will usually reflect your theme. If you're making a wine hamper, for example, you may want to consider wine glasses (these ones are awesome) to complement the wine. Or you could do a tea hamper with fancy teas and a nice one-person pot. However, if you know that the recipient has a cupboard full of glasses or a teapot already, this may not be the best idea.
Other combinations include a pasta server with fancy bottled pasta sauce and fancy pasta and maybe a nice cheese to go with it. For a spa hamper, a headband and face washer to compliment the salts, creams or lotions. For a gardening hamper, maybe a potted plant along with some seeds and a pot.
It's nice to choose things that your recipient will like, but might not necessarily buy themselves. Gourmet food is always a good choice for the foodie, but don't forget to check out your local supermarket. There are lots of speciality teas, coffees, chocolates, biscuits, oils, dressings etc., that are nice to eat but are not necessarily something a person would buy in the weekly shop. Keep an eye out for specials during the months before Christmas and make the most of the savings.
4. Containers
The most popular hamper container is a basket, but personally, I don't like to use baskets as they tend to end up in the charity store unwanted. If you are keen on using a basket then that's the best place to find one at low cost.
I prefer to either use something practical like a nice (but inexpensive) serving plate or bowl (look for second hand), or something recycled and disposable, like a recycled cardboard box wrapped in a nice bit of paper.
Consider the packaging of consumer goods as potential hamper containers. For example, I bought a set of muslin baby wraps that came in a clear plastic "box". The base of this box made the perfect container for a Christmas hamper.
Often the theme of the hamper or the personality of the recipient will suggest an appropriate container. Some suggestions include:
Crockery, bake ware, bowls, mugs, glasses, teapot, coffee plunger
terracotta pots, planters
metal buckets
wooden crates or boxes
serving trays (like you would use for breakfast in bed)
cardboard boxes
bags (not just gift bags but if you were giving some groceries, for example, they could be presented in a homemade shopping bag. Or you could use a vintage handbag or a picnic bag)
Or you could make the container, like a quilted basket, or a handmade cardboard box.
Read Further: Low-Waste Gift Guide – Ideas for all family members and all budgets.
5. Filler
Filler lifts the contents of the hampers up making them more presentable. If you have a shredder handy, then you have an endless source of filler material. Otherwise, some scrunched up paper works just as well.
When I assembled personalised gift baskets at Grace Bros, I would use scrunched up paper in the base of the basket and then hide it with a nice tea towel (which then became part of the gift). Just scrunch up some newspaper and cover it with either a piece of fabric or some nice tissue paper or wrapping paper.
Another great source of filler is the hampers that other people give you. Keep baskets, filler and wrapping to re-gift.
Even if you present your hamper in a bag, it can look quite nice if you use filler in the bottom of the bag and have the contents protruding over the top so that the recipient can see what's inside.
6. Arranging your hamper
Have a play around with the arrangement of your hamper to get the best results. To help place items, choose a front for your hamper. Start with the largest or tallest items first and arrange the smaller items around these. For example, with a wine and nibbles hamper, start by placing the wine bottles, then any large packets of food, and arrange the smaller items around these.
To help with arranging items, consider overlapping items, using clear sticky tape to help keep items still and in position (stick items to each other or to the container) and if you have smaller packaged items, like a box of wrapped chocolates, consider taking the chocolates out of the box and scattering them around the hamper. If you are using a basket with a handle, you could tie or tape items to the handle in order to keep them in place.
If the hamper just doesn't seem right, adding or subtracting filling can make a big difference. Don't be afraid to add extra filling here and there where needed to prop up an individual item.
Fill empty spaces with either small items like chocolates or items relevant to the theme (cookie cutters for a baking theme, for example) or with a decorative element such as paper or silk flowers.
7. Wrapping
When it comes to wrapping a hamper, the most popular wrapping is cellophane because it is see-through. Again, keep clear plastic and cellophane from gifts and packaging to reuse, cutting cost and waste. A flat hamper can be covered taught rather than the traditional wrap and tie method, making it easier to see the contents.
Alternatively, you could wrap your hamper in something appropriate (for example, a tea towel for a food-themed hamper, or you could make a crocheted doily to wrap your hamper in).
Ribbon finishes off the hamper nicely, and again collect what you can in order to reuse and reduce costs and waste. I have quite a stash of ribbon all from gifts and purchases. I bought a pair of cheap PJs the other day that came wrapped in over a metre of white satin ribbon rather than being packed in plastic. That ribbon will come in handy later on.
Don't forget to include a gift card and you're done.
Forget the daggy 'I-don't-know-what-else-to-get-you' store-bought hampers – a hamper can make a lovely gift if you make it up yourself and personalise it.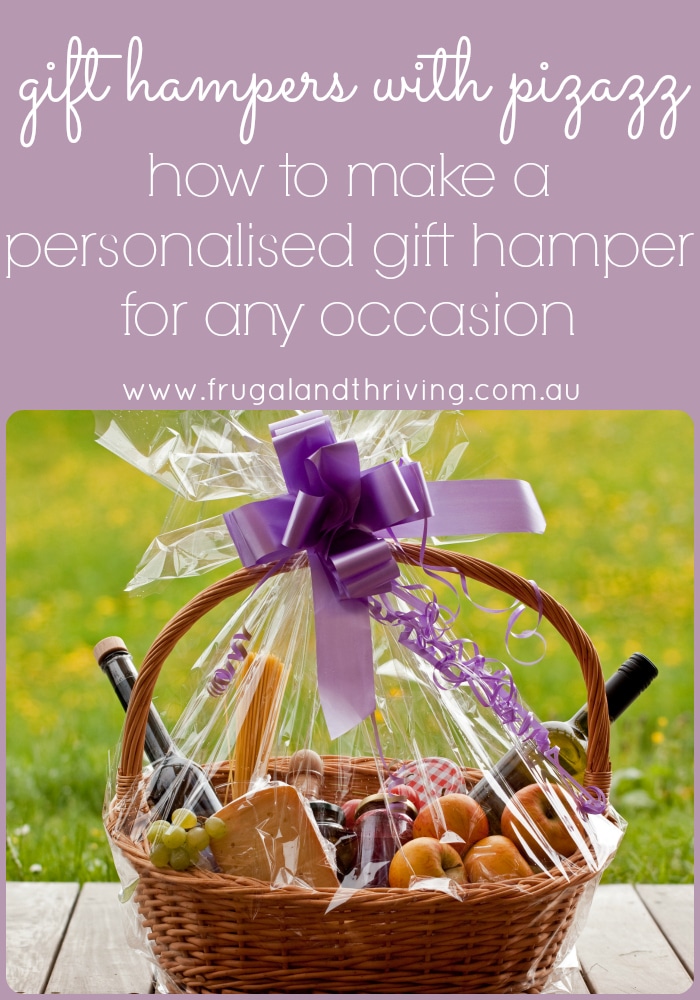 Melissa Goodwin is a writer and the creator of Frugal and Thriving who has a passion for living frugally and encouraging people to thrive on any budget. The blog is nine years old and is almost like her eldest baby. Prior to being a blogger and mum (but not a mummy blogger), she worked as an accountant doing other people's budgets, books and tax.