Caramelised Onion Frittata Recipe For Gourmet on a Budget
This website may earn commissions from purchases made through links in this post.
Inexpensive onions are the star of this vegetarian dish, cooked slowly to make delicious caramelised onion frittata. Ideal for brunch, lunch or dinner.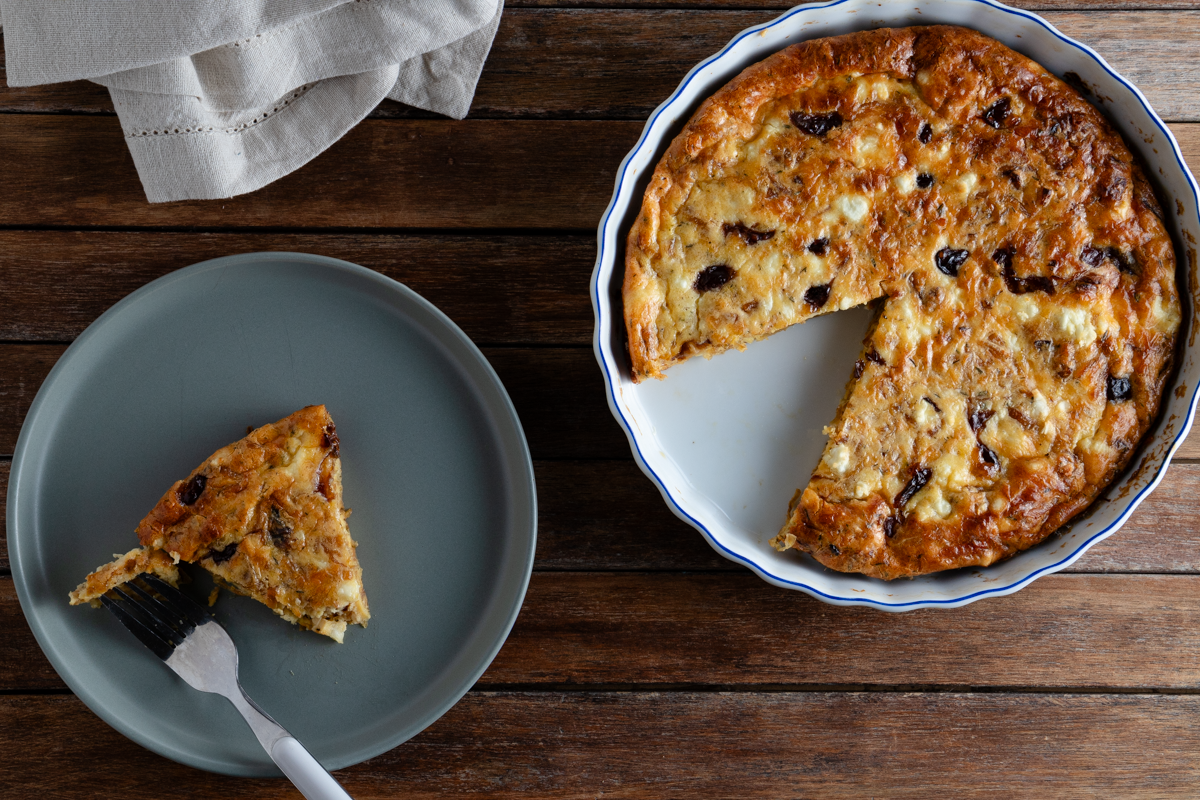 Caramelised onion frittata is a delicious way to make onions the star of the dish, not just a flavour enhancer. As well as being a crowd-pleaser but also perfect for those who are looking for a gourmet meal that's also budget-friendly.
Onions, the key ingredients in this frittata, are widely available and inexpensive, which is what makes this dish so economical. But cheap doesn't mean it's not packed with flavour!
The caramelisation process adds a depth of flavour to this frittata that elevates it from being an ordinary egg dish to a culinary delight. And while it does take some time to caramelise the onions, this frittata is easy to make.
Whether you want to impress your guests without breaking the bank or simply want a delicious and satisfying meal on a tight budget, the Caramelised Onion Frittata is a fantastic option.
How to Caramelise Onions
The key to perfectly caramelised onions is patience. But the results are worth the time! Cook them low and slow to get a deliciously sweet, golden flavour.
(For an instructional video on how to caramelise onions, have a look at our Caramelised Onion Dip recipe.)
You'll need onions, cooking oil or butter, and a pinch of salt to help draw out the moisture.
You can use any onions you like; I've used brown, white, yellow, and even red onions (which are delish caramelised!), but yellow or brown onions work perfectly and are usually the cheapest.
Cut the onions in half and slice them nice and thin. The onion cooks down quite a lot, so you'll need to use more onion than you think.
The cooking process enhances the natural sugars in the onions themselves, but you can also add some brown sugar at the end of the cooking time for some extra sweetness. I add some brown sugar to this frittata recipe because the sweetness beautifully contrasts with the saltiness of the feta cheese in the dish.
Heat a large skillet or pot over low heat. Add a small amount of oil or butter (about 1-2 tablespoons) and then add the sliced onion, spreading them out for even cooking.
At this point, you can add a pinch of salt to help draw the moisture out of the onions.
Allow the onions to cook over low heat, stirring occasionally. The occasional stirring helps to prevent the onions from sticking to the pan and ensures even cooking.
Caramelising onions takes time, around 40 minutes or more. As the onions cook, you'll notice their colour gradually turning from white to pale yellow and eventually a deep golden brown. This is the point where the natural sugars have caramelised, giving the onions their sweet flavour.
After about 40 minutes, taste the onions. They should be soft, sweet, and golden brown. If you prefer them even sweeter, you can sprinkle a bit more brown sugar and let it melt into the onions.
Once the onions are caramelised to your liking, remove them from the heat. You can use them immediately or store them in an airtight container in the refrigerator for three days.
Caramelising a bag of onions on the weekend and then storing them in the fridge means you can add them to a whole bunch of easy weeknight dinners (like frittata) for that extra pop of flavour.
How to Easily Turn Frittata into Quiche
Fritatta can be easily turned into a quiche by adding a shortcrust base!
You can make your own shortcrust pastry and blind-bake it before adding the frittata/quiche filling. Or you can buy a ready-made shortcrust pastry shell for an easy weeknight quiche.
Frittata Variations
In this version, I add feta cheese to the frittata, but for variations, you can also add:
roast pumpkin
cooked potato
sweet potato
goats cheese
blue cheese
spinach
ham
pancetta
Chorizo
cooked mushrooms
grilled capsicum or antipasto
Another alternative is adding a splash of balsamic vinegar to the onions while cooking for that mellow acidic flavour.
What to Serve with Frittata
A green salad and some crusty bread make the perfect side dish for frittata.
During the winter months, you can switch it up with some steamed greens or oven-roasted tomatoes.
You Might also like…
Yield: 4 serves
Caramelised Onion Frittata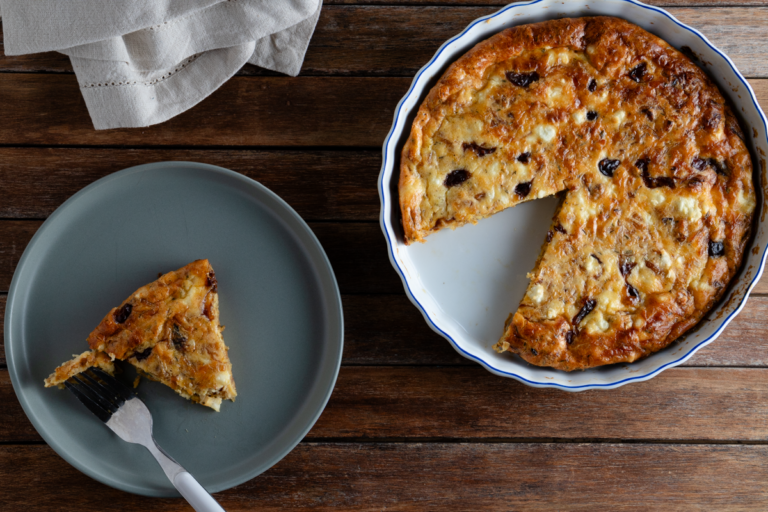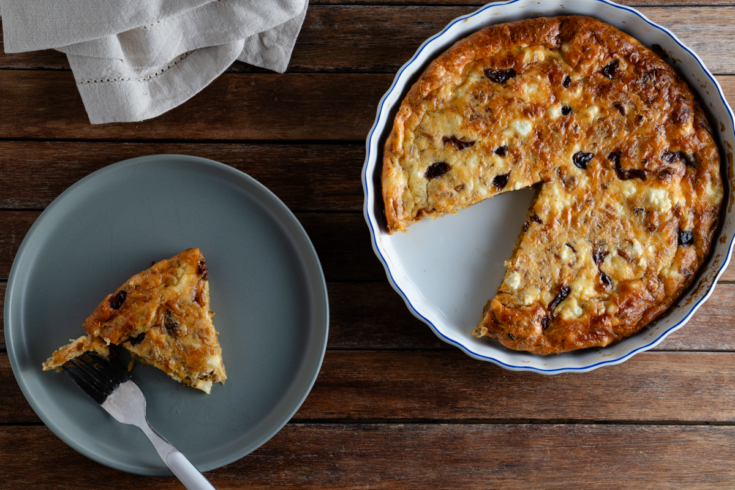 Inexpensive onions are the star of this vegetarian dish, cooked slowly to make delicious caramelised onion frittata. Ideal for brunch, lunch or dinner.
Total Time
2 hours
10 minutes
Ingredients
4 large onions, sliced finely
3-4 TBSP olive oil
2 tsp brown sugar
5 eggs
3/4 cup of sour cream, milk, or cream
1/2 cup grated tasty cheese
100g crumbled feta (optional but delicious)
1 tsp dried thyme (or 2 tsp fresh)
Instructions
Heat the oil in a frypan over medium-low heat. Add the onions and cook gently, stirring occasionally. You don't want the onions to brown. The longer they cook, the sweeter they will be. Expect it to take around 40 minutes.
Add the sugar and cook for a further 10 minutes. Allow to cool slightly.
Preheat oven to 180°C (360°F). Grease a baking dish with oil or butter.
Beat the eggs and cream. Add the cheese, thyme, and feta if using, and season with salt and pepper. Stir in the onion.
Pour into a greased baking dish and bake for 20 – 30 minutes or until just set. Start with 20 minutes and check so it doesn't overcook.
Nutrition Information:
Yield:
4
Serving Size:
1
Amount Per Serving:
Calories:

780
Total Fat:

69g
Saturated Fat:

21g
Trans Fat:

1g
Unsaturated Fat:

44g
Cholesterol:

309mg
Sodium:

467mg
Carbohydrates:

22g
Fiber:

2g
Sugar:

14g
Protein:

20g
Nutritional information is calculated automatically using the Nutritionix database. Nutrition information can vary for a recipe based on factors such as precision of measurements, brands, ingredient freshness, serving size or the source of nutrition data. We strive to keep the information as accurate as possible but make no warranties regarding its accuracy. We encourage readers to make their own calculations based on the actual ingredients used in your recipe, using your preferred nutrition calculator.