Too often, good intentions become shrivelled reminders of our failure, rolling around the bottom of the crisper.
Food waste is one of the biggest expenses in the grocery budget, and fresh produce tops the list of food that goes in the bin.
And of course, food in the bin means money in the bin.
The food that is bought and then thrown away uneaten in the greatest proportion is salad; in the UK 45% by weight of all purchased salad is thrown away (60% by cost) [source].
While it's better to store vegetables well so that they don't go limp and then eat them at their freshest, that not always possible.
Revive limp vegetables and save them from the bin with this one magic (and frugal) ingredient that will rejuvenate them and give them new life:
Water.
Yep, as long as your veggies aren't too far gone or mouldy, plain old water will crisp up most limp or stodgy vegetables.
Vegetables go limp because of dehydration. Once picked, water continually evaporates through tiny pores in vegetables, and their cells lose their "turgidity" which is an awful way to say firmness.
The dry environment of the fridge can speed this process up. That's why keeping vegetables in the crisper can make them last longer – it's more humid in the crisper.
But if your vegetables are looking a little flaccid, here's how to revive them.
How to Revive Limp Vegetables
Celery – cut the bottom off the celery and place in a glass of water for 30 minutes or until crisp. Depending on how thirsty your celery is, you may need to add more water. Cut celery can be placed in a bowl of water until crisp.
Carrots – cut a little off the bottom of the carrot and place upright in a glass of water until crisp. For cut carrots, place them in a bowl of water.
Whole lettuce – if the roots are intact, you can place the whole thing in a bowl of water. However, I find it much better to cut the roots off and just place the leaves in the water.
Salad leaves – place leaves in a bowl of water.
Potatoes – peel and place in a bowl of water.
Spinach – either stand in a glass of water or place the leaves only in a bowl of water.
Broccoli – trim bottom and place in a bowl or glass of water or cut florets and place in a bowl of water until crisp.
Asparagus – trim bottoms and place upright in a glass of water until crisp.
Herbs – either trim stalk bottoms and place upright in a glass of water or strip leaves from stalks and place in a bowl of water.
Some soft vegetables like zucchini or pumpkin tend to go mouldy before they go limp, and this method doesn't work so well for them.
Next time your vegetables are on a one way trip to the bin because they are looking a little past their prime, try giving them a drink – a little water may be all they need to revive and make their way to the dinner table instead.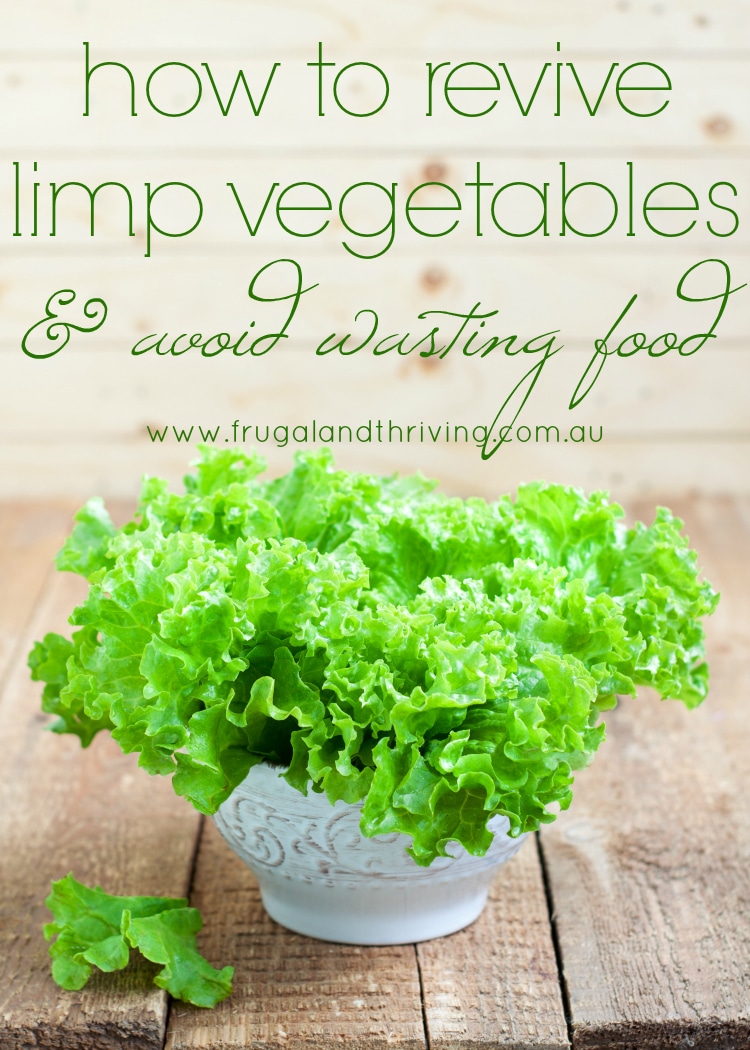 Melissa Goodwin is a writer and the creator of Frugal and Thriving who has a passion for living frugally and encouraging people to thrive on any budget. The blog is nine years old and is almost like her eldest baby. Prior to being a blogger and mum (but not a mummy blogger), she worked as an accountant doing other people's budgets, books and tax.