Today's action step, as part of the disaster preparation series, is to stash some cash for emergency situations.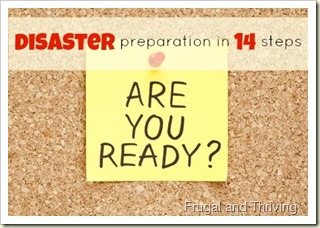 Your bank has had a computer glitch and your accounts have been wiped. How will you put petrol in the car to go to work?
There is a widespread power outage. EFTPOS and ATMs are down. You need to fill a script. How will you pay?
While it is not a good idea to hoard your life savings under the mattress, it is a good idea to keep a little cash safely stashed away, in case of an emergency.
One place to keep some cash is in your 72 hour kit. If you have been evacuated, you will have some cash on hand to make purchases if necessary. Small denominations are better to stash than large notes – receiving change may not be possible.
A 'small' amount of cash (at least $100 if you can, $500 is often recommended) -  in small denominations, put in a safe place, but one which you're not going to forget will ensure you can still make purchases should your bank be inaccessible.
If you're wondering where you're going to find $100 to set aside for emergency cash (and I can relate to that), remember you don't need to put aside an entire emergency fund all at once.
Instead, collect that money over time.
Deposit the change from your wallet each week into a jar or put all your $1 coins or your $5 notes aside, whenever you have them. It's surprising how quickly these little amounts add up, as long as you're not dipping into your fund for everyday expenses.
So as part of your emergency preparation, put aside some cash in a safe place and in your 72 hour kits. You never know when you might really need it.
Melissa Goodwin is a writer and the creator of Frugal and Thriving who has a passion for living frugally and encouraging people to thrive on any budget. The blog is nine years old and is almost like her eldest baby. Prior to being a blogger and mum (but not a mummy blogger), she worked as an accountant doing other people's budgets, books and tax.