Today's action step, as part of the disaster preparation series, is to consider an alternate cooking method or two in the case of an extended power outage.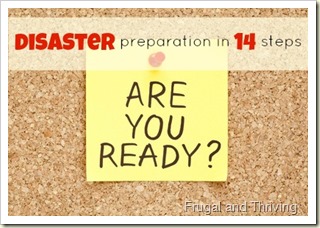 No matter where we live, we all experience power outages from time to time. Most power outages last only a few hours and it's no big deal. Others can last days, sometimes weeks.
We've had several power outages over the last couple of years: a few short outages caused by a blown transformer or a drunk driver hitting the power line, and one that lasted two days after ex-tropical cyclone Oswald blew through. Some people were without power for up to two weeks.
When the power goes out, cooking and heating water becomes a challenge (unless you have a gas stove and the gas hasn't been shut off). Which is why it's important to have a back up option or two. Here are just a few ways to cook without electricity.
Existing Gas BBQ
If you have a gas BBQ, then you can use that for cooking. If you're in the market for a new BBQ, you might consider a gas BBQ over an electric for this very reason.
The downside to electric BBQs is that they must be used outside and bad weather may not permit outdoor cooking.
If you have a gas BBQ, it's a good idea to store an extra cylinder so that you don't run out of gas in an emergency.
Butane gas camp stove
A butane stove is a handy and inexpensive little cooker to have for camping and emergency cooking.
These can be used indoors, but need to be used in a well ventilated area with plenty of air flow on a stable surface away from curtains and children.
The cartridges are small and don't store much gas, so these aren't great for extended cooking, and it's important to store extra cartridges.
You can prolong the use of these cookers by combining them with thermal cooking (see below).
Charcoal BBQ
A less expensive alternative to a gas BBQ, a charcoal BBQ also needs to be used outside. Cooking on charcoal requires some practice, so it's a good excuse to enjoy some summer BBQs. Store some extra charcoal in a dark, dry place so you don't run out.
If you don't have a charcoal BBQ, you can still use charcoal to cook with in an emergency. Check out this article on how to make your own charcoal grill.
wood stove / open fire
If you have a wood fire or stove in your home, or an outdoor oven, then you can use this for cooking.
An outdoor camp fire may also be an option, but bear in mind weather conditions, council regulations, and most importantly, current fire bans.
Thermal / Solar Cooking
Thermal cooking uses insulation and residual heat to cook food. You need to start the cooking on a stove, but then the rest is done fuel free. It's a great way to extend the fuel of a camp stove.
You can purchase a commercial thermal cooker or make your own. Here are a few articles on DIY thermal cookers:
A solar oven is another option. It uses heat from the sun to cook food and can be a good option in hot climates, assuming it's not raining. Here are some articles on DIY solar ovens:
Some things to consider
Practice different ways to cook food without electricity. You don't want to be learning how to cook without electricity during an emergency.
Ensure you have appropriate cooking pots and utensils for your preferred alternate cooking method.
Don't forget the people powered tools – a hand operated can opener rather than an electric one, for example.
Make sure you have plenty of matches, lighters, fire starters etc. on hand.
Cook efficiently to conserve fuel and water.
Tinned foods like tinned soups and casseroles can be eaten cold.
Check out the post Preparing your Freezer for Hurricane Sandy (or any Power Outage) for tips on how long frozen food will last and what to do with it (you can cook it and refreeze it if the power comes back on in time).
Being able to cook and eat real food, or just boil water to make a cup of tea, makes all the difference during an emergency or power outage. A camp stove and another cooking method will mean you are prepared to cook during a power outage.