Have you ever needed to contact someone in a hurry, only to spend ages looking around looking for their number?
I know that business card was around here somewhere! Didn't I stick it to the fridge?
Avoid this scenario by keeping all your phone numbers and other important information needed for the smooth running of your household in one place: the household binder.
A household binder is your home's command central.
You can create a digital household binder using a programme like Evernote, but I prefer old fashioned paper because it's usually quicker looking in a binder than it is to turn on the computer to find the information you need, like a phone number, for instance.
And if the power goes out or your computer goes caput, you still have all your information at hand.
Which brings me to today's printable and the first, most important page in your household binder: the emergency contacts list.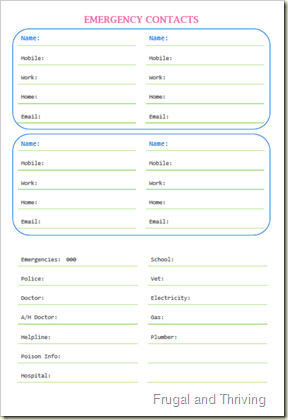 In an emergency, you don't want to be rummaging around for a phone number. Having all numbers in one place saves time and stress – simply grab your binder and turn to the first page.
To start creating a household binder, I've shared the emergency contact sheet that I've made for my own binder. Grab a a binder and print out the emergency contact sheet and fill it in. I'll be adding more printables for the binder every month.
You can download the printable emergency contacts sheet in either PDF format or, if you would like to customise it to suit your own circumstances, you can download it in WORD format (97-2003 Compatible; can also be opened in Open Office).
Check out the post Live Intentionally and Stay Organised with a Home Management Binder for more information on setting up a household binder.
Do you have a household binder? What's in yours?
Melissa Goodwin is a writer and the creator of Frugal and Thriving who has a passion for living frugally and encouraging people to thrive on any budget. The blog is nine years old and is almost like her eldest baby. Prior to being a blogger and mum (but not a mummy blogger), she worked as an accountant doing other people's budgets, books and tax.