Meals From Leftovers: 7 Frugal Master Recipes with Leftover Food
This website may earn commissions from purchases made through links in this post.
Don't let your leftover ingredients go to waste. Make every ingredient count with these 7 flexible, budget-friendly meals from leftovers.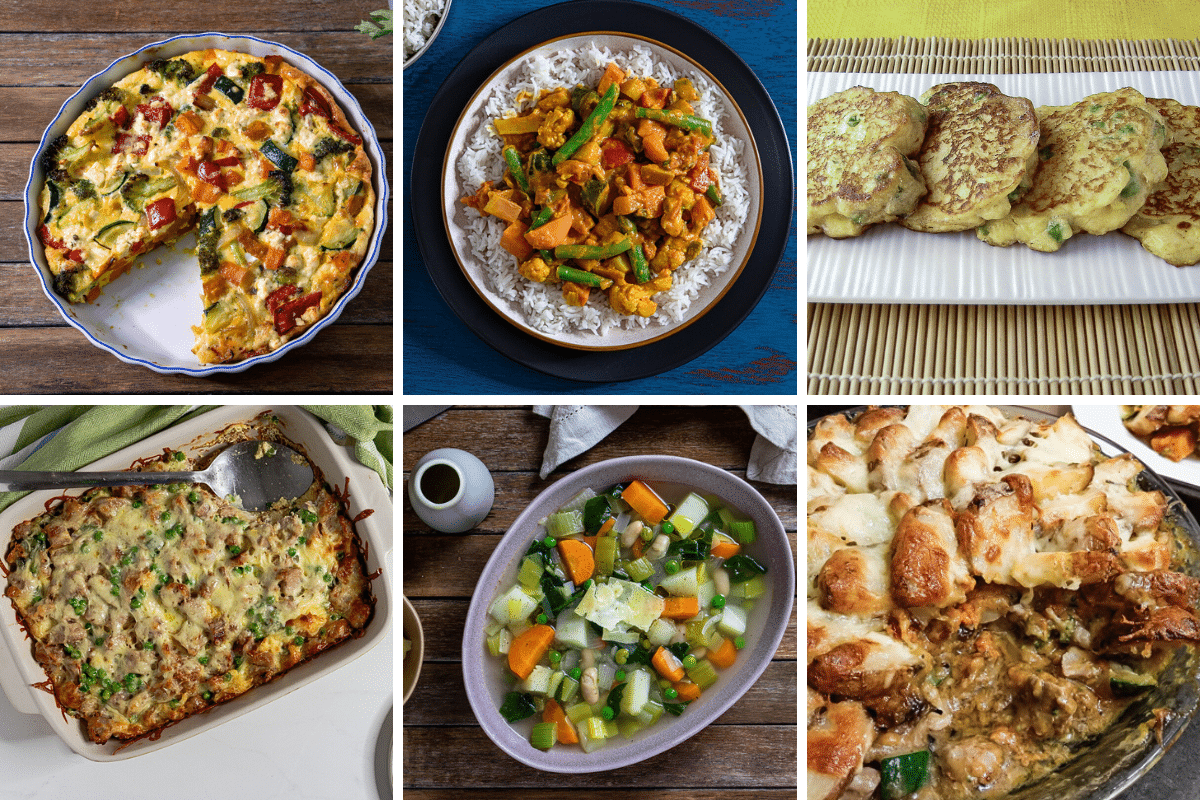 Imagine: You have a bunch of leftovers rattling around in the fridge.
How will you use them to avoid waste?
If you have a few flexible master recipes up your sleeve, you have options. Many options.
You could make a curry, a casserole, a frittata, a pasta dish, fritters, maybe a winter soup. Whatever takes your fancy.
So, let's dive into the art of transforming leftovers with some easy-to-follow master recipes.
Generations of home cooks have fallen back onto the following seven essential master recipes to make the most of the ingredients on hand and to use up leftovers.
They are not exact recipes because flexibility is key to frugal home cooking. Instead of presenting exact, triple-tested, strict recipes, these are ideas to kick-start the 'what am I going to make with these leftovers?' process.
Use up refrigerated leftovers within three days.
1. Fritters, Rissoles and Croquettes
Fritters, rissoles, and croquettes are all pretty similar – ingredients combined, shaped and fried.
A fritter is similar to a pancake, like corn fritters, Polish potato cakes, or Japanese cabbage Okonomiyaki. A fritter can also be something that is battered and fried, but I'm sticking with the pancake-type definition here. Fritters can be made by grating vegetables, binding them with starch and egg, and shallow frying them for a delicious meal.
Rissoles are very similar to fritters but are often made from meat or fish. Meatballs are the same thing, different shape. Rissoles are great because you can stretch a small amount of minced or finely chopped meat by adding breadcrumbs, lentils, beans, or other vegetables to the mix, binding them with an egg.
A croquette usually uses a white sauce or mashed potato to bind ingredients into a shape before being rolled in breadcrumbs and shallow or deep-fried in oil. You can make just about anything into a croquette – my nana's 1932 cookbook has a recipe for turning leftover mac 'n' cheese into croquettes.
Leftovers You Can Use Up
You can use just about any leftovers in fritters.
Fresh vegetables
Leftover cooked meat
Leftover cooked vegetables
leftover fish
Cheeses
Leftover rice and other grains
Eggs
Fresh herbs
Milk or cream
By adding toppings to your fritters, rissoles, or croquettes (loaded fritters), you can also use up:
Sour cream
Yoghurt
Avocado
Tomatoes
Cucumber
Fresh herbs
Cheese
Mayonnaise
Salad (as a side dish)
Top Tips
Adding different herbs, spices, sauces, or pastes will transform exactly the same ingredients into a whole new meal. For example, you could add some curry powder to a basic vegetable fritter mix for a curried version or swap it out for some feta cheese and basil. Same dish, with two different flavours.
Recipe Inspiration
2. Egg Dishes (Quiche, Frittata, Omelette, Strata)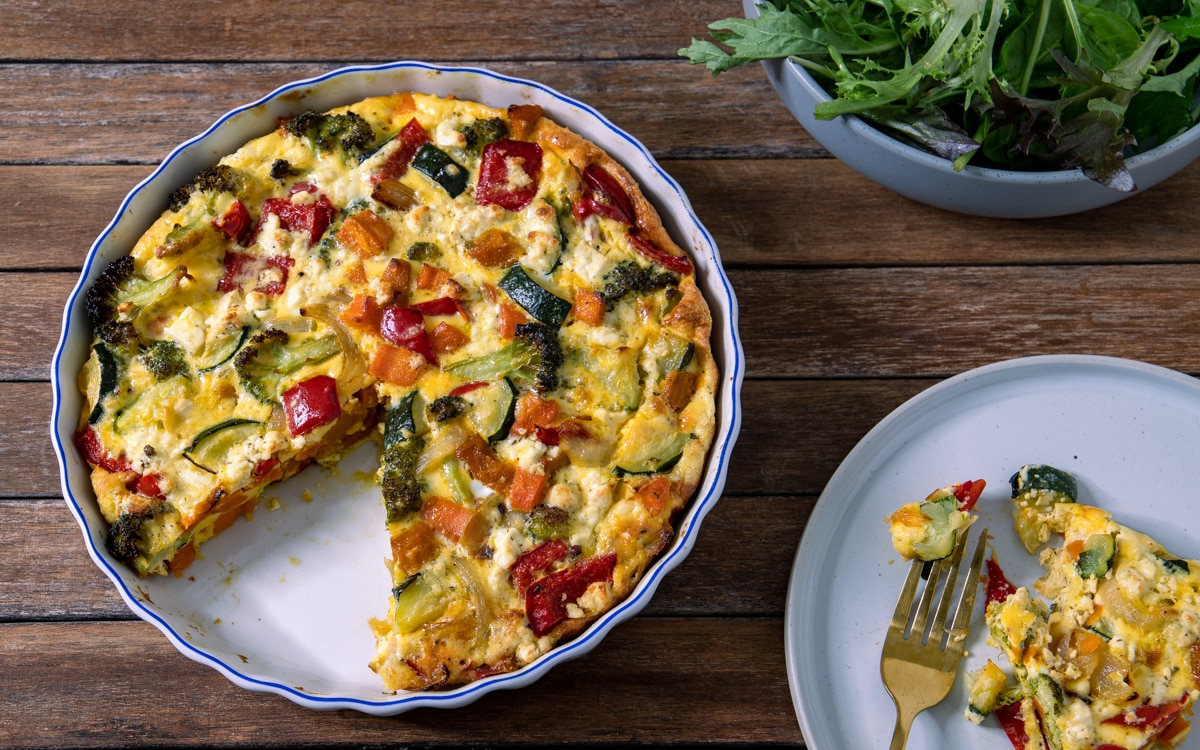 Baked egg dishes are a versatile and inexpensive way to serve leftovers.
Leftover ham? Quiche Lorraine.
Leftover roast vegetables? Veggie frittata.
Leftover bread? Strata!
Quiche is baked eggs in a pastry shell. Beat eggs (1-2 per person) with a little milk, add your leftovers, maybe some flavourings like cheese, pour into the pastry and bake until cooked through.
You can make the pastry or use store-bought pastry. The shell can also be made from leftover rice or leftover mashed potato. Just bind it with an egg and press it into a well-greased pie dish.
A frittata is a quiche without the pastry. Layer in your leftovers, pour the egg mixture into a greased baking dish and bake until cooked through.
Strata is a cross between quiche and frittata. Instead of pouring eggs into the pastry, you stir stale bread cubes through the egg mix and bake like a frittata. A great way to use up bread as well as other ingredients. The sweet version of strata is bread and butter pudding.
Leftovers You Can Use Up
Eggs
Deli meats
Cooked meat
Sausages
Cooked and uncooked vegetables (some uncooked veg may need to be cooked first)
A variety of cheeses
Cream, sour cream, cream cheese, milk
Herbs
Bread
Salad (as a side dish)
Top Tips
Recipe Inspiration
Pantry Staples for Repurposing leftovers
Eggs (or substitute)
Stock or stock powder
Flour
Onions & garlic
Pasta
Rice
Milk (or substitute)
Herbs and spices
3. Sauces
Sauces can be a great way to use up leftovers (leftover milk in white sauce, leftover tomatoes in marinara sauce), but more importantly, they are a base for dozens of dishes for using up leftovers.
The three sauces in particular that are useful for leftovers include white sauce, brown sauce, and marinara sauce.
A basic white sauce is a mixture of flour, butter, and milk. Use this as a base for a mornay, lasagne, chicken pie, creamy pasta dishes like mac 'n' cheese, cream of anything soup, or vegetable casserole.
Brown Sauce or gravy is usually made from pan drippings, flour and stock. It can be used as the base for meat pies, stews, and casseroles.
Marinara sauce is a basic tomato sauce. Simmer tomatoes (fresh or tinned), onion, garlic, salt, and maybe basil if you have it. Blend until smooth. Use it for pasta sauce, spaghetti Bolognese, chilli, lasagne, pizza sauce, nachos, meatloaf, minestrone, risotto, paella and ratatouille.
Leftovers You Can Use Up
Milk
Cream
Cheeses
Vegetables
Pasta
Meat
herbs
Top Tips
Recipe Inspiration
Today's leftover dinner can be tomorrow's lunch. Or you can freeze leftover portions for an easy dinner on another night. We sometimes have variety night where we share the leftovers from the freezer.
4. Pasta, Rice and Breads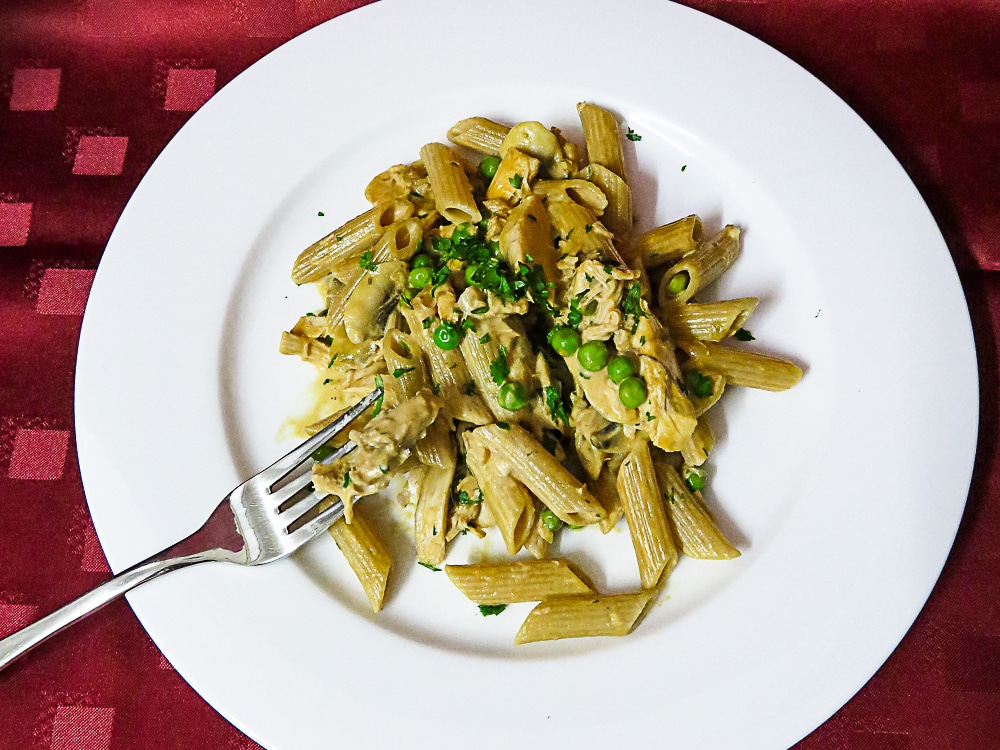 There is an endless variety of pasta dishes, which makes them an ideal vehicle for using up leftovers. You can add leftovers to a tomato-based sauce, a cream-based sauce, an oil-based sauce, a Bolognese or ragu sauce, or a pesto-based sauce – the varieties are almost endless.
Risotto and its cousins, pilaf and fried rice, are also flexible and inexpensive dishes for leftovers.
Risotto is flavoured rice cooked in stock, to which you add cooked vegetables, meat and often cheese. You can add just about any combination of cooked veg and optional meat to the basic risotto recipe. And while risotto is normally made with Arborio rice, you can use whatever rice you have at home.
In pilaf, the rice, vegetables, meat, and spices are usually cooked together in stock, but if you have leftover cooked meat, it can be added at the end of the cooking to heat through without going tough.
Fried rice is rice that has been cooked, cooled, and then fried with other ingredients.
Having a few pizza bases in the freezer will give you a quick and easy meal to use up all sorts of leftovers. Alternatives to pizza bases include pita bread, tortillas, English muffins, and even normal sliced bread. You can use pizza sauce, pesto, barbeque sauce, tomato sauce or tomato paste on the base and whatever cheese and other ingredients you have on hand.
Finally, the toastie is a quick and easy way to use up leftover meat, salad, roast vegetables, sauces and spreads, and cheese.
Leftovers You Can Use Up
Leftover cooked meat
Seafood
Vegetables
Cheeses
Milk or Cream
Salad
Leftover sauces, pesto etc.
Pickles, sundried tomatoes, olives, etc.
Leftover bread
Recipe Inspiration
5. Stews and Casseroles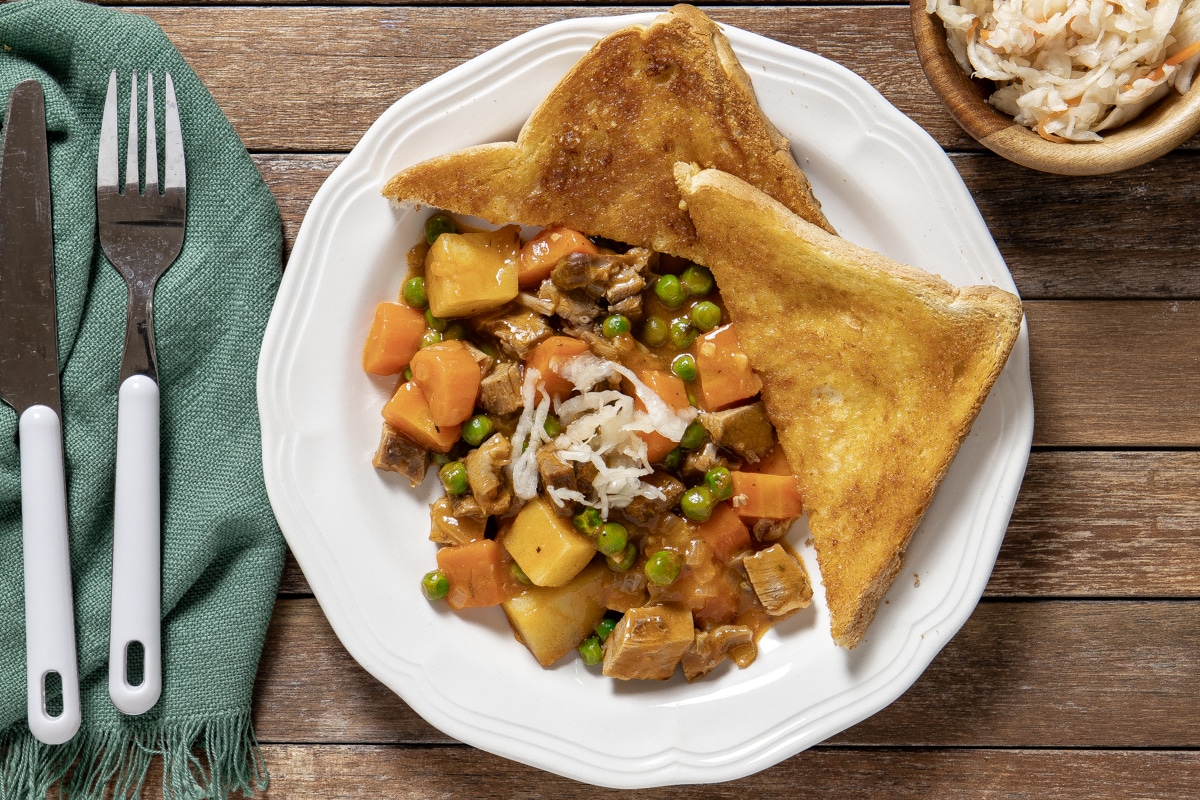 A stew is a flavourful and saucy meal made from vegetables and/or meat. It can be anything from a traditional French stew to a curry, and they are a great way to use up the cheaper, tougher cuts of meat.
The difference between a stew and a casserole is that a stew is usually cooked on the stovetop (or slow cooker), while a casserole is usually cooked in the oven. A casserole often (but not always) has a cheesy top.
Leftovers You Can Use Up
Cooked or uncooked meats
Cooked or uncooked vegetables
Herbs
Cheeses
Curry pastes
Coconut milk
Pickles
lentils, beans, chickpeas
Top Tips
Recipe Inspiration
6. Pies
Pies are basically stews with a lid. They are a great way to use up little bits of this and that to create a whole new dish.
For a pie, you need three key ingredients: a lid and/or a base, the pie ingredients, and something to bind the ingredients together, usually a white sauce or a brown sauce (above).
You can top your pie with pastry (homemade or store-bought), or you can use mashed or thinly sliced potato or sweet potato.
Fruit pies are a great way to use up leftover fruit, and you can top them with an oat crumble instead of pastry if you prefer.
Leftovers You Can Use Up
Leftover cooked vegetables
Uncooked vegetables
seafood
Leftover meats
Leftover pastry
Fruit
Herbs
Cheese
Milk or cream
lentils, beans, chickpeas
Top Tips
Recipe Inspiration
7. Soup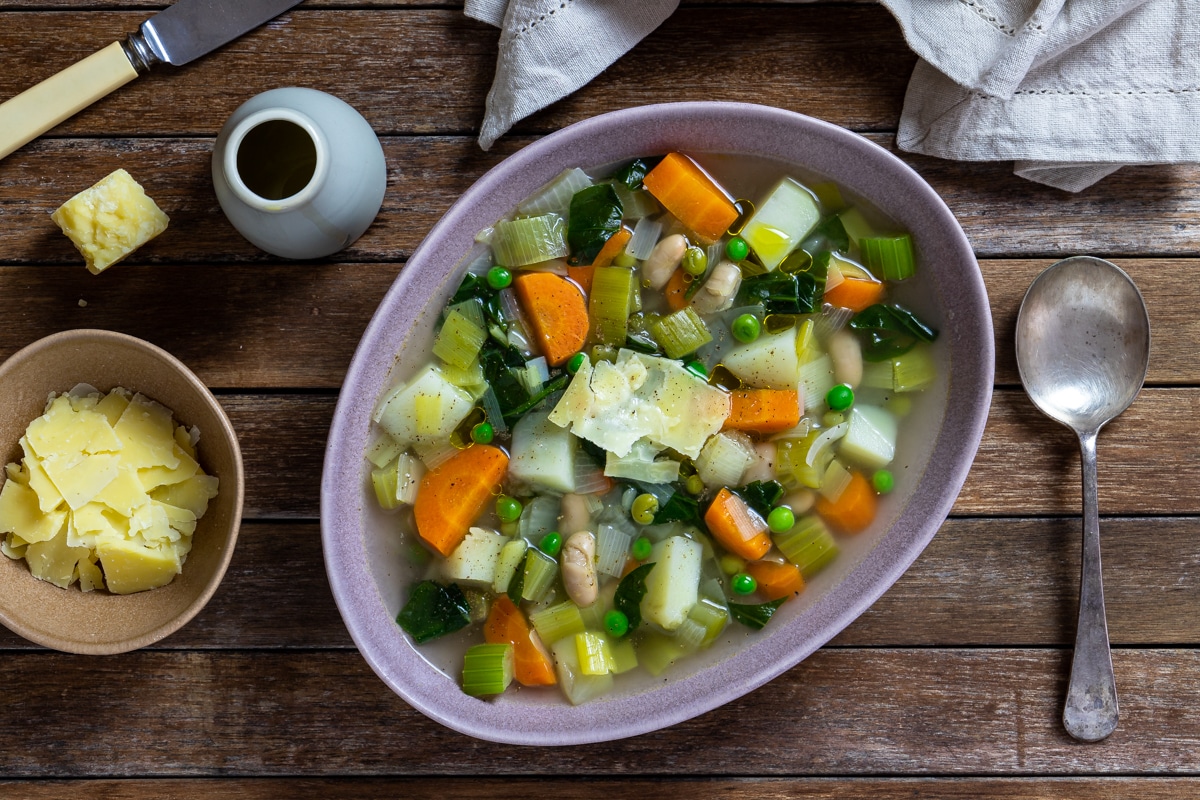 Soup is a versatile way to use up leftovers and extend them to feed many.
There are two types of soup: thin soups with stock cooked vegetables, and maybe meat and grains added, and thick or pureed soups, usually pureed vegetables.
Thin soups are either made from pre-made stock or by boiling up leftover bones to make a flavourful soup base. Examples include beef and barley soup, minestrone, chicken noodle soup, vegetable soup, and laksa.
Pureed Soup involves cooking aromatics like onion and vegetables (pretty much any vegetable you can think of) in stock before pureeing the soup and maybe adding some cream at the end.
Think pumpkin soup, cream of celery soup, potato and leek (or onion) soup, tomato soup, cream of mushroom, cream of chicken, cauliflower, pea, silverbeet, just to name a few.
Leftovers You Can Use Up
Leftover cooked meat bones (bacon bones, roast beef or lamb leg etc.)
Uncooked vegetables (pretty much anything)
Leftover stock
Dairy
Cheese
Herbs
Leftover grains like pasta, rice, noodles, and other grains
beans and lentils
Top Tips
Recipe Inspiration
If you're wondering what to do with leftovers to avoid food waste, then the above master meal ideas will give you lots of ideas.