Starting Out? Getting Your Kitchen Ready With Essential Food and Equipment
This website may earn commissions from purchases made through links in this post.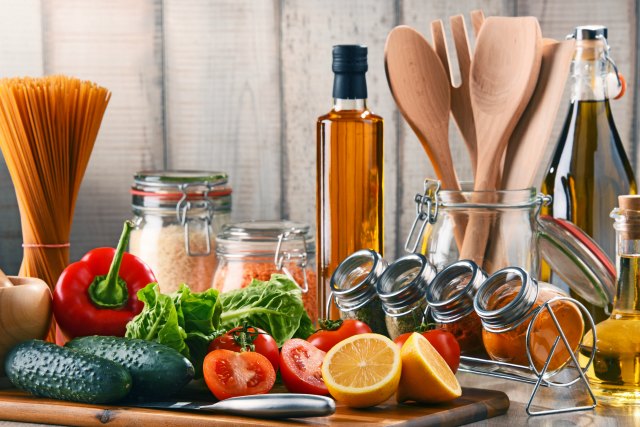 To cook frugally you need a well-stocked pantry and some basic cooking tools in your kitchen.
The kitchen basics will save you time, save you money and make creating frugal meals easier.
But if you're just starting out – maybe you've just moved out of home or you're staring over – it can be hard to build up the essential equipment and pantry staples on a tight budget.
This article gives you tips on how to get started.
How to Stock the Pantry From Scratch
A well-stocked pantry allows you to:
easily whip up a huge variety of meals
cook new recipes without having to buy many new ingredients
eat well even if you're short on cash that week or couldn't make it to the supermarket
save money by stocking up on bulk and discounted food
Here are some tips on how to stock your pantry on a budget.
1. Start small, go slow
Instead of doing a huge grocery shop, build your pantry little by little, week by week.
If money is really tight, plan a particularly frugally month to set aside a small portion of your grocery budget for one or two pantry staples each shop.
Start with cheap essentials like rice and buy more than you need for just one week.
Shop around for the best prices and keep an eye out for discounts and bulk buy pantry staples when they are cheap.
2. Stock what you eat
What staples should you stock?
That depends on what you like to eat!
Before stocking your pantry, create a meal master list and build your staples based on what you actually eat rather than a random pantry list off the net.
For instance, just say chilli beef is a favourite budget meal.
Then you're going to want to have cumin, oregano and chilli in your pantry.
And when kidney beans, tinned tomatoes or minced beef go on sale, you'll want to stock up on them too.
You probably already have ingredients like cumin, oregano, chilli etc, but if not, stock up on those things next time you have chilli beef on your menu plan.
3. Story your food
Your pantry is an investment. The last thing you want is to waste your food and your money. So it is important to store what you buy properly.
You don't need to spend a fortune on storage solutions – recycled glass jars and containers work perfectly. If you don't have any, you can get them cheap at the charity stores along with cheap, second-hand plastic storage containers.
Also, keep an eye out for when storage containers go half price at the supermarket. They usually go on sale every couple of months. It's a good time to stock up on one or two each time they go on sale.
Store dry goods in air tight containers to prevent insect infestation.
Check the label on condiments and store according to the label. Decant packets of herbs and spices into jars so that they don't get lost in the back of the pantry.
And label everything so you know what's in each container and what it's used-by date is.
4. Check out your parent's pantry for ideas
If you're not sure what else to put in your pantry, ask your mum. Chances are, you'll be cooking meals that you're familiar with from home. So you'll want to stock the necessary ingredients for those meals.
TIP: If you buy a spice for a new recipe, look for other recipes that use that spice, so the rest of the packet doesn't sit in the cupboard for years unused.
Essential kitchen tools and equipment
There's a lot of kitchen tools, gadgets, gizmos and equipment out there to tempt you to part with your hard earned cash.
While some are nice to have – most of them are unnecessary. You can cook very effectively without a whole lot of kitchen equipment.
To save money on equipment, look for second-hand cooking utensils.
Also, look for discount utensils on sale at places like Kmart or online like Kitchen Warehouse. Although this is one of those areas where it pays in the long run to buy quality.
14 Basic pieces of equipment every kitchen needs
1. Good knives. There are two essential knives. One is a good quality, sharp chef's knife. If this is the only good thing you ever buy, it will be worth it. A sharpener is also important because a sharp knife is a safe knife, but you can also get it sharpened professionally for a small fee once or twice a year.
The other knife is a small paring or utility knife for smaller tasks.
2. A chopping board. Wooden is best or plastic – something that doesn't blunt your good knife.
3. A frying pan with a lid. A largish pan (30cm) will mean you can fry an egg or a pancake or cook up a curry or stir fry for four.
Make sure it has a lid so that you can simmer and poach food (or keep it warm).
4. A saucepan. The size you get will depend on how many people you regularly cook for. If you're only getting one pot, I would elect a medium or large saucepan, which gives you the flexibility to cook more or less.
I would also seriously consider getting one with a steamer attachment. That means you can cook two lots of food on the one hob, saving electricity. For example, I generally cook the potatoes for mashed potato in the pot and steam the greens in the steamer over the cooking spuds.
4. A mixing bowl. A stainless steel mixing bowl is not only useful for mixing cakes, serving salads, or marinading meat, you can place it over your pot of water to use as a bain marie.
5. An oven proof dish. A ceramic baking dish can be used to roast meat, roast vegetables, bake a frittata, a lasagne, a slice a slab cake or a sticky date pudding, for instance. Get a dish with high sides so that it can be used to cook many dishes. A dish with a lid will mean you can slow cook casseroles also.
6. Cutlery, dinnerware, cups/glasses. Apart from eating with, cutlery can be used to measure, to mash, to mix, to chop, to turn food, to serve food. You can use a tea cup to measure. Or use a cereal bowl to mix in.
7. Can opener. With pull ring lids being common these days, a can opener isn't as essential as it used to be, although I still get a lot of stuff in tins that don't have a pull ring.
8. A grater. I got a microplane with a gift card and love it. But a cheap two dollar store box grater (which we also have and use) is good for grating cheese, vegetables and chocolate
9. Spatula. A rubber spatula is a frugal cook's dream utensil. I have two sizes, a large one for general use, like serving mashed potato or soup to get every last morsel from the pot (this makes washing up easier too); and a small one to scrape out the last dribble from the jam jar.
10. A cake tin and / or muffin tin. If you're going to bake cakes, then a cake tin is useful (although you can bake a cake in your oven proof dish, adjusting the cooking time to suit). If I had to pick between a muffin tin and a cake tin, I would choose the muffin tin because it gives you more flexibility over what to cook. Not just muffins, but mini cakes, mini quiches and pies, mini meatloaves etc. Mini food cooks quicker – good for when you're in a hurry.
11. Cooking utensils. A wooden spoon or two is essential for cooking and mixing. I have several, a couple for savoury dishes and one for cakes (so they don't come out tasting like curry). It's just as easy to mix a cake with a wooden spoon as it is a electric mixer.
Tongs, a serving spoon, a soup spoon and an egg flip are also useful.
12. A strainer, colander. I would argue that this isn't an essential item, because you can use a saucepan lid on a tilt to strain food. However, a strainer is so cheap and makes, well, straining easier.
13. A stick mixer. Useful for blending soups, sauces and smoothies. Easier to clean and store than a blender and cheaper.
14. Cleaning stuff. Last but not least, tea towels dishcloths and brushes and dish soap and rags for cleaning up spills on the floor.
You can get by cooking a huge range of foods with just a few basic tools and then expand your equipment as you need to or when the budget allows.
Building your kitchen with the basic equipment and staple foods will save you money and make cooking easier.