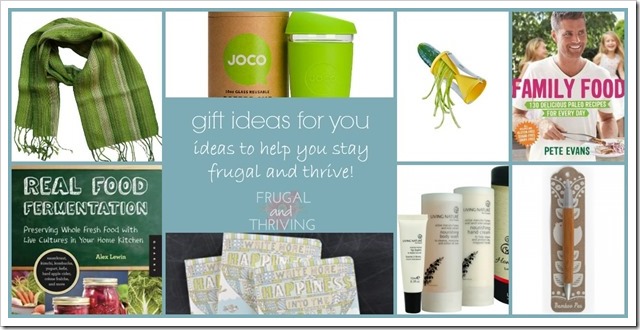 You've bought or made all the the kids presents and they're wrapped and ready to go.
Your partner's gift is on it's way in the post.
The grandparent's gifts, teacher's gift, neighbour's gift, are all sorted.
Now who's missing?
Oh that's right, what are you going to get for Christmas?
(Because let's be honest, we usually organise our own gifts too. Or is that just me?)
Today's article includes some gift ideas for you, that you can suggest to your loved ones. Or maybe they will give you some ideas for the hard to buy person in your family.
The gift ideas come from some of the great sponsors that help keep Frugal and Thriving running. Many of the ideas are also on my own wish list.
What's on your Christmas wish list?
for the kitchen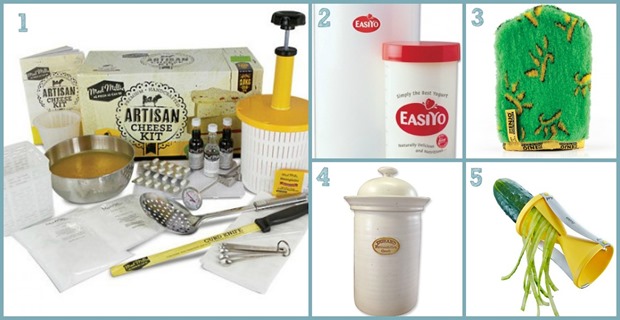 1. Cheese Making Kit – basic soft cheeses like cottage cheese are super easy to make at home, but if you're wanting to try your hand at something a little more advanced, you're going to need some equipment and cultures. These kits make a great starter kit and will help you to make cheese for years to come. If you're interested in making cheese, a great resource to check out is the Greening of Gavin. Gavin has been making cheese for a while and even has a cheese podcast.
2. Easiyo Yoghurt Maker – You don't need fancy equipment to make cheese, but an Easiyo maker makes it so easy and your yoghurt turns out perfect every time. I used an Easiyo maker for years before deciding to go all traditional and authentic…and promptly stopped making yoghurt because it wasn't as convenient or easy. Save money by making your own yoghurt the easy way.
3. Kitchen Glove – The Enjo cleaning gloves clean the kitchen (and just about everything else) with just water, while still removing 99% of bacteria. The whole kits are expensive, and honestly, I don't think you need all the bells and whistles, but a single glove would be a great investment / gift – you'll save by not having to buy cleaning products for years.
4. Fermenting Crock – Fermented foods are all the rage at the moment and for good reason – they are incredibly healthy. Nothing beats home fermented foods. If you're wanting to get into some serious fermenting, a crock is the way to go. This would go great with the fermenting book below.
5. Spiral Slicer – I confess I bought this for myself, to give to the kids, to give to me for Christmas. I love veggie noodles, but the $5 grater I have is hard work. Hopefully the kids will come to love veggie noodles too.
Just for you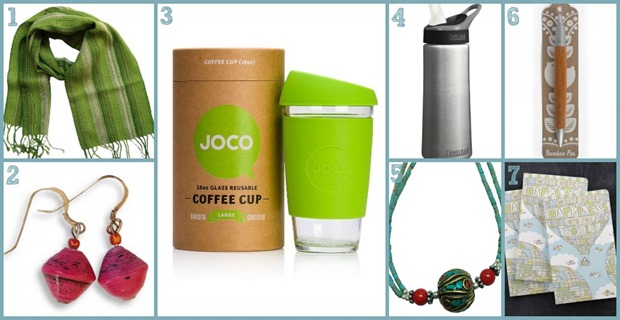 1. Striped Scarf – this hand woven and naturally dyed alpaca wool scarf is a fair trade product from Bolivia. I can just feel it – so soft! and I love the colour.
2. Sanyu Earrings – another fair trade product, this time from Uganda, where we used to have a sponsor child. It's hard to believe, but these earrings are made from recycled paper.
3. Reusable Coffee Cup – Reduce waste with this super cute, reusable coffee cup. And if you take your own coffee from home, you'll be saving money as well.
4. Water Bottle with Filter – a water bottle is essential for staying hydrated without spending a fortune on bottled water (not to mention the wasted plastic). We all have the cheekie water bottles and never leave home without them. The only thing is, I don't like the taste of our local water (tastes like bleach, blech). So refilling can be a problem when out and about. A water bottle with an in-built filter is the solution for all day hydration. Simply refill at a tap. 
5. Necklace – I'm not much of a jewellery person at all, but just lately I wish I had a few pieces for special occasions and for the rare moments I get tired of looking like a dag. I love this turquoise bead necklace, which is a fair trade product from Nepal.
6. Refillable Bamboo Ballpoint Pen – I'm old fashioned and actually like writing with a pen and paper. Writing is even more pleasurable with a nice pen. I love that this one is refillable and made from bamboo. No more ball points in landfill.
7. Journal – A personal journal is really important for well being and a thriving life, especially if you use it for recording what you're thankful for each day. This journal includes some inspiring quotes to motivate you.
Personal Care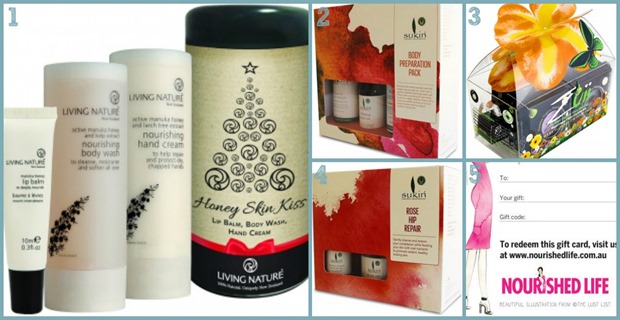 As part of a 'thriving' life, it's really important for good health to stay away from mainstream personal care products and only put natural products on your skin. Up to 60% of what you put on your skin is absorbed into your bloodstream (think nicotine patches! – your personal care products are absorbed to), so you want to be careful with the chemicals you put on your skin.
The downside is that the natural stuff can be a little pricey for the everyday budget. Which is why I love getting it as a gift. My friend a few years ago gave me shampoo and conditioner for my birthday, which seems a little strange, but it was the perfect gift – something I used all year and it saved me having to buy it myself!
My dad asked for and received deodorant every Christmas or birthday. If there's nothing you really 'need', look at your everyday items in a new light – as a potential gift idea.
1. Honey Skin Gift Tin – Gift packs are a great way to try new products.
2. Sukin Body Gift Kit – I use Sukin products, mostly because they are on the cheaper end of natural products. Sonia, from New Age Natural Mum calls it the homebrand of natural skin care (in a good way), which is probably why I love it so much! It's a great, high quality product that does the job, without the chemicals and without the price tag!
3. Zuii Makeup Glamour Gift Box – Zuii is a natural makeup brand. If you're looking for alternatives to mainstream products like mascara or lipstick, check out the Zuii range.
4. Sukin Rosehip Repair Kit – Cleanser, day cream and rosehip oil – for a facial indulgence. A few years back I used A'kin face cream, but it was a bit expensive for my budget. Then for two years I made my own moisturiser or just used olive oil. Then I received the Sukin rosehip day cream as a gift and have been using it since. It lasts ages, as long as I keep the kids out of it.
5. Gift Vouchers – A gift voucher is the perfect way to pick up that natural mascara or face powder that you've been wanting to get yourself. Nourished Life is the Australian online store for natural, toxic free cosmetics.
Books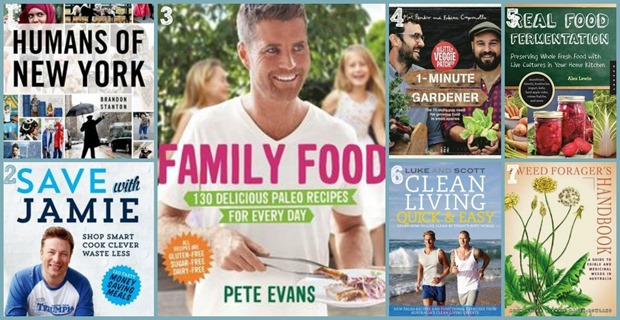 If I only got books for the rest of my days, then I'd be a happy person. Here are just a few great titles.
1. Humans of New York – No doubt you're family with the uplifting stories from the Humans of New York Facebook page. This book would make a great coffee table book for moments when you need a little inspiration. My friend has coffee table books (since having kids, we don't even have a coffee table any more), and I love sitting down and browsing her selection of books.
2. Save with Jamie – This was a great series on TV. Save money and eat great meals with Jamie Oliver.
3. Family Food – You probably know Pete Evans from My Kitchen Rules. Well, he's also famous for his paleo lifestyle and taking on the Heart Foundation and the Food Pyramid. Check out his facebook page – lots of good info. This book is on my Christmas wish list.
4. 1 Minute Gardener – From the authors of the Little Veggie Patch Co.
5. Real Food Fermentation – If you're planning on jumping on the fermented food bandwagon, like I am, (sauerkraut is my new taste sensation with every meal) this book covers everything you need to know about fermenting. I've read this book (borrowed from the library) and plan to add it to my personal library soon.
6. Clean Living Quick and Easy – Can you see there's a theme here! Healthy living is such an important part of a thriving life! And it's something I plan on really focussing on next year in my personal life. This book is another paleo book that also shows how to fit functional exercise into a busy schedule.
7. Weed Foragers Handbook – I'm pretty sure the weeds I pulled out of our pavers the other day were Purslane, a highly nutritious edible weed. But not sure enough to eat them. A weed forager's handbook is a handy companion if you plan to forage for edible weeds.
Put in your wish list now and receive the things you really want. If you're needing inspiration or your family are scratching their heads about what to get you, here are just a few ideas that will help you stay frugal but most importantly, will help you to enjoy good living on less.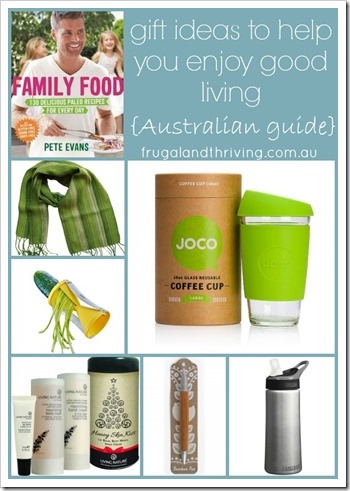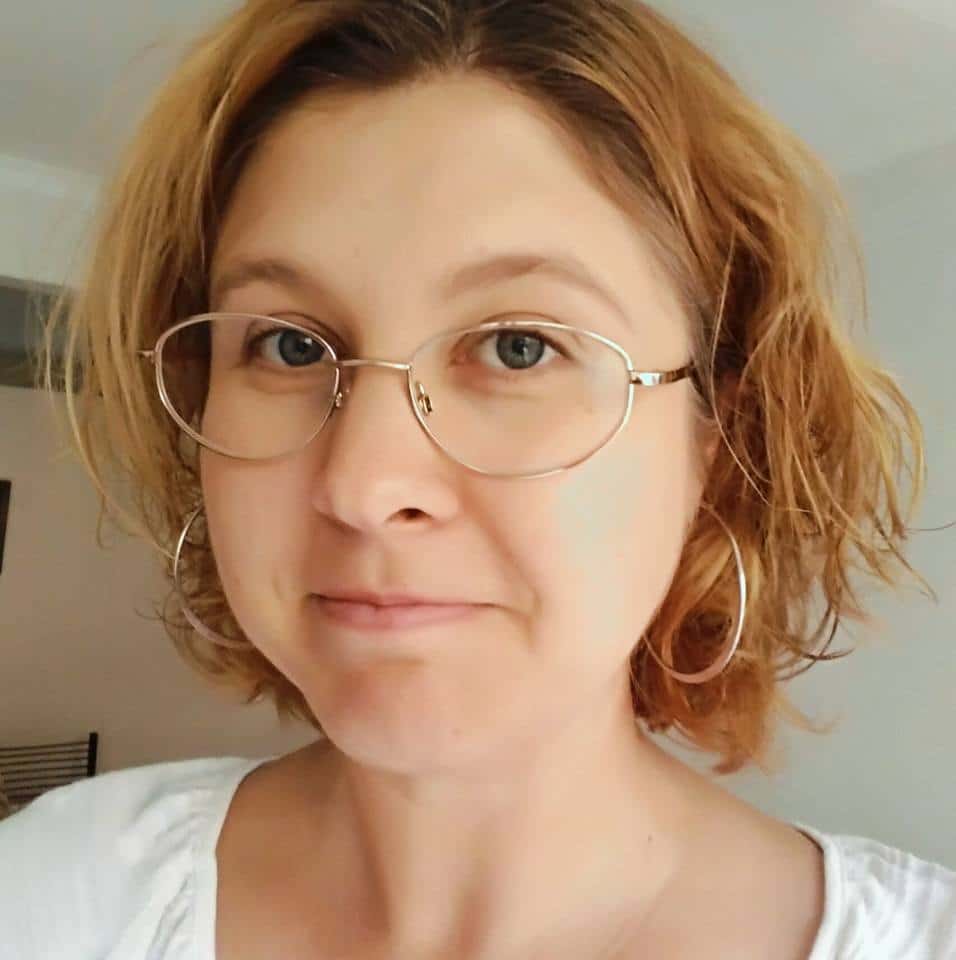 Melissa Goodwin is a writer and the creator of Frugal and Thriving who has a passion for living frugally and encouraging people to thrive on any budget. The blog is nine years old and is almost like her eldest baby. Prior to being a blogger and mum (but not a mummy blogger), she worked as an accountant doing other people's budgets, books and tax.