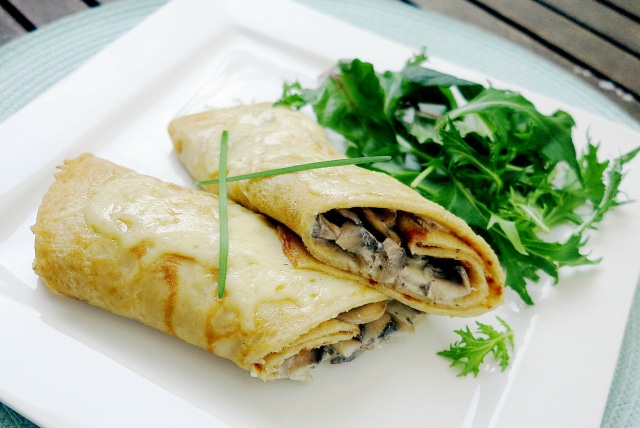 Nothing says 70s dinner party like stuffed crepes and vol au vents and today's post has a delicious mushroom filling that can be used in both.
I love this mushroom sauce. The rosemary gives the usual mushroom sauce an interesting twist. We have a huge bush of rosemary right outside our front door and it's a luxury being able to snip a bit for cooking or just brushing past it as we walk in the house, filling our noses and entry with a rich rosemary scent.
It's the little things that can make your day.
The crepes should only take a minute or two to whip up (you can use a blender of food processor) and if your pan is hot enough, they should only take a minute or two to cook. If they are taking five minutes each (like mine were) your pan isn't up high enough.
Don't feel like making crepes? This mushroom and rosemary sauce is perfect on pasta, over steak, on a little grilled leftover polenta or just on toast for a light dinner.
Creamy Mushroom and Rosemary Crepes
Ingredients
For the crepes:
1 1/3 (170g) cups plain flour
2 eggs
450 mls milk (I use half milk, half water)
1 Tbsp. melted butter
For the mushroom filling:
50g butter
500g mushrooms, sliced
2 tsp. fresh rosemary or about 1/2 tsp of dried
slosh or two of dry white wine
1/4 cup sour cream
1 tsp Dijon mustard
freshly cracked black pepper
grated cheese to serve.
Method
To make the crepes:
Sift flour into a bowl. Make a well and add eggs and some of the liquid. With a fork or whisk, wisk the eggs and milk, gradually drawing in flour from the sides and adding more liquid until you have a runny batter. Leave to stand for 20 minutes.
Heat fry pan over moderate heat. Add a little butter and then pour in a ladle full of batter. Quickly tile and swill the pan so the batter spreads out to cover the bottom of the pan thinly.
Cook until pancake is set and the flip. Cook all of the batter, stacking the crepes and keeping in a warm oven until ready to fill.
Spoon filling down centre of crepe and roll. Sprinkle with grated cheese and melt under a griller before serving.
To make the filling:
Melt butter over medium heat in a saucepan and fry mushrooms and rosemary for a couple of minutes.
Add wine and reduce slightly for one minute.
Add remaining ingredients and cook over low heat until mushrooms are soft.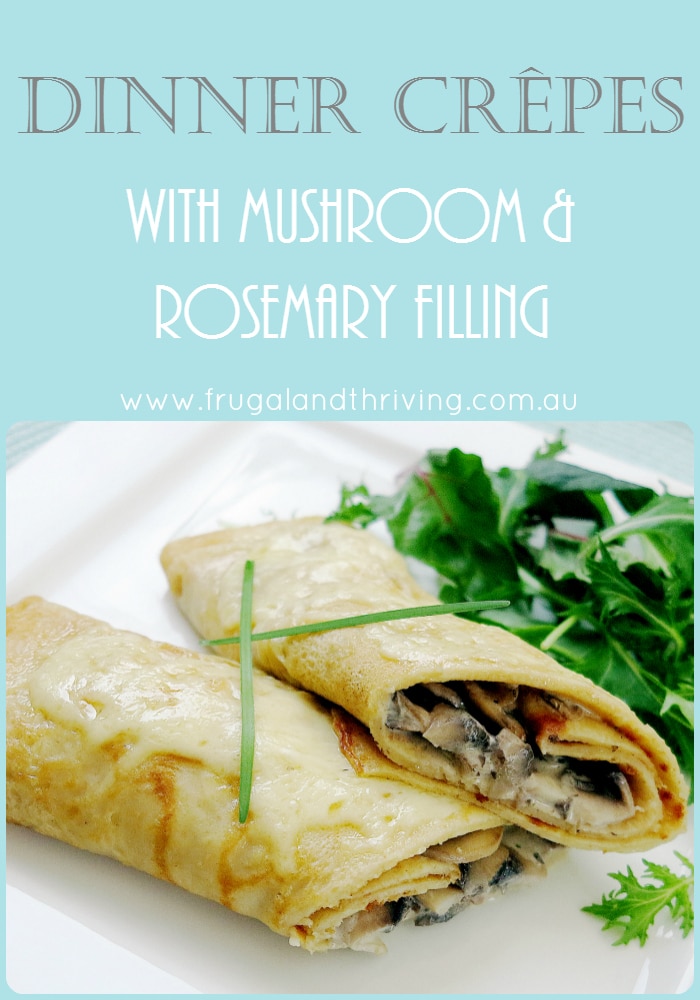 Melissa Goodwin is a writer and the creator of Frugal and Thriving who has a passion for living frugally and encouraging people to thrive on any budget. The blog is nine years old and is almost like her eldest baby. Prior to being a blogger and mum (but not a mummy blogger), she worked as an accountant doing other people's budgets, books and tax.