Low-Waste Gift Ideas for Foodies
This website may earn commissions from purchases made through links in this post.
Stuck for gift ideas? Here are some low-waste gifts ideas for foodies. Options for all budgets and tastes.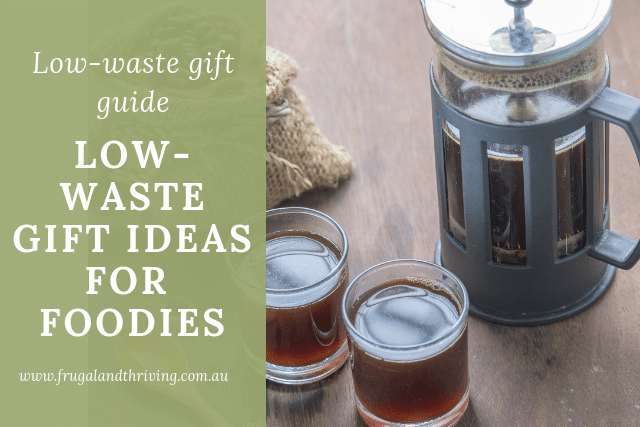 My favourite gifts are food gifts. Every time I spread the mustard chutney on my sandwich I think of my friend and then sit down to a lunch that feels a little bit special.
Food gifts are great because there's something for almost everyone you know. And there's a food gift idea for any budget.
Whether you create a food hamper from stuff you buy at the supermarket (which is always useful and well-received) or you make your own food gifts, the key is to get what your recipient likes so there's no food wasted.
Food gifts are great as hampers – theme and combine food ideas in a hamper that will send your foodie lover to foodie heaven.
Low-Waste Gift Ideas for Foodies
The ideas below include gifts that are low in packaging, like bulk purchased foods packed in recycled jars, or reduce plastic packaging in the future, like a reusable coffee cup.
Coffee and Tea Lovers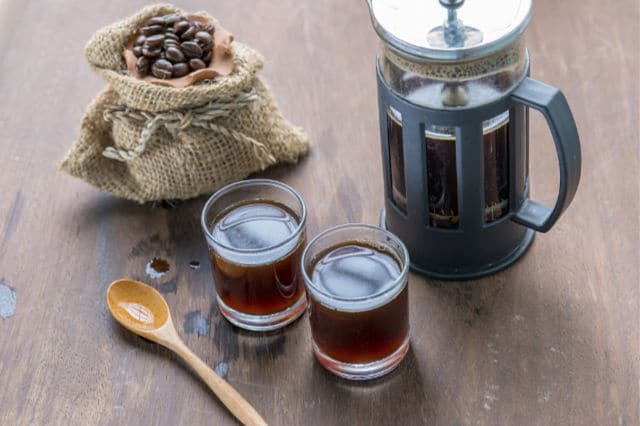 Coffee Press
Those coffee machines that take the cups are sooo wasteful. Enjoy your favourite brew without all the waste with a plunger or for something different, try a cold-brewed coffee, which is supposed to be less bitter. Got beans to grind? Try a hand-cranked grinder.
Coffee Beans
This is one of my favourite gifts to give. I have a local coffee business just up the road who roast their own beans (many of which are Australian grown!). Given to a coffee lover, it's always a well-received gift.
Reusable Coffee Cup
Encourage waste-reduction with a stylish reusable coffee cup.
Tea Leaves
For tea lovers without the waste. T2 gift packs come with two styles of loose leaf tea and an infuser. Loose leaf tea is also a great addition to a DIY gift hamper.
Tea Flask
Not into coffee? This stylish tea flask is super-size – lots of tea on the go. For iced tea lovers, try this iced tea jug.
Foodie Experiences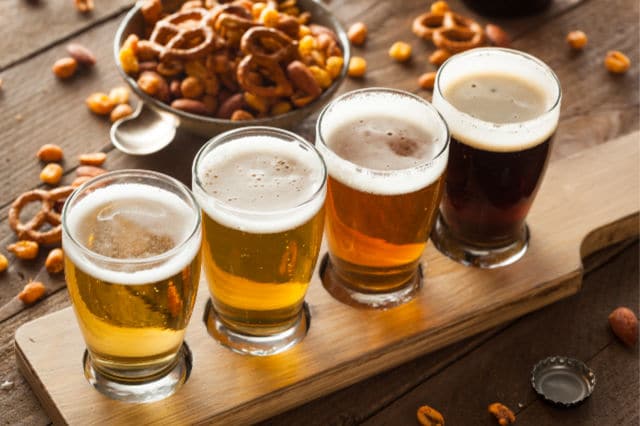 Brewery/wine tour and tasting
Know someone who is into craft beers? Or likes wine? Consider a tasing voucher or a tour.
Restaurant voucher
Treat someone to a meal out with a restaurant voucher.
Cooking Classes
Cooking skills not only add variety to your diet, but they also help you to reduce food waste. And cooking classes don't have to be expensive. I have a friend who teaches Iranian cuisine in her kitchen. Small, intimate classes like these support the local economy and are super fun and intimate. You just have to keep your ear to the ground to find them as they are usually only advertised via word-of-mouth.
High Tea
High tea can be a lovely way to while away the afternoon. If you can't find one in your local area or it's out of your budget, you could make your own high tea in your garden or at a park.
Bulk Gifts and Gifts in Jars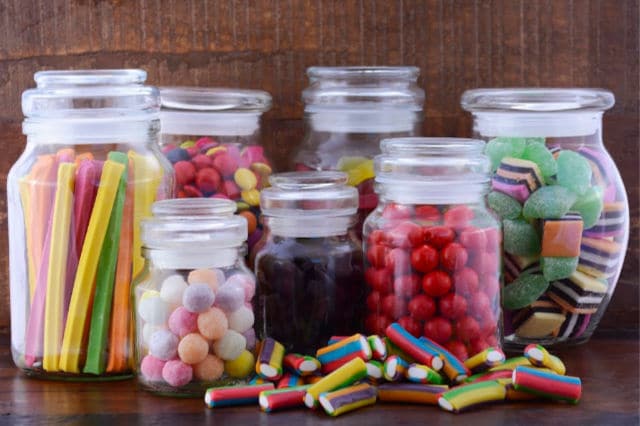 Gifts in Jars
Repackage bulk bought food into recycled jars for an inexpensive, useful food gift. Nuts make a great gift, but if you want to take them to the next level, you can spice them up with this delicious looking slow-cooker spiced nuts recipe. Decorate the jar with a personalised label and a ribbon.
Other options for gifts in jars included:
Homemade Treats and Preserves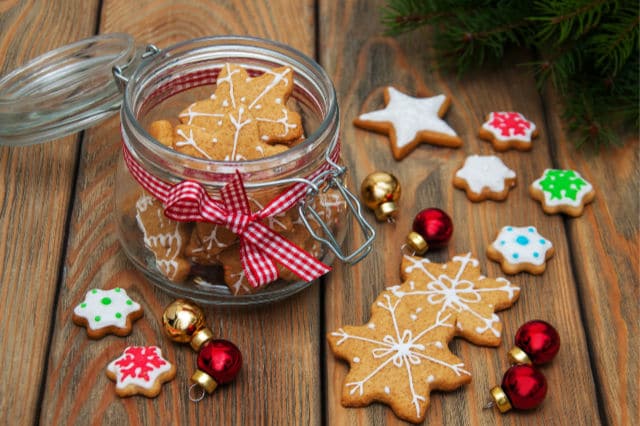 Homemade treats and preserves are a delicious gift and there's something for everyone. These are super cheap to make if you have garden produce that needs using up or can pick up produce cheaply.
If you prefer not to make your own handmade treats and preserves, consider shopping locally or at the farmer's markets to support local cottage industries.
The best place for recipes is Taste.com.au – they have nearly 600 Christmas food gift ideas and over 250 preserves to choose from.
DIY Kits
Food Box Subscription
A food box or veggie box subscription can be a blessing to the time-poor. For a cheaper version, you can DIY a veggie box yourself by getting extra next time you
Beer brewing kit
I come from a family of homebrewers. It not only saves money on beer, but you can also make friends with other hobbyists.
Cheese Making Kits
This is definitely on the list of gifts I want to give myself! Green Living Australia has hard and soft cheese kits and mozzarella and ricotta kits.
Yoghurt Maker
Save money and packaging by making yoghurt. I use an Easiyo thermos, that you can buy at the supermarket – keep an eye out for when it goes half-price!
Useful Foodie Gifts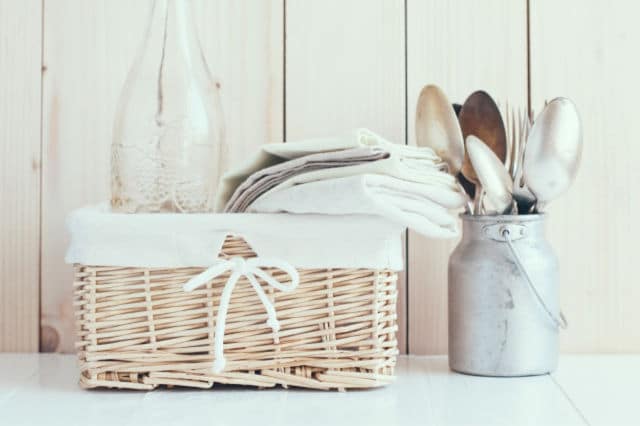 Cloth napkins
These are simple to make yourself. In fact, here's a tutorial to make no-sew linen napkins and another tutorial on making simple cotton napkins.
Tea towel
You can never have too many tea towels. I use them for drying dishes, wrapping salad in to keep fresh in the fridge, straining yoghurt, picnic tablecloths, gift wrapping… The list goes on. Again, these are super easy to make yourself, here are a few tutorials: easy tea towel tutorials. Or support a cottage industry and buy a tea towel.
An apron
An apron keeps your clothes clean while cooking and working, meaning they last longer and you wash less, saving water and detergent! Make your own or support a small business (these ones are so beautiful!).
Water filter
Water filters are super practical gifts. We got one as a wedding present and we've used it every day for ten years. No need for bottled water, filter tap and it tastes perfect.
Water bottle
With a constant supply of filtered water, you can refill a reusable water bottle. Save thousands of dollars and plastic bottles.
Serving Platter
A serving platter is useful when entertaining and serving everyday meals.
Flask
Avoid takeaway containers by taking your own food flask!
Foodie books
If you know someone who loves food and loves books, then you can't go wrong with books about food. It's certainly my all-time favourite gift. Here are a selection of foodie books:
Milkwood: Real Skills for Down to Earth Living

The Wildcrafting Brewer: Creating Unique Drinks and Boozy Concoctions from Nature's Ingredients

Ferment For Good: Ancient Foods for the Modern Gut

Home Cheese Making in Australia

Ottolenghi. SIMPLE

Grow, Cook, Nourish

Tonics and Teas

The Art of Fermentation

Weed Foragers Handbook
Save money and reduce waste with these low-waste food gift ideas for foodies. If they are a foodie, then you can be sure they will love and appreciate a food-based gift.
For more low-waste gift ideas, check out the low-waste gift page.
You may also like: