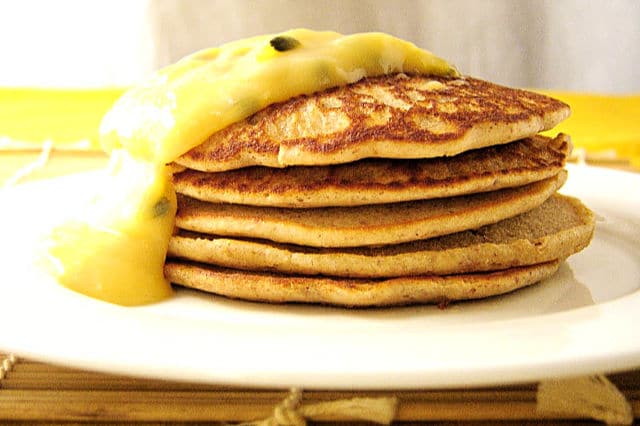 Pikelets are one of those Australian (and New Zealand) specialties that I grew up eating regularly as a kid and that we eat regularly now.
For the uninitiated, pikelets are sweetened mini-pancakes eaten as afternoon tea or a snack rather than as a meal.
While we enjoy a traditional pikelet, made from white flour, I like to serve this almond meal version because it's a little more nutritious (the almond meal providing protein), yet just a tasty if not more so.
The almond meal and buckwheat flour provide a depth of flavour that their white flour fellows lack. They are also as light and fluffy as the original!
Traditionally, pikelets are served with jam and cream, but we've been eating them spread with some homemade lemon, lime and passionfruit curd.
[I adapted this recipe from Taste.com.au.]
Ingredients
3/4 cup ground almond meal
3/4 cup buckwheat flour
1 1/2 tsp. baking powder
2 Tbsp. raw castor sugar*
50g butter, melted and cooled slightly
1 tsp. vanilla
1 egg, beaten
3/4 – 1 cup milk
Method
Sift almond meal, buckwheat flour and baking soda into a bowl. Stir in the sugar.
Stir in butter, vanilla, egg and milk until the mixture forms a thick batter. Start with the smaller amount of milk and add extra, a little at a time, if the batter is too thick. The thickness will depend on the flour somewhat. It is quite a thick batter though, which makes small and fluffy pancakes.
Heat a frypan over medium/high heat. Add a little butter to melt then spoon tablespoon full amounts into the pan. Wait for bubbles to appear on the top of the pikelet before flipping. Fry until golden.
Serve warm or cold. You can either make up the whole batch in one go or store the batter in the fridge for a few days and cook fresh. The batter will thicken in the fridge and may need a little extra milk stirred in before cooking.
*Raw castor sugar costs a bucket load. To make your own, briefly blitz raw sugar in a blender or food processor in small batches. To make raw icing sugar, blend the raw sugar for longer. If you like, you can then sift the raw icing sugar through a fine sieve to get a finer texture.
Melissa Goodwin is a writer and the creator of Frugal and Thriving who has a passion for living frugally and encouraging people to thrive on any budget. The blog is nine years old and is almost like her eldest baby. Prior to being a blogger and mum (but not a mummy blogger), she worked as an accountant doing other people's budgets, books and tax.