vanilla maple milk puddings with strawberry sauce
This website may earn commissions from purchases made through links in this post.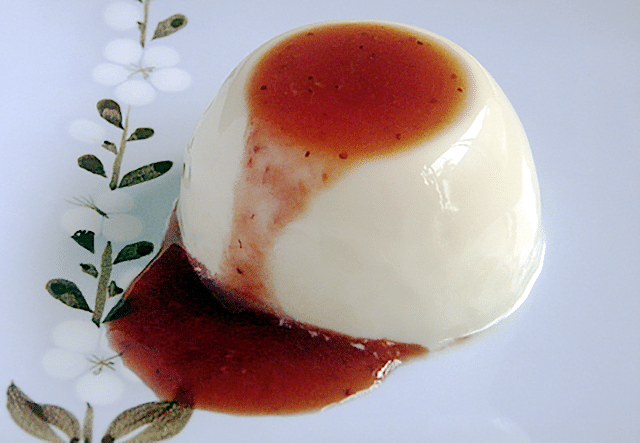 Milk pudding is a very inexpensive dessert that can be thrown together in a matter of minutes and utilises pantry staples. Yet despite being easy and economical, these little puddings makes for a very impressive dessert, particularly accompanied by a fresh strawberry sauce.
Strawberries are just coming into season in most parts of Australia except here in Queensland where the local season is almost coming to a close. This dish was inspired by some forgotten and very mushy strawberries sitting at the back of the fridge and the desire to create a dessert without going to the store to buy any ingredients.
This recipe doesn't give exact amounts because I didn't measure, just made things up as I went along. Which is really the essence of cooking – a little splash of this (taste) a little splash of that (taste) until you've got something that you like. Remember, you can always add more, but you can't take any out if you go overboard.
Later in the week, I'll go through the thought process of how this recipe was developed (as part of the 'war on waste' series) as an example of how to use up ingredients before they go bad.
Substitutes:
You can substitute the milk for any other milk – i.e. soy or almond milk.
The gelatine can be substituted with agar agar (use according to directions on packet).
The maple syrup can be substituted with honey or sugar.
You can make this pudding creamier by substituting some or all of the milk with cream.
Serves 4
Yield: 4 puddings
Milk Puddings with Strawberry Sauce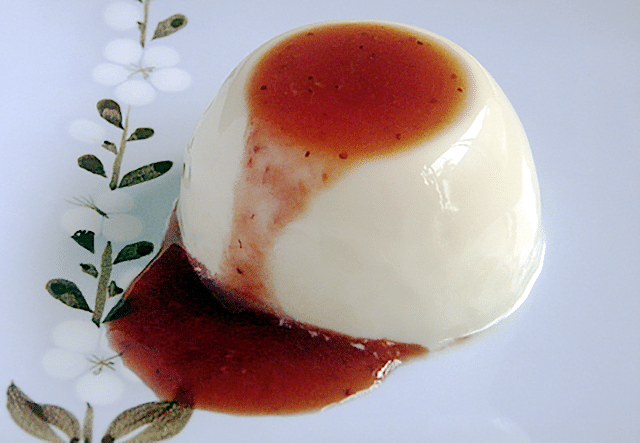 Milk puddings are an elegant way to serve a very simple ingredient: milk. Dress them up with a strawberry sauce. You can use alternate milk if you prefer.
Ingredients
For the strawberry sauce:
250g strawberries, hulled and halved or quartered
maple syrup, to taste
balsamic vinegar, to taste
For the puddings:
2 cups of milk
1 sachet gelatine (2.5 tsp)
1 tsp. vanilla extract
maple syrup, to taste
Instructions
To make the strawberry sauce:
Place strawberries in a saucepan, bring to the boil and simmer for 5 minutes. Splash in a little maple syrup and vinegar and taste. Add a little extra of either or both until it tastes just right.
Using a blender or stick blender, blend strawberries until smooth. If you prefer you can strain the sauce through a fine-mesh strainer to remove the seeds, but I didn't bother to do this.
To make the puddings:
Pour a little milk into a saucepan and sprinkle the gelatin over the milk, whisking with a fork. Heat the milk and stir until the gelatine has dissolved.
Add the rest of the milk, the vanilla and enough maple syrup to make it as sweet as you like. If you use sugar instead of syrup then you will need to heat the rest of the milk until the sugar has dissolved.
Pour milk mixture into 1/2 cup ramekins, moulds or teacups and refrigerate until set.
To unmold, run a sharp knife around the top edge then place the ramekin in a bowl of hot tap water for a few seconds. Place a plate over top before turning over. If the pudding doesn't easily come out, put it in the hot water for a little longer but not too long otherwise it will melt.
Pour sauce over the pudding to serve.
Notes
Use the leftover strawberry sauce in a milkshake or in a champagne cocktail.
Nutrition Information:
Yield:
4
Serving Size:
1
Amount Per Serving:
Calories:

122
Total Fat:

3g
Saturated Fat:

1g
Trans Fat:

0g
Unsaturated Fat:

1g
Cholesterol:

10mg
Sodium:

67mg
Carbohydrates:

20g
Fiber:

2g
Sugar:

11g
Protein:

5g
Nutritional information is calculated automatically using the Nutritionix database. Nutrition information can vary for a recipe based on factors such as precision of measurements, brands, ingredient freshness, serving size or the source of nutrition data. We strive to keep the information as accurate as possible but make no warranties regarding its accuracy. We encourage readers to make their own calculations based on the actual ingredients used in your recipe, using your preferred nutrition calculator.
You might also like: Upside Down Caramel Peach Cake.