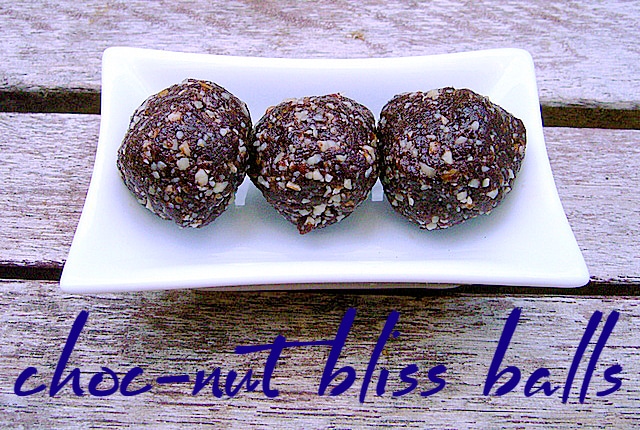 There are so many reasons why bliss balls make a great treat: firstly, and most importantly, they taste sensational. Kid's love these just as much as adults. Secondly, they're healthy and third, they are very easy and quick to make and they're inexpensive, at least they are if you substitute a few frugal ingredients with the traditional.
These treats are also gluten free, sugar free, dairy and egg free, and, if you use seeds instead of nuts, can be made nut free. They are vegan and paleo, so suit just about everyone.
Traditional bliss balls use Medjool dates, which taste unbelievably good, but by golly, they're expensive. Dried dates are much less expensive and work just fine in this recipe although you may need to add a little extra moisture to the mix.
I generally use a mixture of raw almonds and sunflower seeds to make these bliss balls because they taste good, they are inexpensive, and adding seeds reduces the cost. You can use any type of nut or seed that takes your fancy (or mix and match your own favourite combo). If you use chia seeds, it's a good idea to soak them in a little water first to let them gel up.
You can also use nut meal instead of whole nuts – the taste will be the same but the texture will be smoother – that can be a good thing. I don't mind a bit of crunch to mine.
The coconut oil is optional, replace with a little more maple syrup or honey or a tablespoon of water if the mixture is crumbly and won't form a ball. Mostly, the dates will be moist enough and you won't need to add anything extra. I add the coconut oil because it's supposed to be very good for you.
Makes around 20 balls
Ingredients
1 cup of raw, unsalted, untoasted nuts or seeds or combo (or you can use pre-ground meal)
1 cup of dried, pitted dates
1 Tbsp. of cocoa/ cacao powder (more or less to taste)
Small drizzle of vanilla
Small drizzle of maple syrup or honey to taste (optional)
1 Tbsp. coconut oil (optional)
Method
If you have a high powered food processor or you are using pre-ground meal, then throw your pitted dates in the processor and blend until paste-like (it will still be a bit chunky). Alternatively, process your nuts and seeds first until finely chopped (a but chunky adds texture to the bliss balls). Set aside and then process your dates.
Add the nuts, cocoa powder, vanilla, maple syrup and coconut oil (if using) and process until combined and the mixture starts to come together.
Roll heaped teaspoon size amounts into balls and place on a tray.
If you are using coconut oil, placing these in the fridge will make them firmer as the oil will go hard in the fridge. Refrigeration is not essential however.
You can roll your bliss balls in coconut for decoration if you wish or eat them plain as pictured.