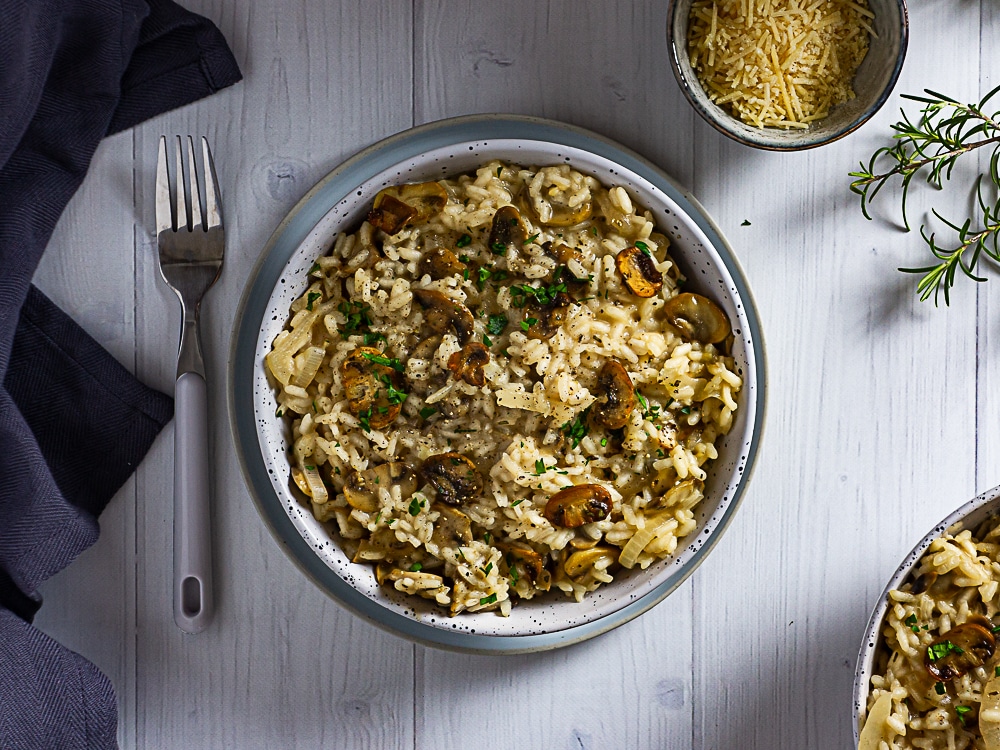 Traditionally, risotto is made with Arborio rice which is a small grain, high in starch. It's the starch that make the risotto creamy. I know I'm going to make good chefs cry with this statement, but I use plain old long grain rice because it's cheaper and it tastes fine.
To stir or not to stir? I used to cook my risotto without stirring, just turn the heat down low, wack on a lid and come back half an hour later. This method makes risotto (if I'm allowed to call it that) really easy. However, it is so much better if you take the time to stir the risotto as it cooks (although I note on Masterchef they say never stir but 'agitate the pan gently'). You're also supposed to heat the stock before adding it to the rice, which I'm sure would speed up the cooking process, but I don't bother with that either (one less pan to wash). So I guess the only rule is: cook it however you like.
I usually use my own homemade stock which makes this dish very inexpensive, less than $3 for a meal for two.
Ingredients
couple of handfuls of button mushrooms, sliced
1/2 tsp fresh rosemary leaves, finely chopped
1/2 onion, finely diced
1 clove of garlic, crushed
1 cup of rice
splash of white wine (optional)
1 litre or so of chicken or vegetable stock
1/4 cup grated parmesan
drizzle of cream (optional)
salt and pepper to taste.
Method
In a medium saucepan fry mushrooms and rosemary in a little butter until mushrooms are just cooked. Remove from pan.
In the same saucepan, add a little more butter or olive oil and sauté onion and garlic over medium heat until onion is translucent translucent.
Add rice and stir for a minute or two to coat in oil. If you are using wine, add it now and stir until it is absorbed by the rice.
Add the stock a good slosh at a time (about 1/4 cup I guess) and stir until absorbed then add some more. Keep adding stock until the rice is cooked through. You may not need all the stock. This process takes between 20 – 40 minutes depending on what rice you use and if the stock is hot or not.
Stir in the parmesan and the cream if using, season and taste. Finally, gently stir in the mushrooms.
Serve with crusty bread and a salad.
Melissa Goodwin is a writer and the creator of Frugal and Thriving who has a passion for living frugally and encouraging people to thrive on any budget. The blog is nine years old and is almost like her eldest baby. Prior to being a blogger and mum (but not a mummy blogger), she worked as an accountant doing other people's budgets, books and tax.