Bone and Barley Broth in the Slow Cooker
This website may earn commissions from purchases made through links in this post.
Come home this bone and barley broth, cooked in the slow cooker, for a frugal Winter warming meal.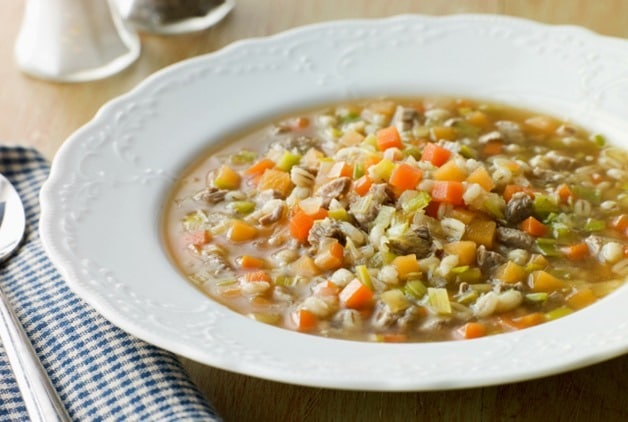 I want to share with you a little workflow that's been saving us time and money – one that culminated this week in a bone and barley broth (otherwise known as Scotch Broth).
Once a fortnight, we have a roast dinner on Saturday night. I love cooking roasts, they are a special meal with little effort. Simply throw them in the oven for an hour or two and you're done. I especially love them when my husband does the cooking.
As soon as we finish dinner, we strip the bones of any remaining meat and put it aside for a second meal. A roast can seem expensive up front, but if you can make two or three meals out of it, the price per meal ends up quite cheap. Stretch that roast by serving it with lots of vegetables.
And you don't want to waste the bones either – get the most out of your roast by making stock!
We throw the bones in the slow cooker with vegetable scraps I've kept in the 'stock bag' in the freezer and some water and set it on low overnight. The whole process takes about 5 minutes. You can find more details on slow cooker broth here.
Sunday morning is my productive morning (I get to sleep in on Saturdays – hubby and I take turns).
I put a quick batch of muffins in the oven for lunchboxes. Sunday morning is pancake morning in our house, so while I'm flipping pancakes I strain the stock and freeze it in batches.
Add 10 minutes for the straining and pouring and the whole process of making stock takes about 15 minutes in total. Fresh, homemade stock that's practically free is sooo quick and easy in the slow cooker.
While the slow cooker is out and dirty and I have fresh stock, I figure I may as well make the most of it and so I plan a stew or soup for Sunday's dinner.
The beauty of it is, before breakfast is even served you can have dinner taken care of which means no more cooking for the rest of the day – yay! And if you make a large batch, you can freeze half for an easy meal later on.
Which brings me to the bone and barley broth, which was this fortnight's slow cooker meal choice.
After a lamb roast (you can also do this with a beef bone), strip some of the remaining meat off the bone, leaving a little for the broth. Throw it in the slow cooker with some water and cook on low overnight.
In the morning add your barley, vegetables and seasoning and cook until the veg and barley is tender.
You end up with an extremely frugal and nourishing traditional soup that takes almost no effort and is great for warming your cockles on a cold winter's night.
Yield: 6 serves
Slow-Cooker Bone and Barely Broth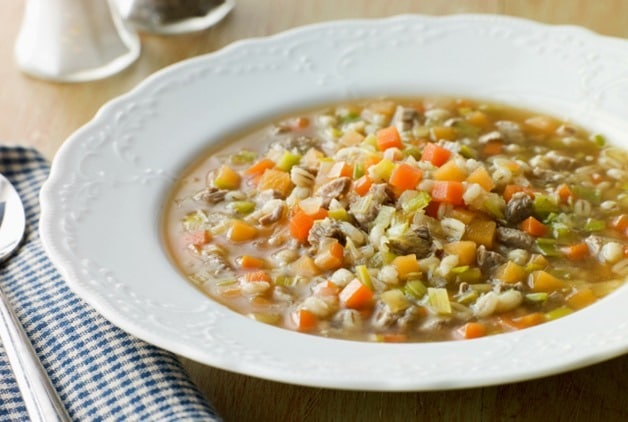 Don't throw away the bones. Make this frugal soup instead with barley and vegetables. Made in the slow cooker to save you time.
Total Time
8 hours
20 minutes
Ingredients
Leftover beef bone (you can also use a leftover roast lamb bone)
Water to cover
1 cup barley
1 onion, diced
2 celery sticks, diced
2 carrots, diced
2 swedes, diced
1/4 cabbage, shredded
Salt and Pepper to taste
Instructions
Place the bone in the slow cooker and top with enough water to cover.
Cook on low overnight.
In the morning, add the barley and vegetables. Cook on low until the barley and vegetables are tender (a couple of hours) or until ready to eat.
Before serving, remove bone and strip any remaining meat off, adding it back into the soup.
Nutrition Information:
Yield:
6
Serving Size:
1
Amount Per Serving:
Calories:

107
Total Fat:

3g
Saturated Fat:

1g
Trans Fat:

0g
Unsaturated Fat:

1g
Cholesterol:

12mg
Sodium:

87mg
Carbohydrates:

15g
Fiber:

3g
Sugar:

4g
Protein:

5g
Nutritional information is calculated automatically using the Nutritionix database. Nutrition information can vary for a recipe based on factors such as precision of measurements, brands, ingredient freshness, serving size or the source of nutrition data. We strive to keep the information as accurate as possible but make no warranties regarding its accuracy. We encourage readers to make their own calculations based on the actual ingredients used in your recipe, using your preferred nutrition calculator.