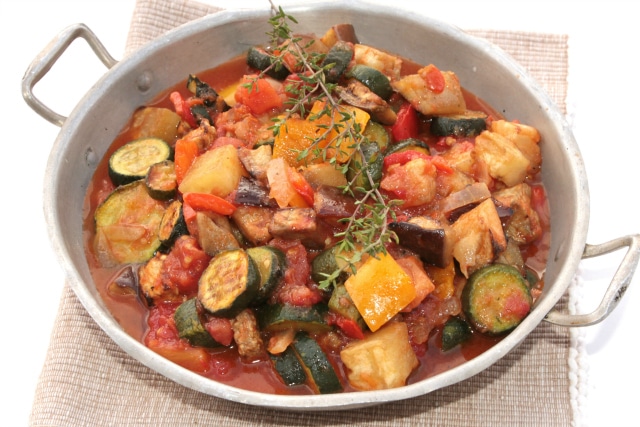 This easy zucchini ratatouille is very tasty, inexpensive, healthy and easy to make.
Traditionally Ratatouille is made with eggplant and if you love eggplant, by all means, throw it in, but I usually substitute with carrots, which are more appealing to the kids.
Give this dish a bit of 'meatiness' you can add mushrooms or for a non-vegetarian version, add some cooked chicken.
The dish packs a punch as far as flavour goes and it pairs really nicely with creamy polenta to balance the flavours.
Easy Ratatouille
Ingredients
3 zucchini, sliced
1-2 carrots peeled and sliced or 1-2 small eggplants, sliced
1 onion, sliced
1 capsicum, sliced
1 440g tin of chopped tomatoes
2 cloves of garlic, crushed
1 Tbsp mixed dried herbs
1 small red chilli, chopped or 1/2 tsp of dried chilli (optional)
freshly chopped parsley (optional)
salt and pepper to taste
Method
Heat some olive oil in a frying pan and sauté zucchini and carrot or eggplant in batches until golden on each side. Set aside.
Add a little more oil and cook onion over low heat for a few minutes until golden. Add capsicum and cook for another 5 minutes until tender.
Add tomatoes, garlic, herbs, chilli and zucchini and eggplant. Simmer for 15 – 20 minutes to reduce and thicken the sauce.
Season to taste and stir in fresh parsley and serve.
Serve over cooked pasta, cous cous, soft polenta or as an accompaniment to meat.
Variations
For a non-vegetarian version, add some cooked chicken or cooked sausage.
Add some mushrooms just after the capsicum.
Use fresh herbs instead of dried thyme or oregano, or try a different dried herbs like just dried basil, or just oregano, or your own favourite combo.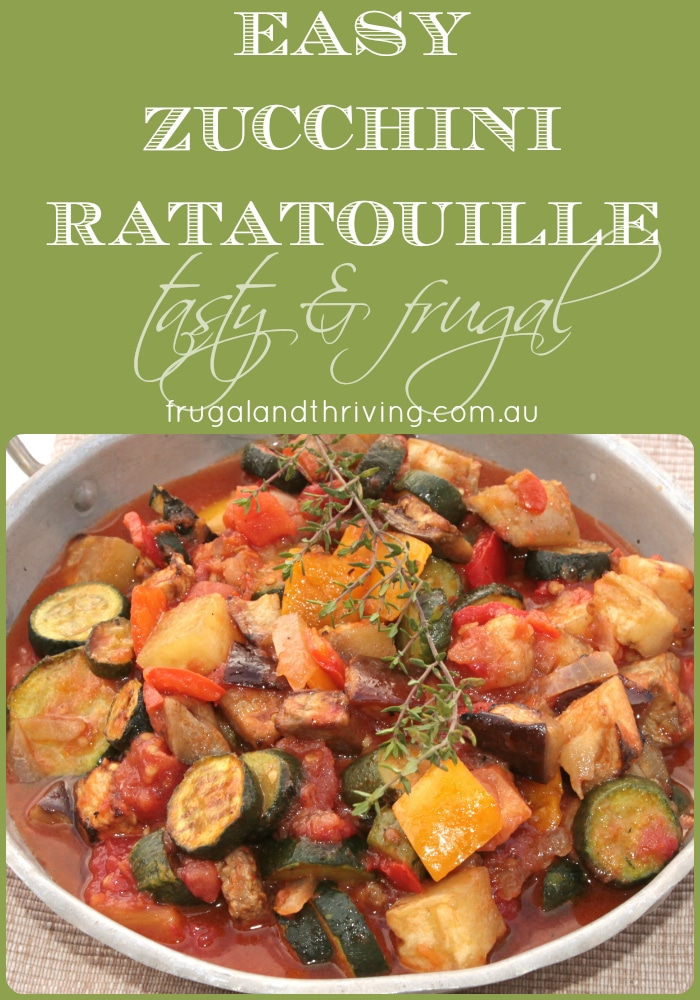 Melissa Goodwin is a writer and the creator of Frugal and Thriving who has a passion for living frugally and encouraging people to thrive on any budget. The blog is nine years old and is almost like her eldest baby. Prior to being a blogger and mum (but not a mummy blogger), she worked as an accountant doing other people's budgets, books and tax.