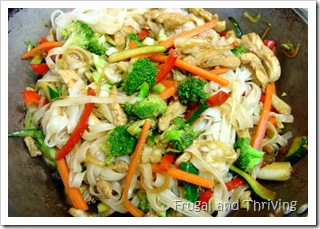 Stir fry is quick to cook, not so quick to cut up. I like cutting the vegetables into little sticks, practicing my knife skills, but roughly chopped is also fine.
Stir fry also lends itself to whatever produce is in season. I've used what we had in the crisper but Asian greens, mushrooms, snow peas and baby corn are all tasty additions to a stir fry. Cashew nuts or water chestnuts are also nice. The recipe is more of an idea than a recipe.
If you want to make a small amount of meat feed many, stir fry fills that order also.
Lately we have been either cooking with chicken or kangaroo. Kangaroo makes an excellent stir fry meat, very tasty, very healthy. Because it's low in fat, kangaroo lends itself nicely to quick stir fry cooking. You can substitute kangaroo for beef in any stir fry recipe.
I've shared my secret to perfectly moist and tender stir fry meat before but if you haven't read it, here it is:
Slice the meat yourself and slice it finely against the grain.
Brown the meat in batches very briefly in a very hot wok. If you have a range hood exhaust fan, you might need to use it. You don't need to cook the meat through unless it's chicken, it will continue to cook after you remove it from the pan and you are adding it back later. If it's chicken, then fry it so it's just cooked through.
After cooking the vegetables until tender to your liking, add the meat back into the stir fry at the last minute. Don't boil it for ages in the sauce as it will go tough.
Ingredients
2 Tbsp. finely chopped ginger
1/4 cup of mirin, Chinese cooking wine or even sherry
2 Tbsp. kekap manis
1 large or two small chicken breasts, sliced into thin strips
1/2 onion, sliced
1 carrot, cut into sticks
1 zucchini, cut into sticks
1/2 capsicum, sliced
head of broccoli, cut into florets
500g rice noodles
drizzle of oyster sauce
Method
Combine the ginger, mirin, kekap manis and chicken in a bowl to marinate while preparing vegetables.
Boil the noodles in water for 3 minutes or until just soft.
Heat wok until very hot, add a little oil and cook the chicken in batches adding oil as necessary and reserving marinade.
Add a little extra oil then cook the onion for one minute before adding the vegetables. Toss for a couple of minutes to cook.
Add the marinade and oyster sauce, cooking for a further 2 minutes or until vegetables are tender to your liking. Return the chicken to the pan and add the drained noodles, tossing to coat in the sauce and to warm through before serving.
Melissa Goodwin is a writer and the creator of Frugal and Thriving who has a passion for living frugally and encouraging people to thrive on any budget. The blog is nine years old and is almost like her eldest baby. Prior to being a blogger and mum (but not a mummy blogger), she worked as an accountant doing other people's budgets, books and tax.